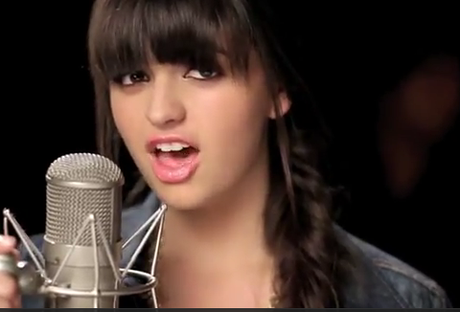 Rebecca Black - is this her "moment"?
She captured your hearts with "Friday" and now, bubbly teenager Rebecca Black, branded the worst singer on the Internets, is back with her second single, "My Moment". And, just like its predecessor, "Friday", it's fast becoming the song everyone loves to hate.
Don't forget the original
The video for the song was uploaded on July 18 and since then, has garnered nearly 12 million views – and about double the amount of dislikes versus likes. The song appears to be a response to all the "haters" who panned her first single, "Friday" – she sings that this "feels like [her] moment" promises that she's about to "blow up". The slickly produced video that accompanies it features the smiling 14-year-old reviewing her press clippings, dancing with back-up singers, playing around in the studio, and riding in a limo.
It does not, however, answer the question posed by "Friday": Which seat did she take?
Panned. International Business Times noted that Black secured the services of Brandon "Blue" Hamilton, who's worked with that other Internet teen sensation, Justin Bieber, and Quentin Tolbert to help write the song, but it doesn't appear to have done much good. "Even with the help of Hamilton and Tolbert, the song lacks originality and depth… Whether or not Black has proven that this is in fact her 'moment', the question is whether she can keep the spotlight on her so she can continue to fly high. Black's song lacks vocal range, and choosing to sing about her rise to fame may be the 'fly'n high' singer's ticket back down to planet earth." Still, IBT noted, her voice isn't as bad as some pop starts out there and, well, she's kind of sweet. "Perhaps, as the young songstress grows into a full-fledge teenager, she can ditch the soft bubble-gum pop and show more of her true potential."
Oh, Internets – what have you done? Black's stunning popularity grew out of people making fun of her wonderfully awful video and auto-tuned singing: Not only was the video for "Friday" relentlessly parodied, but Black herself became the butt of some rather mean Internet memes and jokes. Even Katy Perry kind of made fun of her (though the trade-off was that Black got to cameo in one of the pop starlet's videos, "Last Friday Night"). But now, it's gone too far, worried Chenda Ngek at CBS's TechTalk blog. Did we really need another Black video? "The online world is full of pranksters, but even the best practical jokes backfire. Just like our obsession with "Rick Rolling" built up affection for '90s crooner Rick Astley. What have you done, Internet?! (Hangs head in shame. Misses keyboard cat.)"
Katy sings "Friday" 

 Katy's "Last Friday Night"

Just can't get enough?

The original "Friday" – it's time for fun, fun, fun
It's Sunday, the Christian answer to "Friday"