CBD is used by a wide range of people from all walks of life. One of the big demographics for CBD are athletes, who use it for many reasons. Today I will talk you through reasons why CBD is recommended for athletes.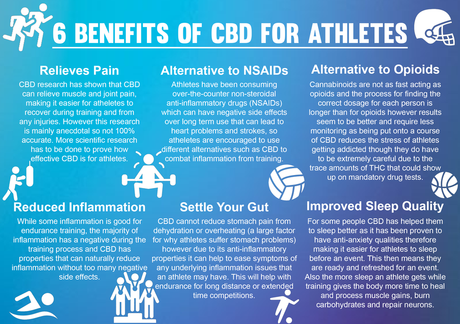 Reason 1 - Pain Relief
Research has shown CBD can help to relieve pain in the muscles and joints. Athletes can suffer from inflammatory pain in these places and studies have shown that CBD is a safer way to get relief from this, however these tests have currently only been operated on animals, so more research is needed to see how this will translate for humans.
Reason 2 - Reduced Inflammation
Some inflammation is good for indurance, however most inflammation is negative during the training.CBD has relieving properties to reduce inflammation without many side effects.
Reason 3 - An Alternative to Opioids
Cannabinoids are not as fast working as opioids, and the process of finding the correct dosage is more difficult, but results are better and require less monitoring since the atheletes are less likely to get addicted to CBD. They still need to be careful, since trace amounts of CBD can still show up on drug tests.
Reason 4 - An Alternate to NSAIDs
NSAIDs are non-steroidal anti-inflammatory drugs that athletes have been using, however they can have negative long term side effects like heart problems and strokes. CBD is not known to cause these issues, so are a healthier way to fix inflammation.
Reason 5 - Settle Your Gut
CBD can't reduce stomach pain caused by dehydration and overheating (a large factor of why athletes suffer stomach pains) though due to the anti-inflammatory properties, it can help to ease symptoms of any inflammation issues the athlete has. This can help with endurance for long-distance or extended time competitions.
Reason 6 - Improved Sleep Quality
CBD can help some people sleep better since it has anti-anxiety qualities, so athletes don't worry about the upcoming event. They are then ready and refreshed for the event. Also, sleep can help give you time to heal and process muscle gains, burn carbohydrates and repair neurons.
Famous Athletes Who Use CBD
Mike Tyson - Boxer - Currently developing a marijuana farm and owns his own marijuana company with his own CBD brand.
Riley Cote - Ice Hockey Player - Used to minimise damage on the body caused by hockey fights. Now has his own line of CBD products.
Anthony and Sergio Pettis - Martial Arts And UFC Fighters - Partnered with a CBD brand.
Ryan VandenBussche - Retired NHL Enforcer - Teaches the world about how CBD can help.
Now you should know why CBD is good for atheletes. Stock up on oils, e-liquids and more, and have a nice day!