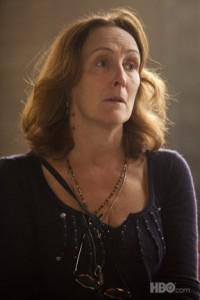 For Truebies it might all just be entertainment, but real witches aren't very pleased with the way Marnie is being portrayed.
"I'm absolutely disappointed with the portrayal of Marnie," said one witch – and professor of biology at a college in New England – who goes by the magickal name Taarna RavenHawk.
"When Marnie gives up her 'power within,' which is a witch's ability to practice the craft without harming others, it allows possession by Antonia who becomes the controlling entity. Marnie lets it happen. It's unconscionable a witch would act this way."
Elaanie Stormbender, a witch and mother of five who lives in Jackson, Miss., said all the members of the small community of witches to which she belongs are displeased with Marnie's behavior. "When witches invoke a spirit, they take precautions and retain full control to banish," she said. "Marnie didn't stay in control, so she's entirely to blame for giving herself over to being possessed."
Marnie's behavior also feeds into some people's fears about witches tampering with forces beyond their control, and the character's recklessness only reinforces this fear, Stormbender said.
"Ethical witches communicate with the dead, not bring them back to life. Crossing these lines was very grave and not something any of us would advocate. She went overboard," said RavenHawk.
And all this time I thought that what is dead remains dead, but apparently necromancers do walk among us.
source