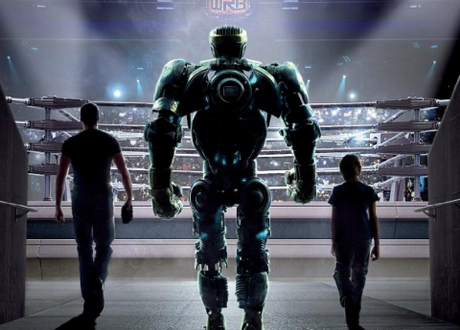 Hugh Jackman and massive robots. Photo Credit: Dreamworks
Boxing robots, Hugh Jackman, a troubled father-son relationship, and that girl off Lost. What more could you want? Set in the near-future, Real Steel tells the redemptive tale of Charlie Kenton (Jackman), a washed-up and hostile ex-boxer now involved in the seedy world of robot-boxing. When the spunky son he abandoned 11 years earlier is returned to him, Charlie reluctantly takes him in and together they confront the trying task of repairing robots and their relationship. Cue extravagant robot fights interspersed with tender father-son moments. If the global $49.9 million opening weekend box office film is anything to go by, this film is a crowd-pleaser of epic proportions. But have the critics warmed to it as much as multiplex audiences?
Too mechanical. The film is set in the near future, where human boxing has been replaced by battles between colossal machines. Why? Because, apparently, fights between humans weren't sensational or "no holds-barred" violent enough for the bloodthirsty masses. Mary Pols, writing for Time, struggled with this concept: "what do robots have to do with true violence? Isn't a bloodless sport between unfeeling machines the very definition of holds-barred?" The film, perhaps unsurprisingly, lacks a certain humanity, she felt: "the story remains sadly mired in botdom, which leads to some boredom."
"The movie belongs to the Transformer-like bots", agreed Stephen Holden of the New York Times.
Good, old-fashioned drama. Peter Debruge of leading Hollywood trade Variety was more impressed. He felt that despite the robotic focus, the film was driven by "a good, old-fashioned father-son drama to deliver the thrills." He had no qualms with the fact that the "most endearing character isn't human at all, but an obsolete second-generation robot named Atom", and found the fight scenes "gripping."
Recycled and predictable. Don't watch Real Steel in search of surprises, warned Todd McCarthy of The Hollywood Reporter. He accused the film of being a "mashup of spare parts" from everything from Transformers to Rocky. Although "technically seemless", the film is nothing more than "sentimental hokum." James White of Empire concurred: "There's barely a story beat among the beat-downs that you won't expect."