Everyone in the world has heard about 'La Masia', Barcelona's youth academy which year after year produces exceptional talent and has housed superstars such as Lionel Messi, Xavi and Andres Iniesta. Almost every game sees many youth products in their starting XI and the publicity their academy gets is understandable and justified. But what about their great rivals, Real Madrid?
The stereotype or the easy theory, prompted by Madrid's 'Galactico' ethos, is that Barcelona makes players whereas Madrid buys them. The purchases Madrid have made since the turn of the century make you forget about the achievements of their academy. From Santiago Bernabeu to Iker Casillas, Real Madrid have constantly been producing top class talents for almost a century.
Although the current ethos at the Bernabeu is centred around big money buys such as Cristiano Ronaldo, it hasn't always been like that. The change in ethos came about during Florentino Perez's first reign as Real's president when Zinedine Zidane, Luis Figo, Ronaldo and David Beckham were bought for extremely high transfer fees, and the modern stereotype of Madrid derives from these purchases.
In the late 1980s, a very different Real Madrid team won five consecutive Spanish titles, two UEFA Cups and a Copa del Rey with five home-grown talents at the core, along with the great Hugo Sanchez.  This squad was known as the 'Vulture's Squad' which comes from Emilio Butragueno, the legendary forward who was nicknamed 'The Vulture'. The other four players who were central to their success were Manolo Sanchis, Michel, Martin Vazguez and Miguel Pardeza. It was a truly legendary team who are often forgotten about in the modern era due to the new 'Galactico' ethos.
It wasn't just the late 1980s which have seen Madrid's academy produce world class talent. Players such as the great Santiago Bernabeu, who was one of the earliest stars and later President of the club, and Jose Antonio Camacho were produced in Madrid. That's not to mention players who were signed as youngsters such as the legendary Alfredo di Stefano, Fernando Hierro, Francisco Gento, Fernando Morientes, Sergio Ramos and Amancio. There has been a continual trend of top players who were signed as youngsters who go on to become superstars at Madrid and this is no coincidence.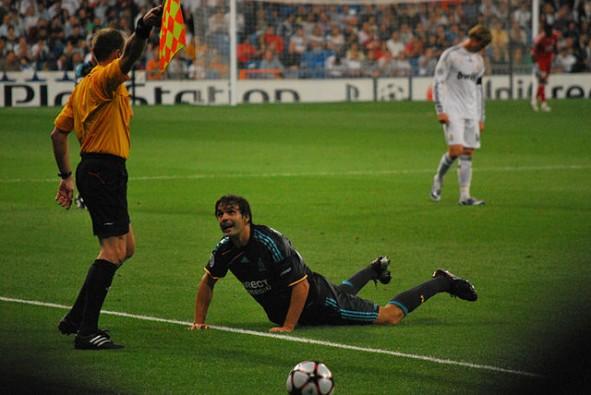 Morientes in his final season playing for Marseille against Real Madrid. Courtesy of Alejandro Ramos
Over the last 20 years their academy hasn't stopped producing footballing talents. However, in recent years only a few have stayed at the Bernabeu for the majority of their careers. The 'Galactico' purchases over the last decade have somewhat overshadowed the achievements of the academy in producing talent over the last 20 years. Iker Casillas, Raul Gonzalez and Guti were the mainstays of the Madrid teams of the last 20 years with only Casillas still playing his football at the club.
Despite all the purchases the club has made, these three players remain darlings of the club to the current day, Raul and Casillas in particular are etched into Madrid folklore as legends. Raul signed his first professional deal in 1994 and went onto become the club's top goalscorer of all time, winning three Champions League titles in the process. Casillas signed his first deal in 1999 and is still at the club having rarely missed a game in the last 14 years.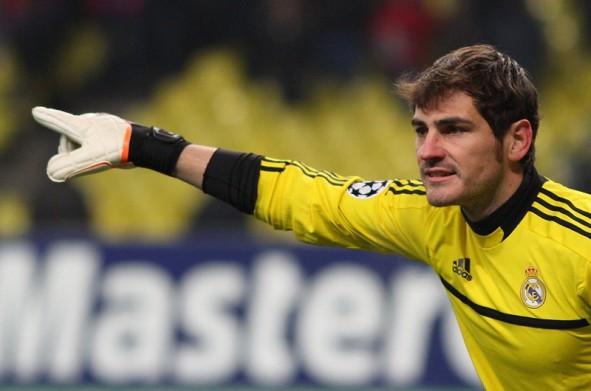 Iker Casillas is the main man for Madrid. Courtesy of ??????? ????????
When Perez secured the club presidency in 2000, he originally wanted to produce one youngster per season who would go onto be a regular in the Madrid side, alongside signing one 'Galactico' per year. This didn't end up working out as the players who were produced did not live up to their potential for various reasons. Ruben de la Red, Francisco Pavon, Alvaro Mejia and Oscar Minambres particularly spring to mind.
De la Red in particular deserves a special mention after being forced into retirement due to a heart condition in 2010. He was a fine player and it is a real shame that his career was cut short just after returning home in 2008. If these players had lived up to their potential, perhaps the stereotype of today may not be there.
Most of the players who have recently come through Madrid's academy did not stay at the club or aren't first team regulars. The policy of buying high profile players has stayed with Madrid but some of the recent graduates have made a big name for themselves at other clubs. Alvaro Arbeloa and Jose Callejon left the club and made their names at other clubs before returning, and now provide Madrid with invaluable depth having returned in recent years. Diego Lopez was re-signed in January to provide cover for the injured Iker Casillas, having left the club to join Villarreal in 2007.
There were particular high hopes for Esteban Granero when he was brought through the Castilla. Unfortunately, he failed to make a name for himself in the first team and has since left the club to join QPR in England, where he has had a quite unsuccessful first season with the Londoners.
Spanish internationals Juan Mata and Roberto Soldado left the club to join Valencia and have since developed into world-class players. Both have been linked with returns to Madrid in the past.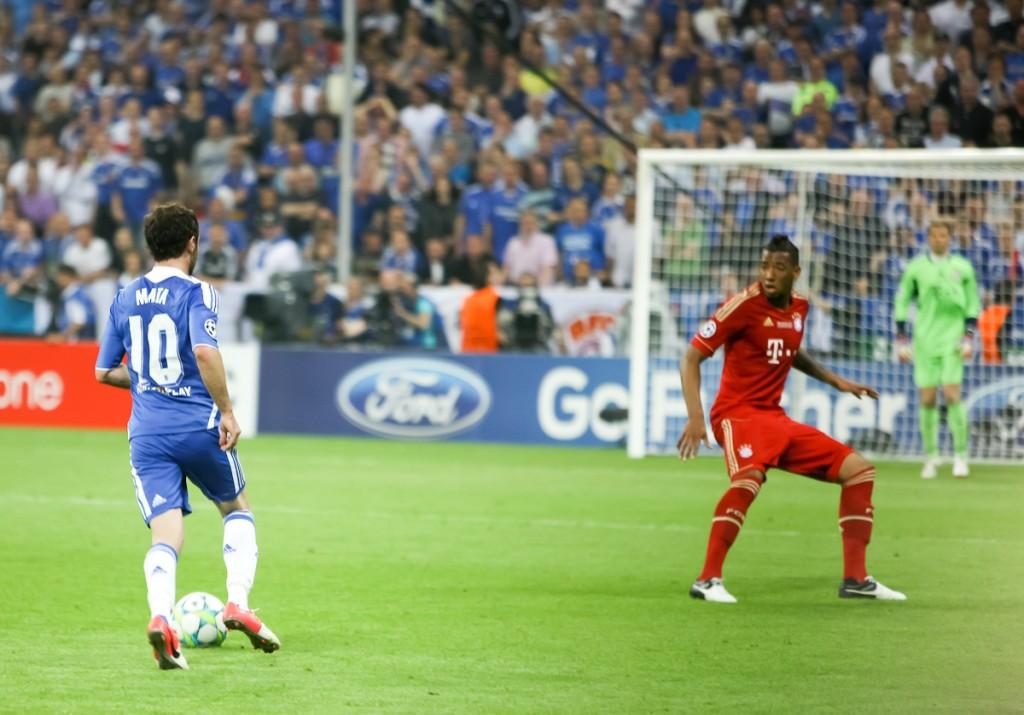 Juan Mata in action for Chelsea in last season's Champions League Final.
Alvaro Negredo has made his name at Sevilla, suckering call ups to the Spanish national side's squad on numerous occasions. Javi Garcia failed to break into the first team having made the step up and now plys his trade with Manchester City, having stopped off at Benfica on the way.
Other examples of Castilla graduates include Fiorentina midfielder Borja Valero, Valencia playmaker Dani Parejo, current Madrid striker Alvaro Morata, Beerschot AC defender Raul Bravo and Benfica striker Rodrigo. There are many players who have been Castilla graduates playing for various clubs across Europe. Madrid's academy has had a wide effect on European football in recent years.
Perhaps Madrid are not on the same level as Barcelona in terms of the quality of talent they produce but they are at least helping to produce new talent for the Spanish national side. Although every Francisco Pavon doesn't turn into a Fernando Hierro or every Riki into a Raul, time has proven that one day Madrid's famous academy will produce another superstar.
Born Offside