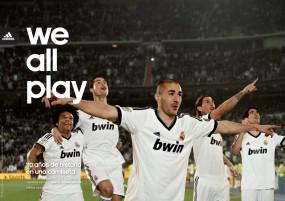 Real Madrid presented their new kit (Adidas Group)
Real Madrid kicked off their upcoming campaign by presenting their new jerseys. Their new design continues with the pattern the kits have shown with different colored trim surrounding the unmistakable white jersey that Real Madrid so proudly wears.
Madrid fans have the chance to obtain this jersey at their official club store of nearest sports store now and they will see some changes starting with the contrast sewing as well as the color scheme no longer including gold in it.
The inclusion of both navy blue and turquoise trim in the kit gives it is distinct touch that adds a certain amount of elegance that the jersey has always maintained throughout its 110 year history.