Real Christianity Confession Time:
I had a terrible week last week. I encountered some adverse conditions and I became petulant, grumpy, irritable, and self-pitying. I forewent Bible reading, rationalizing that I was too upset and couldn't think just now. Of course, in adverse conditions, Bible reading is the
first
place one should go, not the last. But there you have it.
By the grace of God and the ministry of the Holy Spirit I recovered my equilibrium. I attended to some things I'd neglected the last week all day on Saturday, and on Sunday I devoted myself to church service, prayer, and small group fellowship. I'd promised the Lord that on Monday (today) I'd get back to it with a vengeance, since I was home from work on Thanksgiving break and had all the time in the world.
So by 11:00 this morning, I'd done-
10 chapters of Bible reading,
1 chapter read in Hidden Life of Prayer,
1 chapter read in Gerstner's Theology in Dialogue,
1 chapter lesson completed in Jess Pickowicz's Biblical Doctrine study,
Lecture 1 of Hebrews by Dr Abner Chou listened to, plus NT overview
4 pages of notes on legal pad
I am a Theology BEAST. Sadly, by a few days from now I know that I'll be a theology wimp. I tend to slide. I start out good but slacken, then speed up and then slow down. Goodness, I totally understand Paul when he said
I do not understand what I do. For what I want to do, I do not do. But what I hate, I do.
(Romans 7:15).
O Lord, have mercy on this weak woman, and help me stay consistent in Bible reading and study!!
Here are some thoughts and insights gained by the Spirit during today's studying bonanza.
~~~~~~~~~~~~~~~~~~~~~~~~~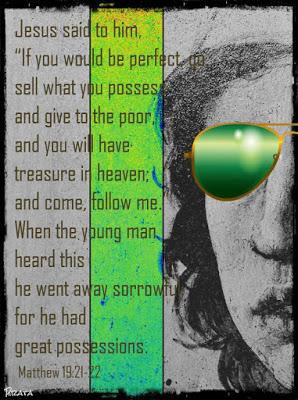 EPrata photo
And behold, a man came up to him, saying, "Teacher, what good deed must I do to have eternal life?" 17And he said to him, "Why do you ask me about what is good? There is only one who is good. If you would enter life, keep the commandments." 18He said to him, "Which ones?"
(Matthew 19:16-18a).
This made me laugh out loud.
Which ones
? Like we can pick and choose? Whether as Gill's Expositions says, the Rich Young Ruler
Whether those commandments of a moral, or of a ceremonial kind; whether the commands of the written, or of the oral law; of God, or of the elders, or both; or whether he did not mean some new commandments of his own, which he delivered as a teacher sent from God:
or whether the Rich Young Ruler had the original ten laws in mind, asking "which ones" just shows how blind he was. No one can keep any of the laws perfectly their whole life. But the man confidently replied to Jesus' answer as to which laws that "all these I have kept". Some believe that the Rich Young Ruler was indeed Saul of Tarsus. If he was, then the Lord's mercy is great. If he wasn't, I pray that mercy came to that young ruler sometime before his death, when eternity becomes fixed.
~~~~~~~~~~~~~~~~~~~~~~~~~
I do my daily Bible reading in the NKJV. The verse at Psalm 18:4 says,
The cords of death encompassed me, And the torrents of ungodliness terrified me.
Me too, David, me too.
~~~~~~~~~~~~~~~~~~~~~~~~~

The LORD lives, and blessed be my rock, and exalted be the God of my salvation
— (Psalm 18:46).
A GREAT verse!
~~~~~~~~~~~~~~~~~~~~~~~~~
Job 18: man, this is rough, very rough, It's not only rough because Bildad is heaping scorn on Job, and telling him to snap out of it, but Bildad is excruciating in his detailed list of what and how the wicked endure the coming punishment. Read Job 18 if you begin to lose your compassion for the lost.
~~~~~~~~~~~~~~~~~~~~~~~~~
For there are eunuchs who have been so from birth, and there are eunuchs who have been made eunuchs by men, and there are eunuchs who have made themselves eunuchs for the sake of the kingdom of heaven. Let the one who is able to receive this receive it
. (Matthew 19:12)
Yes.
~~~~~~~~~~~~~~~~~~~~~~~~~
Now we have received not the spirit of the world, but the Spirit who is from God, that we might understand the things freely given us by God
. (1 Corinthians 2:12)
God is generous. We may only understand Him through His word, and we can only understand the word via His Spirit, but He has given to us His Spirit. Freely.
~~~~~~~~~~~~~~~~~~~~~~~~~
"You don't want to just know the word of God. You want to know the God of the word." Dr Abner Chou, The Master's Seminary, Hebrews lecture #1.
Read the word to gain an understanding of who Jesus is, to commune with Him, to understand His revealed attributes, commands, precepts, and plans. Every time I let Bible reading go and then return to it, I am refreshed and wonder why I let it go in the first place. I am a silly person, stumbling and bumbling along. No doubt I'll mourn my wastrel ways when I get to heaven and see the glories Jesus has set before us. All I can do now is try again. And again...