Freedom isn't about guns.   REAL freedom in a civilized society is about the press not being knocked around and respect for peaceful, lawful protesters expressing their dissent.  THAT is the kind of RIGHT that belongs in Bills of Rights and National Constitutions, not guns so people can kill each other.
From
the Huff Po
:
Press Freedom Index: Occupy Wall Street Journalist Arrests Cost U.S. Dearly In Latest Survey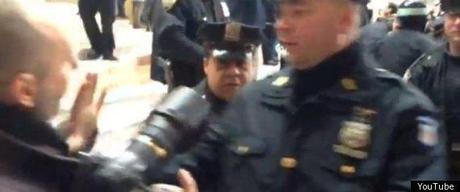 The Huffington Post Jack Mirkinson
The targeting of journalists covering the Occupy Wall Street movement has caused the United States to drop precipitously in a leading survey of press freedom.
Reporters Without Borders' latest Press Freedom Index was released on Wednesday, and the list reflected some of the tumult that took place in the world in 2011, as well as the impact that those events had on journalists across the globe. Reporters became targets over and over again throughout the year, both in the Middle East and on the streets of New York.
Some examples of the change wrought by the Arab Spring could be found in Tunisia, which the compilers moved up 30 places on the list in the wake of that country's democratic revolution. Not so lucky were Bahrain and Egypt, both of which cracked down on journalists and on the popular movements pressing for further change in their countries. They fell 29 and 39 places, respectively, on the scale.
But the U.S. tumbled almost as far as Bahrain did in the wake of the repeated crackdowns on journalists covering Occupy movements. Reporters Without Borders was explicit in its summary of its report, saying that "the United States (47th) also owed its fall of 27 places to the many arrests of journalist covering Occupy Wall Street protests."
The treatment of journalists by police was well documented throughout 2011. Reporters were beaten, arrested and prevented from covering police action against Occupy protesters. Tensions heightened so much that the New York Police Department had to meet with journalists and remind its officers not to mistreat them.