It's nearly boing time - that brilliant moment when the trees burst into leaf and you know that the new growing season is upon you.  It is marked in the Tuckshop garden by the pink acer (flamingo) showing its first tender flush of salmon pink leaves.  Buds are swelling on it daily and I think it will be out by the end of the week - Wednesday is forecast to be warm, so I would bet that in a couple of days, we will have officially boinged.
One thing I notice as I prowl around the garden is that everything is not only late, but also noticeably smaller than in previous years - the flower buds on the cowslips, muscari and tulips seem to be forming close to soil level in their desperation to get out and on with the business of making seed.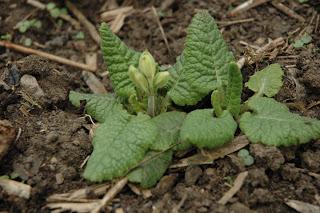 No time to bother with this stalk making stuff - that seems to come later. Now the muscari are almost in flower, the stems are starting to elongate, but they're still only about an inch tall.  Doubtless these things will sort themselves out, but it is all very odd.  The tulips (even the new ones) seem to have much smaller flowers than normal - but that might play in favour of teacup arrangements. (Not that I'm obssessed or anything...)
Spent today planting out more sweet peas, thinning out weed seedlings, and thinning and pinching out shoots on dahlias to make them strong and bushy.  I don't want to end up with spindly slug-eaten sticks like last year.  So where there are more than five shoots emerging from the tuber, I've cut them off just below soil level and am going to see if these cuttings will root in the propagator - should do, hopefully.
Larkspur sown a few weeks ago is germinating well in the new raised bed and I think that even some of the September sown seed is starting to appear after being resolutely on strike.  Took this as a sign that it might be worth doing some direct sowing, so have put in some nigella, verbena bonariensis and clary sage seed.  It is so nice to be gardening again and to see the garden slowly filling out and coming back to life.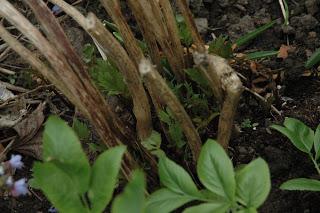 Something from my visit to Real Cut Flowers in Herefordshire - not sure if it's echinacea or rudbeckia - can't remember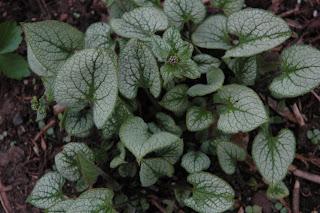 One of my divisions of brunnera 'Jack Frost'  - growing away nicely and doing well in its new home.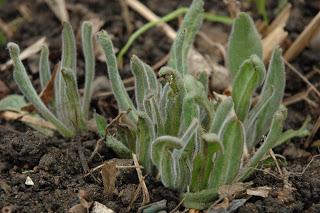 Emerging shoots of anchusa - will grow to be blue flowered giants,  I hope.