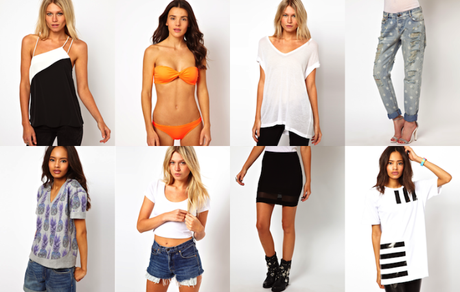 Counting down the days until I go to Bali (on April 1st), I was in desperate need of some new summer clothing. Summer (or even spring) may seem very far away when looking out of the window, but in fashion-land it's not at all. There's a lot of great stuff for SS13 already in stores.
I know your instinct tells you to wait with your spring shopping until you can actually wear it, but I would recommend you otherwise. Not because I'm the devil on your shoulder that always tells you to shop (I might come across like that little devil sometimes, but believe me that's not what I'm trying to do here), but because of what I learned out of my own experience.
I used to be the sort of shopper that waits until a week before she goes to the beach and then buy a bikini, and was unable to buy anything short sleeves until it was above 18 degrees outside. Why that wasn't always the best choice?
I always shop online and check my favorite online stores multiple times a week and keep track of the favorites I like. However, fashion is fast, so when I would decide to actually get some of the stuff I've been eyeing for weeks, it would be sold out in my size or completely. Fashion goes fast ladies, and I've had so many occasions where I finally decided to get what I wanted for weeks and it was sold out, that I became a faster shopper.
I'm not saying you should decide within minutes, but it's perfectly fine to start shopping a bit for spring (here's your excuse, you're welcome ;)). Another good reason: 20% discount on ASOS from today until the 24th with the code GLAMOURDAYNL ! Happy Shopping!
What I got (and what you see above):
Cami in Colourblock / Orange Bikini / Slouchy sheer shirt / Distressed polkadot jeans (LOVE these)
Pineapple print sweater / Crop top / Skirt with sheer hem / Oversized tee with barcode print
And a little reminder that today is the last day to enter the ASOS competition to win a gift voucher worth €250! I will be picking a winner randomly tonight at 8pm CET.