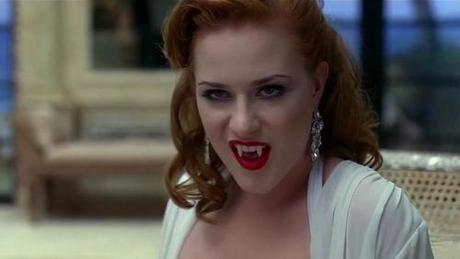 Happy New Year Trubies! Today I've decided to post about a frequently asked question about something common to True Blood. Back in September, Heather posted a story about how vampire fangs work on the show. The story has become quite popular on our website but has still left many readers wondering if the HBO series uses real fangs or digital fangs. The answer is both.
True Blood cast members are fitted with physical fangs to use while shooting. But to make things look as seemless as possible, the people at Zoic, a post-production special effects house in Los Angeles help to create digital fangs to give the final product a realistic look and feel that we the fans buy into.
One of our readers asked if there was a behind the scenes video on the subject and there is. A little over two years ago, a Science Channel show called Science of the Movies visited Zoic to find out how True Blood does their special effects and that is where I learned about the way vampire fangs actually work. Below you'll find part II of the interview with Zoic Visual Effects Supervisor Jon Massey who is in charge of vampire fangs:
Do you have a question about True Blood based on something that we've written about or that you've read and that you'd like the answer to? Comment on the article or send me an email and I'll write about it!
Source: YouTube.com- "Behind the Scenes True Blood-Part II"
Image Credit: HBO, Inc.
Video Credit: Zevchan and the Science Channel