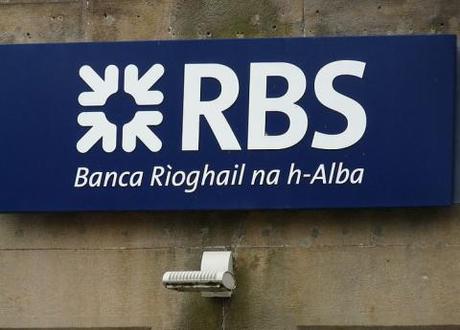 Royal Bank of Scotland: Bonus furore.Photo credit- Wikimedia Commons
Chief Executive of the Royal Bank of Scotland Stephen Hester has turned down a £1 million bonus after intense pressure from media and politicians. British taxpayers own 82 percent of RBS since the bank was bailed out in 2008. According to The Guardian, "The taxpayers' stake is now valued at around half the £45bn it was worth when it was bailed out." The Labour Party planned to force a parliamentary vote to stop Hester, who joined the bank after the bail-out, from taking the share-based bonus.
The announcement of Hester's bonus came days after Business Secretary Vince Cable announced plans to curb corporate excess and amid stories that the UK economy is heading for a second recession.
Stephen Hester is still in line for a multi-million-pound pay-out in the future, reported The Guardian: "His total package, due to be formally announced in March, may still amount to £8m."
Hester isn't the only figure taking heat in the banker-bonus debate: Prime Minister David Cameron and Chancellor George Osborne have also come under fire for not acting to cut the RBS chief's bonus as soon as the announcement was made. Labour leader Ed Miliband said: "Stephen Hester has done the right thing. It is a shame that a feeble, out-of-touch David Cameron did not realize he should do the right thing and stand up for the interests of the British people," reported The Daily Mail.
However, some commentators have argued that the government should not interfere with private sector pay and that financial incentives are crucial to keeping the banking sector in Britain afloat. So is Hester's decision to turn down the bonus a victory for common sense? Or is this just a case of short-sighted banker-bashing?
Hester had no choice. The prospect of a parliamentary vote was the final straw for Hester, according to Robert Peston at the BBC: "As an RBS director put it to me, it would have been a great mistake for the semi-nationalised bank to fight parliament to preserve rewards for its chief executive seen by many as excessive," wrote Peston. RBS made the announcement of the chief executive's bonus earlier than usual on government advice, reported Peston, in order to "get the controversy over the bonus out of the way as soon as possible" – a decision the bank now regrets.
The Sun's headline on Stepehn Hester's decision to waive his bonus: "Hester la vista, bonus".
Hester shouldn't have bowed to pressure. "It is not the proper role of government to interfere in corporate decisions. It is also bad for the UK economy, whose recovery will depend on the strength of the financial services sector," said a Times (£) editorial. According to The Times, top bankers have unique talents, and UK banks need to offer incentives in order to attract the best candidates – and a strong financial industry will benefit the wider economy: "If Britain is going to grow again, it is going to have to be proud of its financial services sector. And it is going to have to make sure that it is an attractive place for banks and bankers."
Writing on his blog, Labour leader Ed Miliband said: "Mr Cameron and George Osborne are caught between what they really believe and what the public thinks. They do not give a monkey's about tackling irresponsible capitalism or indeed the bonus culture."
Hester should be rewarded for his work. "Mr Hester has not returned RBS to profitability – who could, amid such economic turmoil? – but he has done a creditable job of turning it round," according to a Telegraph editorial. The editorial pointed out that Hester's bonus was in line with the terms of his contract, an amount that is "proportionate to his achievements (and to the considerable sums he has saved the taxpayer), to the tune of 60 per cent of the possible total".
Had RBs Chief Executive Hester received his bonus, he may have paid up to half a million pounds in tax, calculated The Daily Telegraph.
Corporate greed. "[Hester] has a 350-acre estate in Oxfordshire, a luxury flat in London, a chalet in Switzerland and has given his ex-wife their huge family home. At 51, what more can he possibly need? A moon rocket?" asked Janet Street-Porter in The Daily Mail. Street-Porter argued that bonuses don't guarantee better performance and called for transparent pay scales and an end to inequality: "New jobs will be created only if those at the top stop being so greedy and allow money to flow downwards to give people a foot on the ladder."
Former RBS Chief Executive Fred Goodwin, widely criticised for the way he ran the bank leading up to the bail-out, may be stripped of his knighthood, according to The Daily Telegraph.
Boycott banks. "Faced with global practices, even the most well-intentioned politicians – Ed Miliband, Vince Cable – can only try and keep the issue on the agenda in the hope that openings will eventually appear for more convincing policy," wrote John Harris on The Guardian's Comment is Free. Harris suggested looking to a growing US movement for a long-term solution: "Encouraging people to move their cash away from big financial institutions and into small banks and local credit unions."