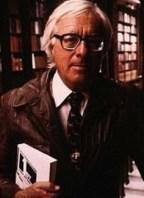 He took us into the future and then farther into the future. He showed us where our politics and lifestyles could take us in books like "Fahrenheit 451." He created a whole civilization and then related it to the Cold War in "The Martian Chronicles." He created a monumental body of books, film, television and theater…so much that it is hard to conceive of one man writing it all.
But he did.
Did you know he scripted the 1956 film version of "Moby Dick?" Or that he was a regular writer for "The Twilight Zone?" Or that his work has been published in over 30 languages? Or that he wrote about 600 short stories which appeared in more than 1000 school textbooks?
And his approach to work:
"Don't think. Thinking is the enemy of creativity. It's self-conscious, and anything self-conscious is lousy. You can't try to do things. You simply must do things.

- Ray Bradbury
Bradbury was our science fiction evangelist and we will miss him… but we are so happy that he left so much amazing work behind. Rest in Peace, Ray.