Sometimes you have one of those days, when you can't stand your oven.  The way it looks at you, thinking things like, what are you going to make tonight, I bet you its not going to taste good,  why don't you stand in front of me so I can make you so hot you feel like melting.  That's just some of the things its tauntingly tells you.   On those days its best to just say no to your oven and eat raw.
That doesn't mean you feel like eating a boring old lettuce salad.  That's how this recipe was created, I felt like something filling, but yet completely flavourful, I could have used actually rice, but cauliflower rice just bursts with flavor and makes this recipe something special.
Filled with Mediterranean flavours, this is a great main course or side salad for any occasion.
RAW RICE SALAD – Serves  6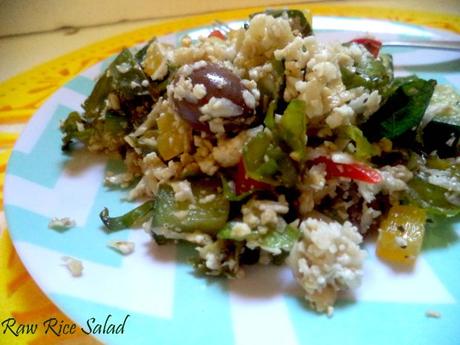 Ingredients
1 Cauliflower head, washed and grated.
1 small cucumber, diced
1 small red pepper, diced
1 small yellow pepper, diced
1 cup chopped baby spinach
3/4 cup black olives
1/4 cup green onions, chopped
1/4 fresh lemon juice
1/4 olive oil
2 cloves garlic minced
1 tsp dried oregano
salt and pepper to taste
Directions
In a bowl toss together the cauliflower, cucumber, peppers, spinach, olives and green onions.  In a small jar add the lemon juice, olive oil, garlic and oregano.  Shake until combined.
Pour over the salad and toss.  Add salt and pepper to taste.  Serve.