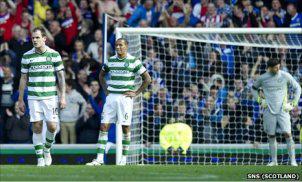 Stokes, Wilson & Forster don't know where to look...
Graeme Souness said today that Villa Boas' team selection would give Chelsea self belief.  For the players chosen, this would hopefully breathe confidence into their play – and they certainly did go into the lions den and contest manfully, but they came up against a Manchester United side whose attacking prowess continued in their early season vein. Neil Lennon picked a side today which most Celtic fans were scratching their heads over – Samaras again given a role which even he I think struggles to deal with. Joe Ledley was left out, and I think this was the most influential exclusion on the day – he brings great energy and balance to the side and means other midfielders can play to their strengths.
The defence again was woefully exposed but did itself no favours with poor marking and pressing which was virtually non-existent.  Zonal marking was the culprit again for the second, it should be renamed ozone marking as Celtic are usually defending thin air. It didn't work under Strachan and its not working with Lennon – the only time I have witnessed its effectiveness, the defenders were competent and experienced. Kelvin 'Bloody' Wilson lived up to that adage with an inexperienced Glasgow Derby debut with numerous poor back passes which put Forster under immense pressure and did nothing for eithers confidence. If Celtic played to their strengths and play the correct team and formation, they would no doubt have won todays game. Lennon afforded Rangers too much space and more importantly too much respect by playing Gary Hooper up top on his own, a role Hooper which doesn't play to the Englishman's strengths and leaves the gap between middle and final third exposed. I came under a bit of criticism for berating the performance of Beram Kayal – I seen his 90 minutes as mainly a lesson in moaning and grappling with opponents with varying degrees of success – this petulance I could actually put down to the Israeli not being able to get a foothold on the game. Neither he, Brown or Ki were able to command the midfield and Rangers orchestrated numerous attacks at will with the second half especially creating many heart stopping moments around Fraser Forsters' goal.
In essence, player choices are the decisions which define the outcome of the match, therefore again on a big occassion Neil Lennon has to reflect on another inexcusable selection today – the team put out on the pitch I don't think believed they could win this match and that showed in their lack of guts and aggression. Their armory is such that Celtic shoyuld outgun their neighbours easily, but the cavalry was left back at the ranch.
Stokes who has provided Hoopers perfect foil – benched
A young, raw, talented and pacey handful in Bangura – overlooked
A big game Glasgow Derby player looking to prove his worth again – at home twittering that he was ready and available.
The option picking the Greek may not cost Lennon his job over time, but the Lurgan man has to realize his big game tactics are hindering the development of the players and the team as a whole.