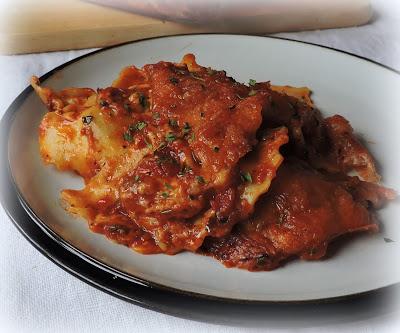 I had a good clean out of the refrigerator today (Wednesday as I write this), in preparation for the up and coming holidays.  It is amazing how quickly your fridge can get full of bits and bobs of stuff, cluttering it up and taking up needed space.  You know the kind of thing I mean  . . .  that couple of tablespoons of relish in the bottom of the jar, or that bottle of ketchup that barely had enough in it for one serving.  I hate waste, so I always save this stuff, thinking I am going to use it, but then don't.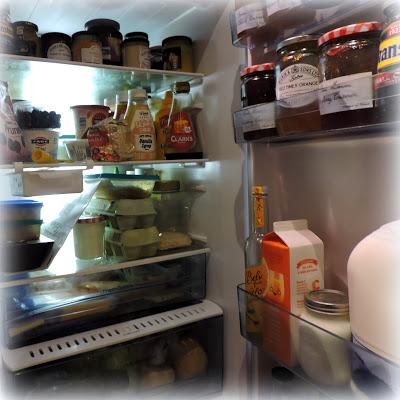 In all truth most jars and packs will tell you the shelf life of said article after opening, and its usually not very long.  Then too, you organize your fridge and it soon gets messy again with things being taken out and put back in.  I always give it a good lick and a promise about once a month anyways, but before Christmas I like to really have a good go at it, so that I have enough space for all the Christmas goodies we will be getting in.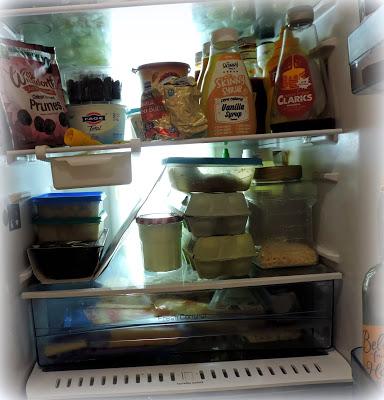 I like a well organised refrigerator, with like things being in position together  . . .  like all the sauces and mustard's in one place  . . .  oriental foods (Ketjap Manis, Hoisin sauce, Srirachi sauce, etc.) in another area, dairy together, etc.  Cooked foods on a higher shelf and raw foods/meats on a lower shelf.  Did you know you should never store your eggs on the door?  In the shops here, they are kept on the store shelves, but they do recommend refrigerating them when you get them home.  I just leave them in the carton and store them on a shelf, rather than on the door.  They say that the temperature on the door fluctuates too much for them to be safely stored there.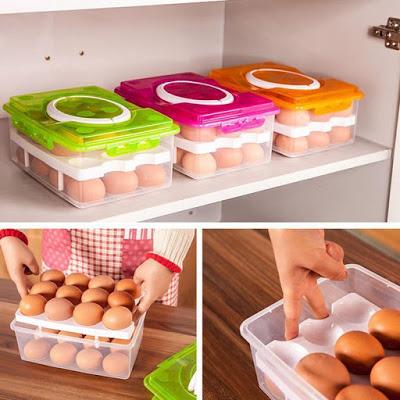 These Deluxe Double Layer Egg Containers are the ideal thing to use for storing them in the refrigerator or in the cupboards if you are so inclined.  It's convenient and protective, and double layered with space enough to hold 2 dozen eggs.  Its easy to use and grid shaped to take up less space in the fridge. 
You can find out more about that here
.  They come in three snazzy colours.  I have one of those on my Christmas wish list!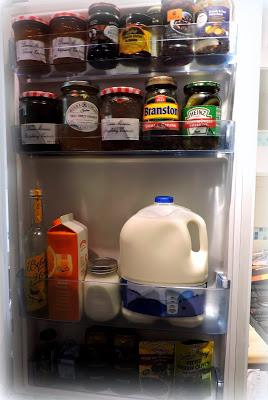 I like to store my milk, other drinks and all of my jams and a few pickles on the door to my fridge.  My old fridge had a water dispenser and there was hardly any room on the door for anything.  I like the setup in this refrigerator so much better!  I know there are only two of us, but you would not believe the amount of milk we go through.  Todd is the main user of it.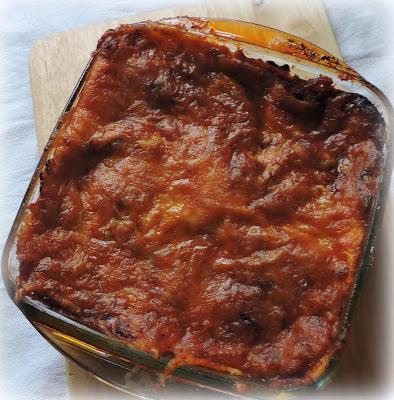 I had  small package of fresh ravioli taking up some space that was on its due date today so I threw together a Ravioli Lasagna for us for our dinner.  It was a beef and red wine ravioli.  Fresh pasta.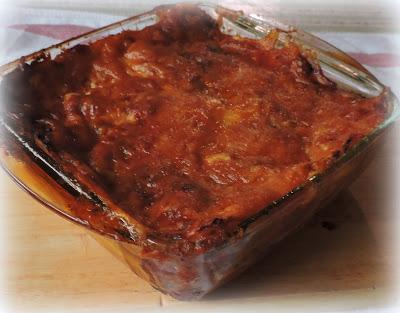 The package said it was just enough for two servings. I have noticed lately that most things only serve two people, which is okay for us as we are only two people, but what do larger families do?  They must have to buy in multiples! That must get pretty expensive and annoying!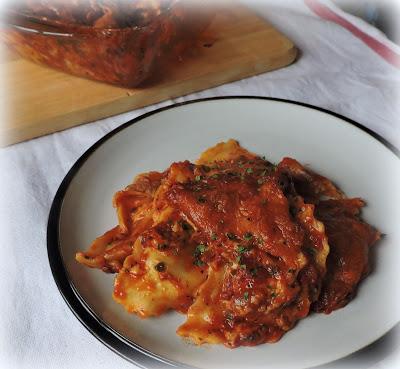 For this recipe you simply layer the fresh ravioli with a good tomato pasta sauce and cheese in a baking dish and bake.  Its so simple.  No fuss, no muss.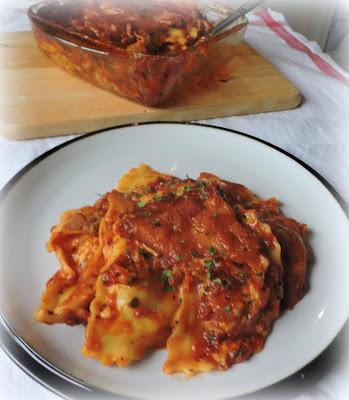 Layer and bake and in no time at all, dinner is ready.  All you need on the side is a lovely salad and maybe some garlic bread if you are feeling really hungry.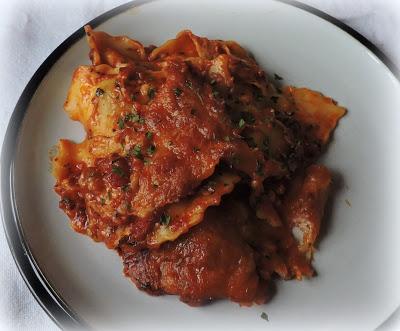 This was really very tasty!  Even Todd (who hates pasta) didn't complain.  I don't think he realised what he was eating actually, lol.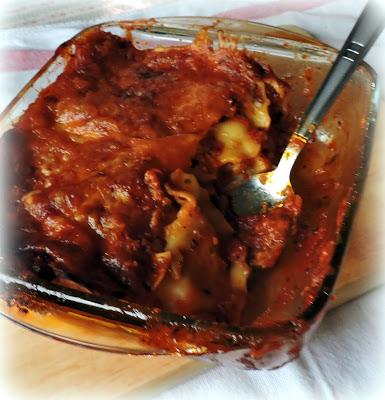 I do have to apologize for the lousy photos today.  It has been raining cats and dogs and is dark, dark, dark.  I like to use natural lighting, hence the poor photographs, but trust me when I say if I had turned the lights on they would have been worse!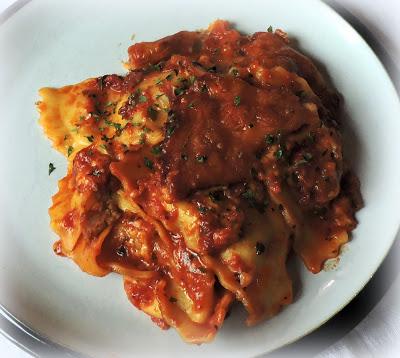 In any case this makes a delicious supper for when you are lacking in time and inspiration.  Although the quantities are for two people, it can very easily be doubled to serve more!
Yield: 2
Author: Marie Rayner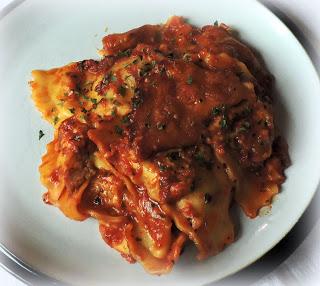 Ravioli Lasagna
prep time: 10 mins
cook time: 45 mins
total time: 55 mins
Another delicious weeknight quickie, sized perfectly for two people, but very easily doubled to feed more!
ingredients:
350g jar of your favorite tomato pasta sauce (1 1/2 cups)1 (300g) pack of your favorite ravioli (10 ounces)(You can use frozen or from the chiller cabinet)120g grated four cheese blend (1 cup)45g grated Parmesan cheese (1/4 cup)
instructions:
Preheat the oven to 200*C/400*F/ gas mark
 6.  Butter a small baking dish.  Cook the ravioli according to the
package directions and drain well.  Mix together the four cheese blend
and the Parmesan cheese.  Spread 1/3 of the pasta sauce in the bottom of
 the baking dish. Top with half of the ravioli.  Top with another third
of the pasta sauce and half the cheese.  Top with the remaining ravioli,
 sauce and cheese.  Spray a sheet of aluminum foil lightly with cooking
 spray.  Place over the casserole dish, spray side down and cover
tightly.  Bake in the preheated oven for 30 minutes.  Uncover and bake
for a further 15 minutes.  Let stand for 5 minutes prior to serving.
Created using
The Recipes Generator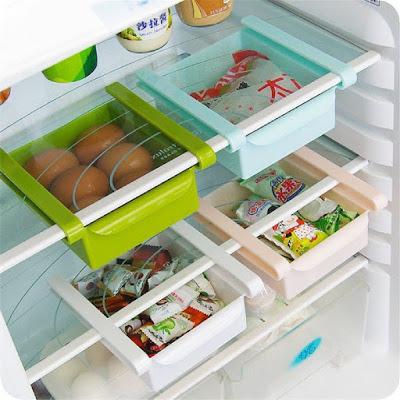 One thing that I really like in my refrigerator are these
Essential Refrigerator Containers
.  I just have one at the moment, but plan on getting more.  These innovative refrigerator containers add space to your fridge and help you to safely and neatly arrange things to your convenience.  Right now I have some cheese in mine, but they come in handy for all sorts, sandwich meats, snacks, yogurt tubes, squeeze condiments, eggs, etc.   They are simple and easy to use.  You just slide them onto the refrigerator shelf using the handy clips which hold it in place, allowing for you to slide it open easily as well.  Simple to handle, set up and use, secure locking, with a good fresh air flow, and are dishwasher safe for easy cleaning.  Click on the link above to find out more. They are available at a pretty good price at the moment as well, with free shipping in the USA.   I love mine and plan on getting a couple more in the new year!
So now that my fridge is all clean and tidy for Christmas, I can start planning on what I am going to fill it with!  Not too much I don't think, until just prior to Christmas.  Filling it up too soon will just defeat my purpose in cleaning it up and getting it ready!  Enjoy the lasagna and Bon Appetit!