Raven and Lain Bower are a wife and husband team of writers living in Michigan. They are avid role-players and love to design mythical and diabolical creatures, characters and fantastic worlds together. They are co-creators of Farath, a new epic fantasy world in the works.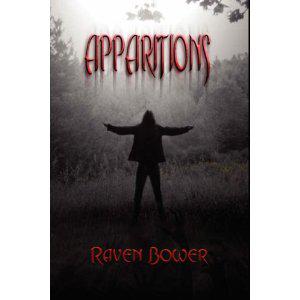 Raven's first book, Apparitions, is a ghostly supernatural suspense story now available in paperback and as an ebook. Lain and Raven also wrote the screenplay for The Nano Effect, a dark futuristic suspense movie that is currently under production at Mad Lab Films.
What an exciting genre! Can you tell us about the next books in this series?
Yes, the next book is Wendigo. My editor, Terri, at Under The Moon contracted both Wendigo and the third book in the Apparitions series, Rags Beneath. I was really happy about this and I love working with her.
Are you planning a print book or ebook only for this title?
Both Wendigo and Rags Beneath will be released in ebook first and shortly thereafter in paperback. I'm not sure I'd be fond of the idea of hardcovers again. They're really expensive for readers to buy and as a reader myself, publishers putting out hardcovers before the more affordable paperbacks bugs me. As an author, hardcovers are definitely a harder sell, no pun intended!
The world of ebooks is certainly evolving. When you receive royalty payments from your publisher, how do your ebook sales compare to print sales?
My publisher is very organized this way so we get details on all of it. Sales wise print usually beats out the ebook sales, but I've noticed as time passes more people are purchasing the ebooks.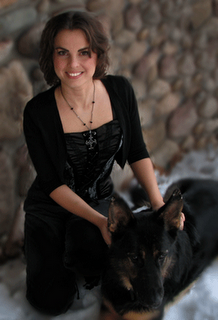 Congratulations on the screenplay for The Nano Effect being turned into a film. That's exciting news! When will it be released?
Thanks! It's being released by Mad Lab Films. The release date is uncertain but my husband Lain, who co-authored the script, and I are meeting with the director,Michael Baker, this spring to discuss some revisions to the script. So far he's leaning towards filming in 2011.
Have you been involved in any of the set design or casting?
Yes and it's quite an adventure. I'd have to warn, not all directors allow the writer much say in anything, but Michael is awesome that way and really likes to follow the vision.
Was it challenging to write a screenplay versus a novel?
I've written two screenplays so far and both were easier than novels. By far, actually. Storytelling wise they both follow the same general rules but a screenplay runs roughly 80-125 pages whereas a novel in my genres run upwards of 300-500 pages in manuscript form.
I understand you are the co-founder of the WLE, creators of the fantasy realm of Farath. Sounds intriguing. Can you tell us more about it?
Sure. WLE stands for White Lotus Entertainment. Lain and I co-own the company and it's our fondest (and most ambitious) dream to bring the best entertainment in books, games and eventually film to those who love our genres.
Farath is a fantasy world specifically built not only for a vivid and deep reading experience via the books, but also to eventually be a world rife with adventure for gamers and role-players. To this end, we often work with other creative minds and would like nothing better than to be able to hire people and enable them to follow their dreams with us. We haven't reached that point yet, but we're on the way.
How can we find out more about your writing?
You can visit me online at RavenBower.com and at my blog.