In Kentucky, Staff Sgt. Thorogood, a former soldier in the U.S. army, now in the Kentucky National Guard, is suing the U.S. government over a tattoo ban, seeking $100 million in damages.  At least one of his tattoos, apparently acquired after leaving the army, would not have been permitted under the old rules either.
I will be very surprised if his suit is not thrown out, much less succeeds.  But I'd rather see him sue the government than shoot at it -- which is one of the alternatives.  But another alternative is - if you are sufficiently motivated - to have tattoos removed.
Typically, joining the U.S. military means
voluntarily
agreeing to comply with their rules and regs, including limitations or restrictions on appearance and conduct.
From
WDRB
:
Kentucky guardsman sues over Army tattoo rules

Posted: May 01, 2014 3:48 PM CDT Updated: May 01, 2014 3:48 PM CDT
LOUISVILLE, Ky. (AP) -- A Kentucky National Guard soldier with aspirations of joining a U.S. Army special operations unit wants a federal judge to overturn the military's new regulations concerning soldiers with tattoos.Staff Sgt. Adam C. Thorogood of Nashville, Tennessee, said the ink covering his left arm from the elbow to the wrist isn't harmful, but the Army is using the body art against him and stopping him from joining the 160th Special Operations Aviation Regiment at Fort Campbell, Kentucky.
Thorogood sued Thursday in U.S. District Court in Paducah, Kentucky, seeking to have the new rules declared unconstitutional.
Thorogood has tattoos; the army has new rules about tattoos, banning them below the elbow and knee.  The army has regulated body modifications for a long, long period of time, with the rules changing as standards evolved.
Police departments have similar regulations, and other nations which are our allies have similar standards and regulations. 
This is about professionalism, this is about a standard for appearance, this is about unity and discipline.
  And this is about trust and interaction with others.
"Some officers agree, believing a tattoo-less police force will aid in their community interactions. Jeffrey Yzquierdo, who has a full-sleeve tattoo on his arm, had been with the Phoenix Police Department for 11 years when he told the New York Times that he had no problem with a tattoo ban. "Some people want nothing to do with me," Yzquierdo said, indicating he was frustrated with the public's negative response towards him because of his tattoos.
Now add to that the complexities of a military force where individuals may be stationed in and interacting with people in other countries.
But that is not the whole of the story; we have a long history of issues with groups that use tattoos to identify domestic terrorist associations, notably neo-nazis and white supremacists. It would seem obvious that these are objectionable or offensive, and contrary to cohesion, good order and discipline; but that also requires the military in order to self-police this body ink to be savvy about a whole range of esoteric and secretive symbolism and to have to make decisions between what is and is not acceptable.
It makes far more sense to raise the standards of professionalism; this extended to other aspects of appearance, not only tattoos.  But the problem is not only about what looks pretty or business-like; there is a very serious related problem of dangerous extremists in our armed forces.
How widespread has the problem of radical right wing terrorist groups in the military been? More extensive than the general public might know, if you look at examples of violence by neo-nazis and other radical right violent extremists and domestic terrorists, including right wing militia groups.
This photo of the Sikh temple shooter, Wade Michael Page, from a group of photos of Page on
Business Insider
, showing neo-nazi tats: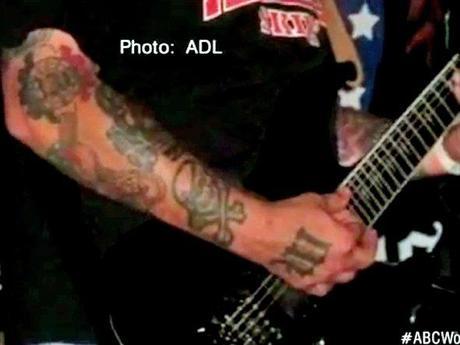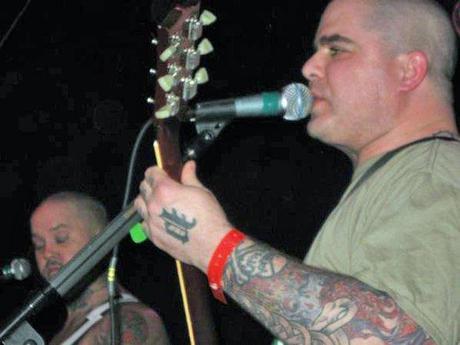 Page was an army vet, serving from 1992 to 1998; he was forced out of the armed forces with a general discharge.
As noted by the
Southern Poverty Law Center
(and elsewhere), Page was recruited into the racist movement while in the army:
...the details of his life suggest that the path toward his final act began at a U.S Army base that was home to a thriving neo-Nazi underworld during the time Page was stationed there in the mid-1990s.
This is part of a larger pattern of our own armed forces providing a pool of people to neo-nazis, white-supremacists, radical violent so-called Christian identity groups, secessionists, sovereign citizens and other extremist groups associated with radical right wing domestic terrorism.
Here in Minnesota we saw this with the militia-member criminal, Keith Novak, who was involved with trying to gain fake IDs for his militia associates to attack a key intelligence facility in Utah.  From
the STrib
:
Militia leader from Maplewood pleads guilty to Fort Bragg ID theft

Article by: RANDY FURST , Star Tribune
Updated: April 15, 2014 - 9:49 PM

Keith Novak of Maplewood sold personnel information of Army service members to an FBI undercover employee.A Minnesota National Guard member linked to ­militia groups has pleaded guilty to identity theft, but the U.S. attorney's office will not charge him with leaking classified information under terms of a plea agreement.
Keith Novak of Maplewood could be sentenced to three to four years in prison, if prosecutors prevail in their recommendation based on sentencing guidelines, or six months to a year behind bars, under the interpretation of guidelines and recommendation by his defense attorneys. He could also face a fine ranging from $2,000 to $75,000.
No sentencing date has been set for Novak, who remains in custody.
The plea agreement, spelled out in a nine-page memorandum, indicates the FBI was watching Novak closely, and that he supplied personal information on 98 service members to undercover FBI employees between July and November 2013.
Novak gave the information to the undercover operatives knowing it "would be used unlawfully to create false identification documents for individuals not known to him," court documents say. He also accepted $2,000 on Nov. 4, and another $2,000 on Dec. 11 from undercover FBI employees in exchange for the information.
Novak was on active duty from 2009 to September 2012 in the U.S. Army, assigned to the 82nd Airborne Division at Fort Bragg, N.C., where he had access to personnel rosters that contained personal information, including names, Social Security numbers and security clearances.
Before leaving active duty, he obtained a personnel roster and took it with him when he moved to Minnesota. The documents included information on about 400 service members.
Novak, who was 25 at the time of his arrest in December, admitted to — but will not be prosecuted for — transferring a document to an FBI undercover employee on July 23, 2013, that he believed contained classified information, the plea agreement states.
There was no mention in the agreement of testimony in court by an FBI agent who said that Novak belonged to the 44th Spatha Libertas or "Sword of Freedom" militia and had discussed bombing a National Security Agency in Utah. He was never charged regarding those allegations.

This is not a new problem; it is one the armed forces have been wrestling with for decades. A research paper by a Lt. Cmdr. in the Marine Corps as far back as 1996 addressed the problems, entitled
"The Rise of Domestic Terrorism and Its Relationship to the United States Armed Forces"
provides a good historic over-view.
The
Atlantic did a more recent review of the problem
a year ago, just after the Boston Marathon bombing:
The Greater Danger: Military-Trained Right-Wing Extremists
Prior to the Boston bombing, a series of high-profile attacks prompted concern about Islamist extremists within the U.S. armed forces. It's not unfounded, but it downplays a bigger threat.
But there's meanwhile a more worrying danger: that right-wing extremists who have served in the U.S. military will use their training in carrying out terrorist violence.
Right-wing extremists are more likely than violent Islamist extremists--or, as they are sometimes called, jihadists--to have military experience. They are also better armed, and are responsible for more incidents. The past two decades have seen multiple attacks from right-wing extremist veterans, from Wade Michael Page, who trained at Fort Bragg, to the group of former and active-duty soldiers in Georgia, who collected weapons to carry out a plan to assassinate President Obama. In 2011, Kevin Harpham, who had served in the army, placed a bomb along the route of a Martin Luther King Jr. Day parade. During the 1990s, violent extremism in the militia movement and other right-wing movements relied heavily upon those who served in the military. Timothy McVeigh, the perpetrator of the most deadly terrorist attack on American soil before 9/11, was a military veteran whose libertarian views were also heavily influenced by a novel by a former American Nazi Party official. Eric Rudolph, the anti-abortion extremist who bombed the 1996 Olympics, had also enlisted in the army.
Daryl Johnson, former senior domestic terrorism analyst at the Department of Homeland Security, noted the important relationship between the military and violent right-wing extremism in his book Right Wing Resurgence. He writes that right-wing extremists "target law enforcement and military personnel for their training experience (particularly weapons and explosives training), their disciplined way of life, leadership skills, and access to weapons, equipment, and sensitive information." Johnson further notes that a government survey of 17,080 soldiers found that 3.5 percent of them had been contacted in order to recruit them into an extremist organization and that 7.1 percent said they knew another soldier who they believed to be part of an extremist organization. Right-wing extremists who have served in the military are also more likely to acquire arms individually

. About nine out of every ten military-trained right wing extremists obtained weapons compared to about six out of every ten military-trained jihadists and about a quarter of all jihadists. There are many potential explanations for the difference, but it is clear that the right-wing extremists who have served in the military are by far the best-armed extremists threatening the American people.