I received this book for free from BookTribe in exchange for an honest review. This does not affect my opinion of the book or the content of my review.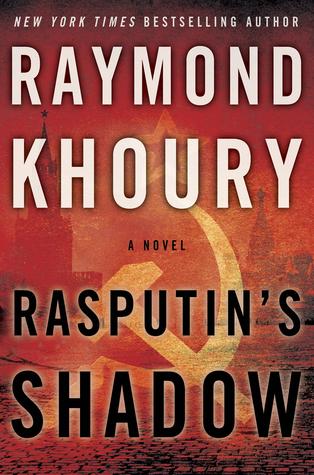 Rasputin's Shadow
by Raymond Khoury
Published by
Penguin Group on 10/8/13
Genres:
Adult, Adventure, Fiction, Historical, Mystery, Thriller
Pages:
416
Format:
Hardcover
Source:
BookTribe
Goodreads

On a cold, bleak day in 1916, all hell breaks loose in a mining pit in the Ural Mountains. Overcome by a strange paranoia, the miners attack one another, savagely and ferociously. Minutes later, two men—a horrified scientist and Grigory Rasputin, trusted confidant of the tsar—hit a detonator, blowing up the mine to conceal all evidence of the carnage.
In the present day, FBI agent Sean Reilly's search for Reed Corrigan, the CIA mindcontrol spook who brainwashed Reilly's son, takes a backseat to a new, disturbing case. A Russian embassy attaché seems to have committed suicide by jumping out of a fourth-floor window in Queens. The apartment's owners, a retired physics teacher from Russia and his wife, have gone missing, and further investigation reveals that the former may not be who the FBI believe him to be.
Joined by Russian Federal Security Service agent Larisa Tchoumitcheva, Reilly's investigation of the old man's identity will uncover a desperate search for a small, mysterious device, with consequences that reach back in time and which, in the wrong hands, could have a devastating impact on the modern world.
Packed with the twists, intrigue, and excitement that Khoury's many fans have come to expect, Rasputin's Shadow will keep readers turning pages long into the night.
Here is my review of Raymond Khoury's Rasputin's Shadow. Also check out an excerpt of Rasputin's Shadow and  a Q & A with the author of the book too.
Rasputin's Shadow is the first Raymond Khory book I've read and, and while I have to admit it was slow to catch my attention (to many questions unanswered). But as I kept reading and learning more and more of the back story of Rasputin his minion Misha and Misha's grandson Leo it got to the point where I couldn't put the book down. The first hundred pages took me as long to read as the last 300 due to this.
The story is one of a scientist with a potentially catastrophic weapon showing up after many many years successfully staying hidden in the US. Leo defected from Russia and evaded the CIA to keep his knowledge and the weapon he could create out of the hands of either government. But with one mistake due to grief the Russians find Leo. And then the body count starts to pile up, and Leo runs, his wife is captured by the Russians, a Korean gangster is dragged in,  along with the FBI and a Russian Counselor for Public Affairs. The FBI, Sean Reilly and Nick Aparo and the Russian Counselor Larisa are thrown together after the first body is found. Reilly knows that Larisa is more than she claims and has to work around that knowledge while trying to stop whoever is killing the people in New York. But the big question is why, and it takes a lot of work for the FBI to finally understand what is going on. There is a lot of cat and mouse played throughout New York as Reilly and his partner try and solve this case, and try to understand who the enemy is as they try to rescue Leo.
I found this book to be very fast paced, especially after the first 100 pages. The interactions between the characters is interesting and realistic, and I enjoyed seeing them work together to solve the mystery of what was going on. I plan on picking up some of Raymond Khoury's earlier books to learn more about Reilly, and what makes him tick.
Please go and check out an excerpt of Rasputin's Shadow and a Q & A with the author Raymond Khoury f the book too.