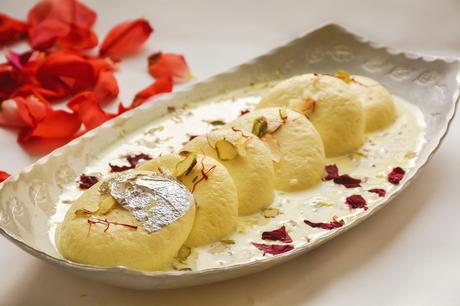 Rasmalai recipe - Learn how to make easy rasmalai with step by step pictures
Rasmalai is a Bengali delicacy made with spongy cottage cheese balls dunked into aromatic milk syrup known as 'Ras'. It is one of the best Indian sweet dessert. It is also a gluten free dessert, So those who are can't tolerate gluten can have it with joy!
This rasmalai recipe is very easy to make at home. In this rasmalai recipe, I have shared two methods to prepare it, one is the quick rasmalai recipe in 10 minutes and another is from scratch.
First Method - Let me share quick method first.
Ingredients
Store bought rasgulla - 1 tin
Condensed milk - 1/2 tin
Milk - 1 cup
Instruction
First squeeze out the syrup from rasgulla using a lemon squeezer . Press it gently. Place a pot over medium heat and add condensed milk and pour milk. Simmer it for 5 minutes. Dunk the squeezed rasgulla in diluted condensed milk. Let them rest for 30 minutes and serve chilled.
See how simple and easy it is.!
Second Method - For Easy rasmalai from scratch scroll down below.
For rasgulla sponges
5 cups full fat milk
2 to 3 tbsp lemon juice, add as required
1 cups sugar
5 cups water
2 teaspoon semolina or 1 teaspoon cornflour
1 tbsp kewra water
½ tsp cardamom powder (elaichi powder)
For Ras (Milk Syrup)
750 ml/3 cup Full fat milk
7- 8 Green Cardamom, peeled and pounded
½ Teaspoon Kewra essence /rose water
2 Generous pinches Saffron/Kesar
A few blanched almonds
Sugar to taste
A few Pistachios, finely chopped
Silver leaf to garnish

Let's prepare Rasmalai step by step
First prepare the thickened milk (ras) for rasmalai
Place a heavy bottom deep pot on medium flame. Add 2 teaspoon water. Now add 3 cups milk to pot and boil. Adding water to pan ensures that milk will not stick to the bottom. Bring the milk to a boil. Add saffron, pounded green cardamom and blanched almonds. Simmer the milk on low heat. Stir every 2 to 3 minutes to prevent boiling. Add sugar to taste and simmer until the milk reduces to half the quantity. Add kewra essence and switch off the flame. Set this aside to cool.
To make rasgulla you can read this detailed recipe of ragulla with step by step pictures
Once the rasgulla and ras(milk) are ready then follow below steps..

Gently press the sponges in between your palm and soak it in prepared thickened milk(ras). Don't apply too much pressure otherwise rasgulla will break.

Decorate it with pistachio and silver leaf. Serve it chilled. You can see how puffy and netty rasmalai has come out. I have tried this recipe for several time and each time it comes out perfect. Do try it and hope it will turn out good.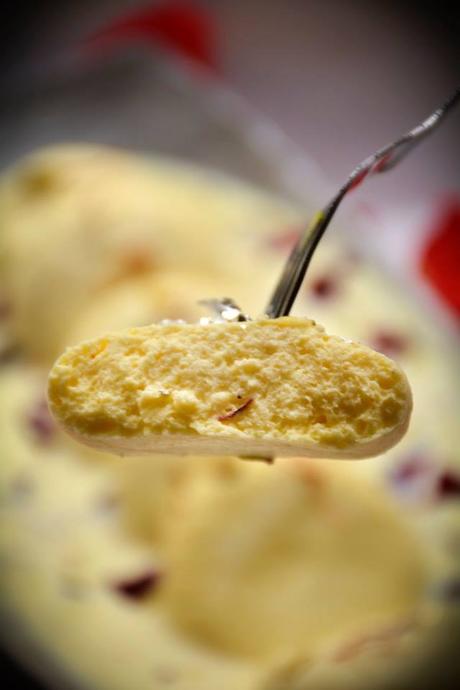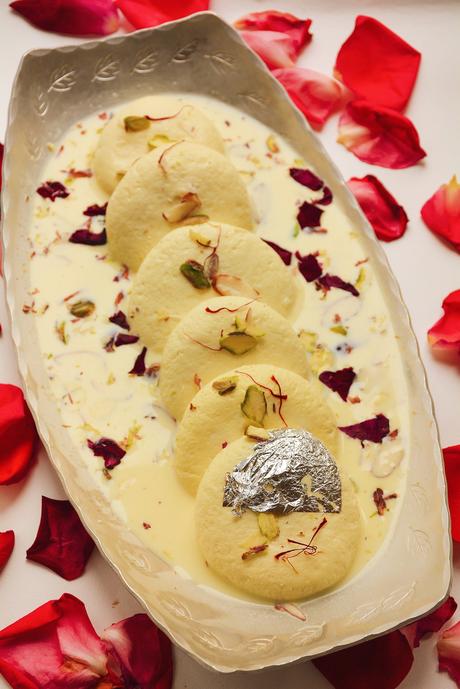 Hope you enjoyed it ! So what now ?
Yes, now its time to share your joy with your loved ones. So share this recipe and make them happy too !
And you also can feast your eyes with some other Bengali sweet recipes listed below.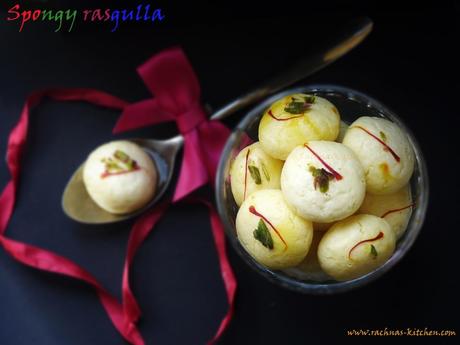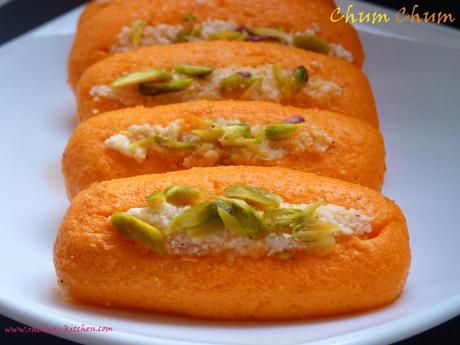 Bengali low calorie rasgulla recipe with Honey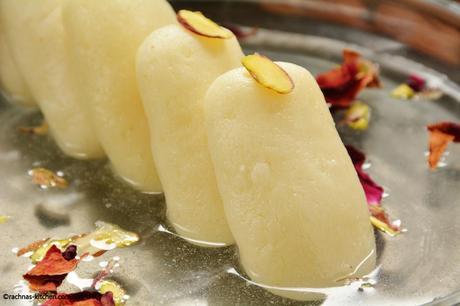 Angoor rabdi recipe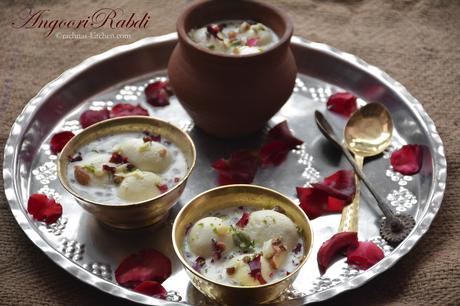 Here is a recipe for rasmalai recipe