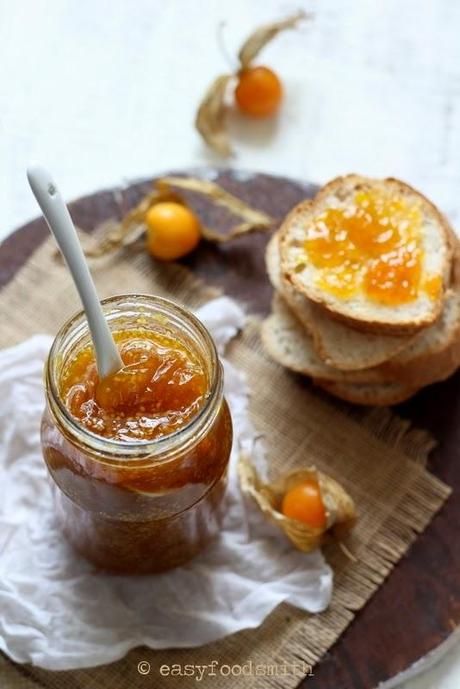 To save on time and to simplify the process of preparing a post, I usually try to make a monthly recipe planner. It helps me plan my whole schedule i.e. from grocery shopping to cooking/ baking & composing the food clicks. However, it happens several times that all my plans go flying out of the window when I spot certain seasonal gems that result in posts such as the
Spring Garlic Pilaf
and now this one. A jam post was nowhere near my plan of things. However, seeing these plump juicy beautifully orange-ish cape gooseberries, I lost my heart to them. They happen to be in season for a very short time and I realized that to enjoy them for long, these beauties needed to be preserved and what better than jam! And it was then, that I also realized that my only other post on jam was this 
Sweet & Spicy Tomato Jam
two years back!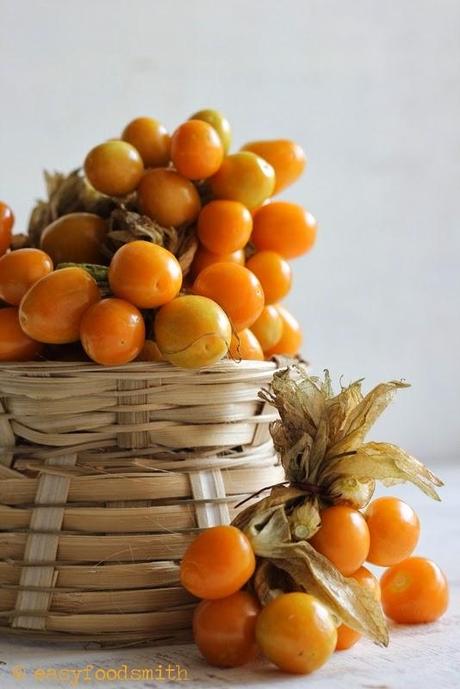 For this jam post, I thought of reducing the sugar and swapping some amount with a natural sweeter and honey is all that is available here. It seemed like a good idea since this would mean that in future I can swap the sugar completely with honey. However, the only problem is that the taste of honey is not something my family enjoys much. To overcome that problem and to camouflage its flavor I chose to add the sweet warm notes of cinnamon. Also, you may swap cinnamon with green cardamom. This recipe can be easily halved. 
I am so glad I made this jam...it felt like letting in the morning sun shine 
– 
golden bliss, warm, caressing and its bright colors will enliven your mood!  


1 kg grams (6 cups) Cape Gooseberries




1

½ cup 

Sugar




½ cup 

Honey




½

 quill Cinnamon, optional (add one quill for stronger cinnamon notes)


2 tbsp orange juice




2 tbsp lime juice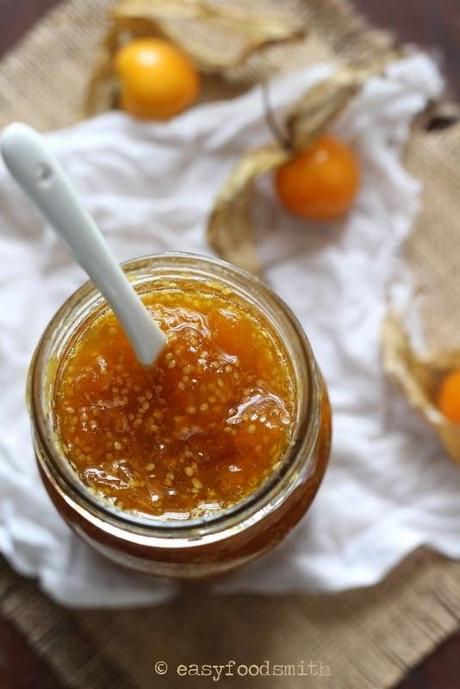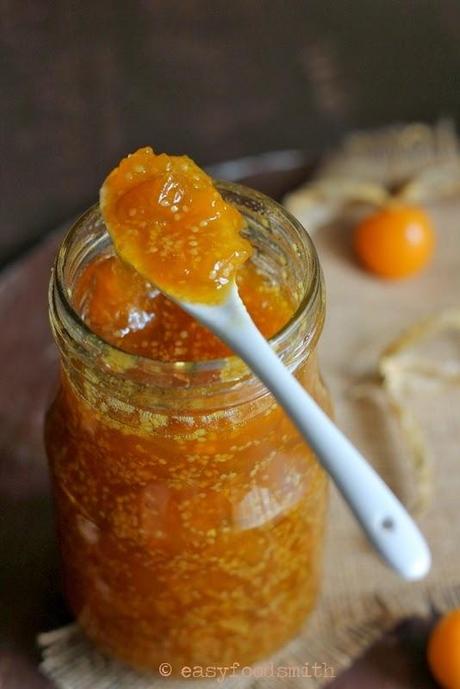 Wash and gently wipe the cape gooseberries with a kitchen towel. I roughly pureed 2 cups of the berries and sliced the rest. (Slice the larger ones horizontally in three,  but not too thin, and smaller ones in halves). 
Take a heavy bottom non-reactive pot and add all ingredients. Put on medium heat and stir the ingredients. Once the sugar melts and the mixture begins to boil (approx 3-4 minutes), reduce the heat to medium low and cook for approximately 25-30 minutes. 
Check for done-ness
of jam. I did the first check for done-ness when the 
jam had been cooking for nearly 25 minutes and then proceeded to cook it for further 5 minutes till it reached the desired consistency.
Once the jam reaches the desired consistency, remove from heat and transfer hot in dry sterilized containers keeping a half an inch space at the neck of the bottle. Screw the lid tightly and turn the jar upside down to allow the heat to create a vacuum.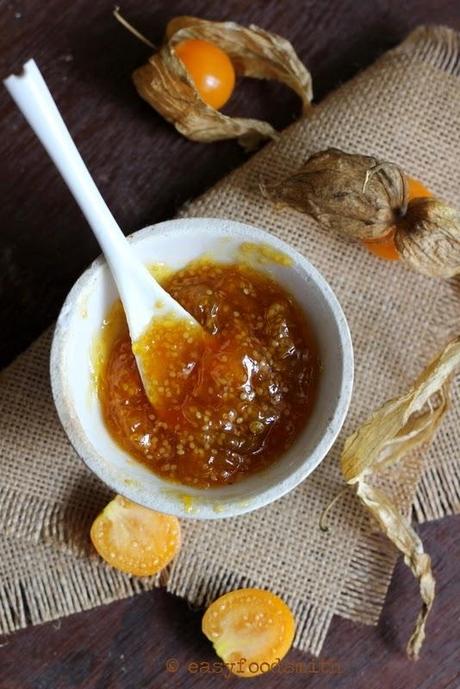 Let the jam cool completely and store it at a cool dark place. Once opened, refrigerate the jam. It should keep well for a few weeks.
Note: Feel free to add either all sugar or all honey to the jam, whatever fancies you.
Note: Since I wasn't too sure what texture the jam would eventually have, to be on the safer side, I puréed 2 cups and sliced the rest. And I am really pleased with the end result J
Thanks for visiting and see you soon again! 
IT IS ALWAYS ENCOURAGING TO HEAR FROM FRIENDS AND READERS. I CAN ALSO BE REACHED AT:
[email protected]