Interesting weather we're having eh? It's the hottest spring on record! The next year it's the coldest spring on record! The most tornadoes ever! The least tornadoes ever! Rare phenomena becoming common. Common phenomena (like rain) becoming rare. It is a wildly swinging pendulum, and this ice tsunami adds to the pot.
This occurred 188 miles north of Winnipeg, Canada a few days ago.
Massive wall of ice rises out of lake and destroys a dozen homes as residents watch helplessly from the shore
"Massive ice floes rose out of a lake in Canada over the weekend, destroying a dozen homes and damaging fifteen others. Within mere moments, strong winds drove piles of ice onto the shore from Dauphin Lake on Friday, inundating homes and giving residents only minutes to flee. 55-mile-per hour winds drove masses of ice from the thawing lake in a phenomenon that is commonly witnessed but rarely seen with such intensity and size. Authorities told the Winnipeg Free Press that seven of the destroyed homes were 'literally crushed by the ice that rose up within minutes from Lake Dauphin. Twenty-seven homes were affected in total as the frozen wall to plowed through everything in its way along Ochre Beach."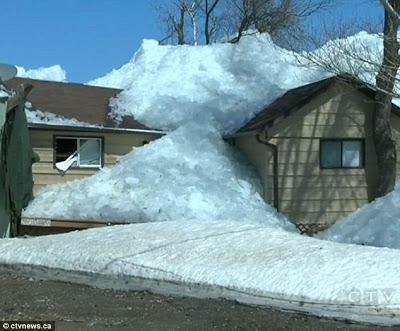 There are lots more pictures at the Mail. The same thing happened in Minnesota this week. Here is raw video showing it. At about 30 seconds in, the mom explains to the daughter what is happening. I was struck by how loud the phenomenon is. You can hear it on the video. Also in the video, the adult daughter is videotaping the event and remarking on how crazy it is, how loud it is, questioned  'how are we going to stop it', but doesn't seem to apprehend the danger until the ice crept to the front of the house and busted into their front door. Then she ran in a panic.
Raw: Ice Wave Comes Ashore in Minnesota