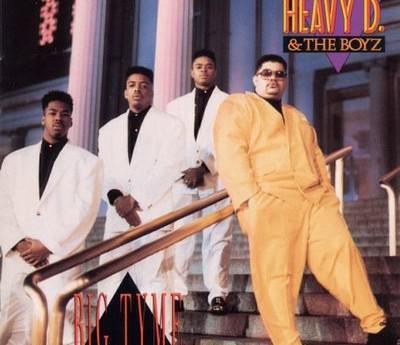 Heavy D is dead! The 250-pound rapper died, at the age of 44, according to the Beverley Hills police, after collapsing outside his house, on Tuesday 8th November. He is reported to have had pneumonia. The last thing he wrote on Twitter was "BE INSPIRED!"
For those of you who don't know who this chap is, he had a band called Heavy D and The Boyz, which was very popular in the 1980s. (It's perhaps no wonder he called himself Heavy D: his real name was Dwight Arrington Myers.) He was born in 1967, in Jamaica, the youngest of six children, said the LA Times in an obituary, and though he dropped out of school when he was eight, he found success in music. He was even an unlikely sex symbol.
Their first hit was in 1987, with "Living Large", after they'd signed up to the influential Uptown Label. Three albums (Big Tyme, Peaceful Journey and Nuttin' but Love) went platinum in the United States of America. Heavy D was also an actor, with appearances on Law & Order: SVU, and other shows, as well as films; though he continued to perform, with an appearance at the Michael Jackson tribute concert in October. The music world has fallen over itself to lead in giving tributes to the man.
"We had a lot of great times touring together. He had a heart of gold. He was a part of what's good about the world," chirrupped MC Hammer on Twitter, whilst Ice T said "I feel sick. Everyone should stop for a second, take a breath and realize how lucky you are to be alive, then appreciate every second with your luv ones," both quoted on The Daily Mail.
Topnotch Hiphop. He was the " 'Overweight Lover' of hip-hop's golden age," said Christopher R Weingarten on Spin.  His albums were "consistently topnotch", mixing "hip-hop with pop aspirations." He had a "cushiony delivery" and a "high-velocity flow", managing to mix "the wholesome and the credible."
And clever, too. He leaves behind a "sweet legacy", said Jim Farber on The New York Daily News. He was "playful", even poking fun at himself in songs like "The Overweight Lover's in The House." He stressed rap as "party music", making "lightness a virtue." He wasn't a fool, though – he paid real attention to "the craft of being clever."