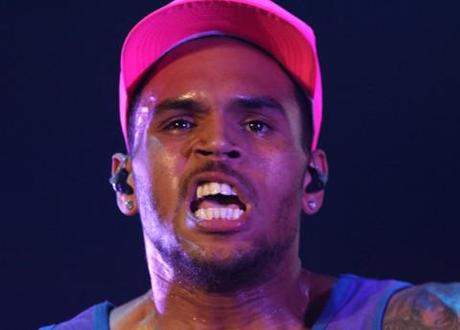 Rapper Chris Brown. Photo credit: Eva Rinaldi celebrity and live music photographer http://flic.kr/p/byHxiC
The background
American rapper Chris Brown, who was found guilty of domestic violence, has acquired a neck tattoo which appears to depict a battered and bruised woman. Brown was convicted of assaulting his girlfriend, Rihanna, in 2009 but the couple are thought to have remained close, reported The Times (£), which noted that they shared a hug and a kiss at the MTV music awards last week "prompting a wave of anguish from domestic violence campaigners who fear their relationship has been rekindled." Indeed, Rihanna told Oprah Winfrey last month that he still loved him. "We're very, very close friends. We built a trust again and that's it. We love each other and we probably always will," she said.
The somewhat odd tattoo at the center of the storm shows a woman who seems to have a black eye and bruised nose and lips. Publicists for Brown have denied any resemblance to Rihanna. "His tattoo is a sugar skull (associated with the Mexican celebration of the Day of the Dead) and a MAC cosmetics design he saw. It is not Rihanna or an abused woman as erroneously reported," Brown's representative told TMZ.
"The body art is reminiscent of a police photograph that showed the injuries to Rihanna in the hours after she was attacked by her partner," observed The Times (£).
Not cute
"Cute new tat, Breezy!," sighed Gawker. "Except that from far away, it looks a little bit like a smudge. And when you get closer, the smudge starts to look like a skeleton from Día de los Muertos. And then, when you get even closer, it really comes into focus: This appears to be a tattoo of a battered woman, one that might very well resemble the infamous, horrible photo taken of Rihanna's face soon after then-boyfriend Chris Brown beat her in a car."
Completely sickening regardless of whether it depicts Rihanna or not
"The singer's body art may or may not be intended to look like Rihanna, but it does look like a battered woman, which recalls the biggest scandal of his career, and sends a terrible message," argued Kira Cochrane at The Guardian's The Woman's Blog, who said "there's no doubt the image calls to mind the biggest scandal of his career, looks absolutely like a pummeled woman, and is in those terms completely sickening."
"If there's one thing more sickening than Brown's new tattoo, it's those who have criticised Rihanna for her renewed relationship with him, suggesting she won't deserve sympathy if she's hurt again," insisted Cochrane, who reminded that, "when someone is beaten, the only person with responsibility is the one with the balled-up fist. If Chris Brown's body art reminds us of anything, it should be that."