Could you possibly believe that that will be groups of people that would make a decision to learn one of the most intricate languages? Well, believe it or not, though we can say that this is indeed possible in these times already, people particularly in Kansas University have increased its number of students because they learn Chinese language.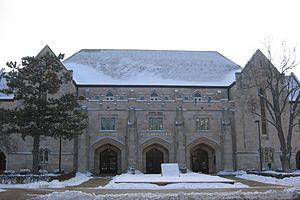 Image via Wikipedia
Just as Daisy Wakefield posted, "the student-led board of Chinese Students and Scholars Friendship Association at Kansas University is structured more like a business than a student group." This is incredible information for an educational institution in America
Very interesting, isn't it? Wakefield even detailed how students from China who are studying in Kansas University have increased from 233 in 2005 to more than 900 in 2011. To rank it in percentage, there are approximately 41 percent of all international students at KU. In fair view to this, the Chinese Students and Scholars Friendship Association is considered to be the largest foreign student group in the university. How's that for a language influence?
Do you know that "among the top 10 nations sending students to KU, the number of students coming from China is rising much more quickly than any other nation? In fact, detailed by the author, KU is not alone in the Chinese students' invasion in America's universities. Other universities across the United States have been invaded by students from China as well. In general, the increasing trend among this incursion increased in more than 100 percent.
"Globalization has allowed the common Chinese person to broaden their perspectives on different types of education. Along with that, the economy in China has improved significantly in recent years, so that many families have the resources to send their children abroad for study," says Yong Bai, one of KU's faculty advisers to the Chinese students.
One of the Chinese students named YuQi Gao is actually not very wealthy, but his parents sent him to a school like KU. "The reason I came here is because in China, a student's life is very intense. There is no leisure time — only studying and preparing for exams. I wanted to be able to learn real skills in my education, rather than just studying to pass exams."
You see, students in KU who have not passed the TOEFL must pass a standardized English test before beginning their academic coursework. Until they do, they must take classes at the Applied English Center at KU. That is one advantage that Chinese immigrants are taking advantage of— that some foreign language schools are also preparing for them.