AIB has been chasing the audience since years now. there is nothing new about the viral show of AIB roast of Bollywood stars Ranveer Singh & Arjun Kapoor. Deepika Padukon were seen laughing at the adult jokes on women which extend a taboo in the industry in feminists. Some took it as just one humor act where others claimed it one massive agony.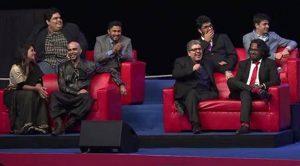 We are no one to judge anyone's personal lives But, we do have one complete rights to watch it, to laugh & to leave our precious feedback always. Entire mob was excited as hell through-out the show. There were all the names from AIB including
Tanmay Bhatt, Rohan Joshi and Ashish Shakya
. Karan johar hosted the show to roast the duo hunks Ranveer Singh & Arjun kapoor. Other famous personalities among attendees were
Alia Bhatt, Sonakshi Sinha and Sanjay Kapoor.
Shahrukh Khan AIB Podcast
The episode was termed as adult material after a huge hit on the web. Have a look at the full episode AIB Roast of Ranveer Singh & Arjun Kapoor.
Tweet