I've been wanting to write this post several times… namely every time I get a women's health or fitness magazine in the mail. I'm not a huge fan of these types of magazines in the first place – "Drop 15 lbs FAST!", "Burn 600 Calories Without Trying", "Look Great Instantly" are just a few of the cover lines on this month's issue of Health – I subscribe mainly for research purposes to keep abreast of what is going on in the world of mainstream health and fitness.
Here's one of the beefs I have with these types of magazines: THEY ALL ASSUME YOU ARE LOOKING TO CHANGE YOURSELF – THAT YOU ARE NOT GOOD ENOUGH AS YOU ARE. Statistics show that women who read women's magazines for even a few minutes end up feeling worse about their bodies, not better. Go figure!
This month's January/February issue of Health features an interview with actress Ginnifer Goodwin. Here's what she looks like on the cover (sorry for the crappy resolution – it was the best I could find):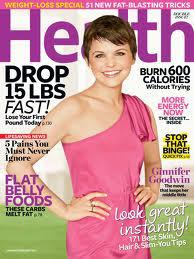 Let me start by stating the obvious: SHE IS TINY.
However, here are a couple of questions the interviewer asked her:
"Do you have any trouble zones you try to tone?" Interpret: Even though you are cute and tiny, let's focus on the negative – what part of your body do you hate the most?
"If you could take a celeb body and stick it on your fridge for inspiration, whose body would you pick?" Huh? INSPIRATION FOR WHAT?!! Interpret: the assumption we all want/need to look like someone else and how you look now is not good enough.
As soon as I'm done paging through and ranting about the articles in these magazines, they go directly into the recycling. I don't want my 10-year old daughter reading these and in fact, I've made it clear to her she's not allowed to read them and why. They are ridiculous. They assume you are not okay the way you are. The message is that size = beauty and self worth.
Is that really "health"?