I knew that True Blood was making a full 180 degree turn after Episode 6, but I have to admit what happened in Episode 7 was more than I had planned on. I loved seeing all the hi-jinks with the vampires and The Authority, but I'm also a bit confused. Here's some random thoughts about the 180 degree turn that took place during this episode.
The Faeries – Sookie turns 180 degrees to be human
As the episode opens, that is after the mayhem at the authority, we first see Sookie getting her luminescence checked by Claude and his sister Claudette. She learns that she is magical, but because she is only half faery, her powers are limited and they may run out. She learns that she could become 100% human, if she isn't careful with her powers. This seems to interest Sookie who has always dreamed of just "being normal." Later, back at Merlotte's, Sookie asks Sam about it and she realizes that this is a big choice for her to make. I'm glad to see her hesitate  because I don't think I would find Sookie half as interesting if she lost her powers as a faery and became just like everyone else. However at the end of the episode she is seen trying to use up her power when Jason runs to her.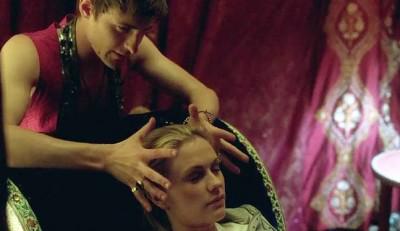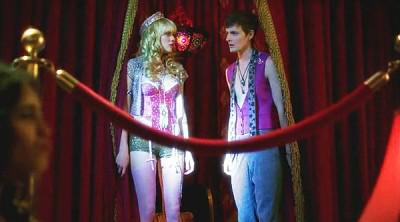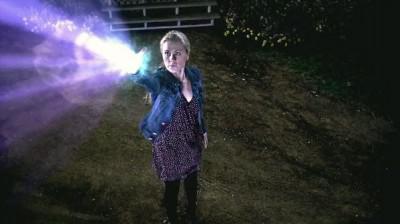 Hoyt takes 180 degree turn from Love to Hate
I know that Hoyt was at rock bottom last episode when he let that creepy guy feed on him almost to his death, but I just don't get how he could have gone from lamenting after his true vampire love, Jessica to hating them completely. His claiming that he has felt more love and acceptance in the hate group than he ever felt in church on in real life, is truly disturbing. And when they say that hate groups are more than about hate, I just tuned right out. It's true that Hoyt was saved by the hate group, and might feel some obligation to them, since really needs some friends right now, but to go this way isn't going to help him find the happiness he so desperately needs. I thought his transition from down and out to avid hater, was just to drastic and quick. Even the relationship between Jessica and Jason is now at an end and the fact that Jason shot Jessica in the head was very disturbing, wow that's sure 180 degrees for Jason.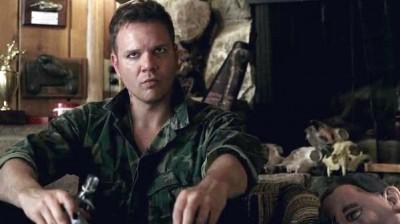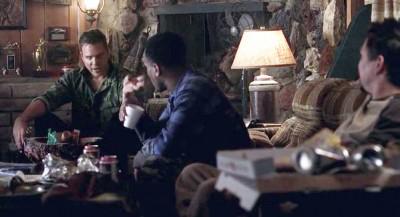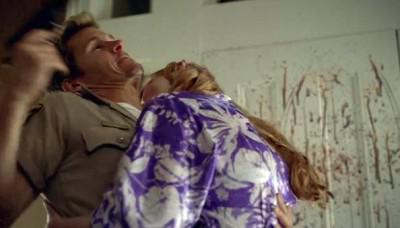 Alcide turns 180 degrees to Rikki and being a Packmaster
After being glamoured by Eric to recoil from Sookie, it does kind of make sense for Alcide to turn to his roots as a werewolf and accept the packmaster role that had been offered to him after Marcus' death. When I first saw Rikki, I knew that she would end up being a love interest for Alcide and I have to say I kind of like it. She seems more of a normal choice for him even it if it is a complete turn about for Alcide to fall for her.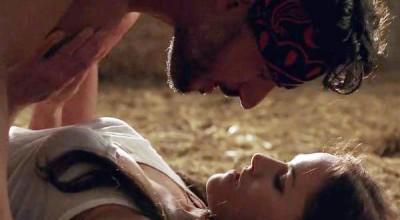 Andy Bellefleur Turns 180 degrees accepting help from a supernatural
After Andy almost got killed by Junior in the Stakehouse only to be saved by Sam, I can certainly understand why he is willing to make his turn by letting Sam do detective work with him.  It's great to see Andy finally showing some sense and using the resources he has to find the perpetrators. I don't get why he sought out Sheriff Dearborn though, but maybe it was so he could realize that getting help from him just wasn't possible anymore and he had to rely on his own wits, instead.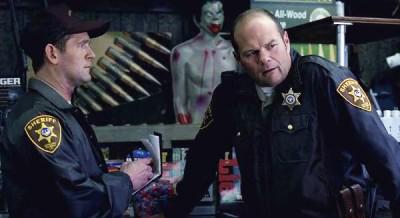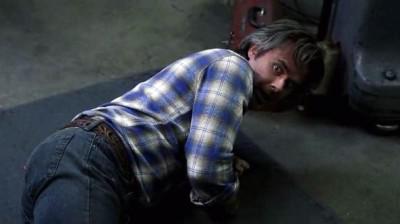 Lettie Mae Turns 180 degrees on Tara
Poor Tara, she has the worst mother there is in Lettie Mae. I was hopeful that her mama was coming to see her because she missed and loved her, but that was not the case. Now that she is a minister's wife, she sahd that she can't have an association with anyone who is a vampire, I get it, but to disown your own child when becoming a vampire was not her choice, I just don't get. I used to feel sorry for Lettie Mae because of her addiction to alcohol, but now she is showing her true personality and to not even give her one daughter any love at all is just too much. Tara shows real pain in the scene with her mama, but also shows her feelings, even as a vampire, when she hugs her maker Pam after her Pam says the line,
"A hundred years from now, you won't even remember her, this I promise you."
This is truly a turning point for Tara and I hope it's for the better for her.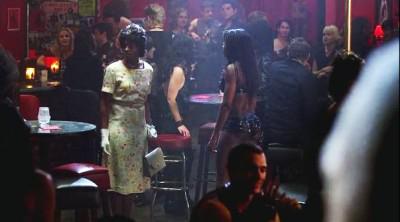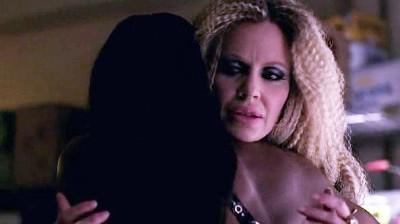 Vampires turn 180 to Religion
At the beginning of the episode we see Bill and Eric trying to figure out how Russell could have killed Roman. They are invited to Salome's chamber and find that Russell has been brought into the fold and they are asked to also join.
Even after Salome admits to having dug up Russell, Eric refuses and Bill says,  "I still believe that without peaceful co-existance between our species, neither species will survive. Therefore, I believe mainstreaming is the only way."
Eric and Bill agree to come to Salome's gathering later where she plans to anoint all of the chancellors into the fold.
At that ceremony Salome claims that Lilith has forgiven Russell for what he has done and Russell then gets up and says he universally disavows himself of what he has said about Lilith. He then says, "I Love Lilith." When Dieter Braun protests, Russell swoops in and kills him.
After that, presumably out of utter fear of Russell, all agree to drink the sacred blood that is said to be Lilith's. Eric tells Bill that the blood can't hurt them since it's vampire blood so they too, agree to play along. The next time we see the group of vampires, they are walking down Bourbon Street, high as kites, presumably from the blood they've just drunk.  I have to wonder if there is a budding romance beginning Russell and Steve Newlin?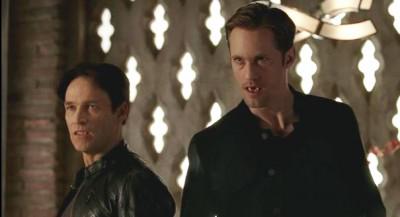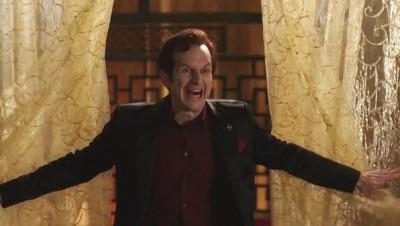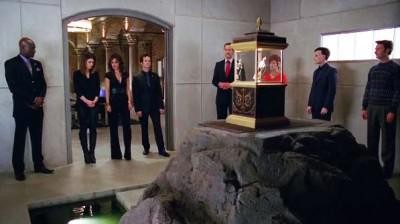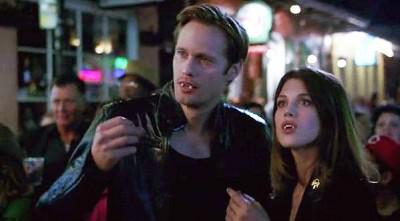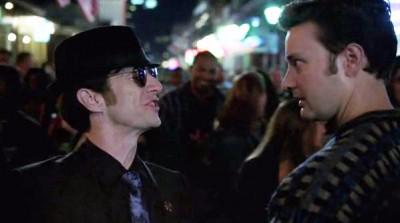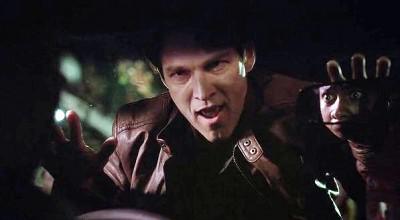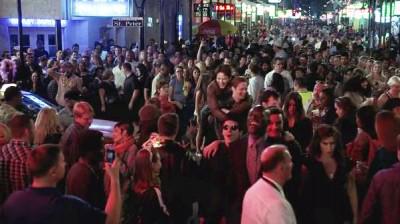 Later Russell enters a bar where a pre-wedding dinner is going on and the others soon follow. They immediately attack the party goers, each of them devouring them all. All of a sudden we see a drop of blood fall into a pool of blood which gives birth to none other than Lilith. All the vampires seem transfixed by her image and she seems to be able to control them. They all continue their blood sucking, except for Eric who sees a vision of Godric who tells him, "This is wrong, You know this…but your sister does not. Save her, my son." Peaceful co-existance seems to be a distance memory in Bill's mind as he continues to drink from his victim, let's hope Eric doesn't do the same listens to Godric.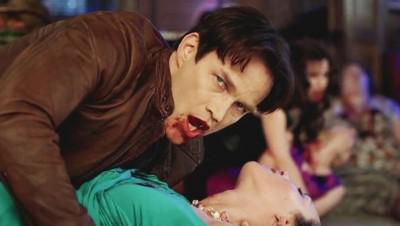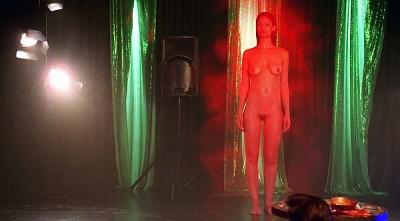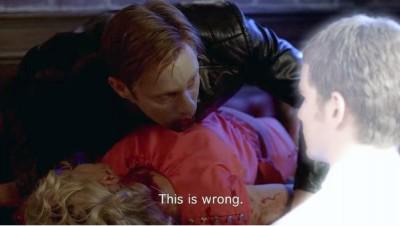 Random thoughts about the rest of the episode:
I don't have much to say about the other story lines. I really enjoyed Arlene and Holly watching the wedding video, but Lafayette being made captive by Don Bartolo was really creepy  and didn't seem to fit in anywhere. However, I'm so glad that he was freed.  Terry is somehow lost and I hope that story line will pick up. I'm wondering what the reason is for bringing back Bud Dearborn? Could there be another reason or purpose that we saw him again other than to talk to Andy?
While I'm still a huge fan of the show, this episode didn't do it for me, perhaps with the exception of the vampire story line, but I'm hoping that it's setting us up for some truly great things yet to come. I'll be tuning in Sunday night, just like always.