This week's episode 4.09 of True Blood called "Let's Get Out Of Here" was really fast paced and I'm glad that things are coming together, but I have to say that there were some unresolved issues that made it not my favorite episode of the season so far. The themes that resonated this episode were Lafayette/Mavis, the Jason, Hoyt and Jessica triangle, Shifters/Werewolves, and finally the Festival of Tolerance. Somewhere in this I'll find space to add in Sookie's dream which almost didn't fit in the episode somehow for me.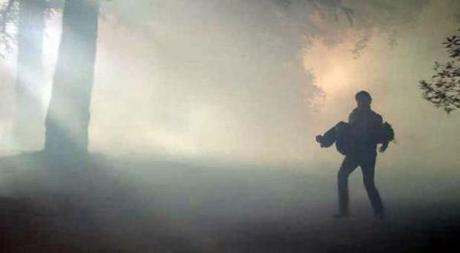 Here's my random thoughts about this episode.
Lafayette saved by Jesus co-starring Mavis/Jason/Andy and the Bellefleurs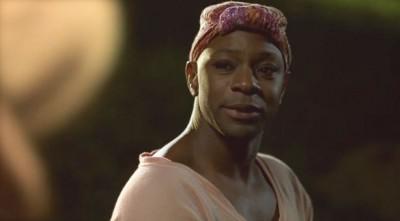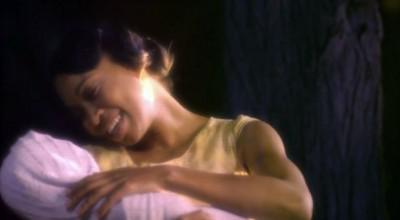 Nelsan Ellis really found his center this week when playing Lafayette possessed by Mavis, his portrayal was just amazing.
The problem starts when Lafayette possessed by Mavis comes to Hoyt's house and throws Hoyt out at gunpoint while holding baby Mikey.
Hoyt calls Jason for help and he and Andy come over to try and get Lafayette to let the baby go. Before they leave Andy is supposed to get pants for Hoyt, but he finds some V, takes it, and therefore forgets about the pants. Poor Jim Parrack as Hoyt had to play most of his scenes in this episode without his pants because Andy was on V and forgot to bring him a pair.
When they arrive at Hoyt's house, Andy and Jason try unsuccessfully (by knocking down the front door), to get the baby back.Then, Arlene and Terry show up and soon so does Jesus who has been called by Arlene. Terry offers to go inside the house with Jesus and starts spouting some tactical military maneuver stuff, but Jesus just says, "I'm a nurse." and that he is going in alone. When he goes in, he connects with Lafayette as Mavis and discovers that she is inhabiting Lafayette's body in order to get her baby back. She was killed right after the death of  her baby by its father and she needs to just hold the child before her spirit can rest. Jesus shows her this and she realizes that the body she is in, is not hers. After Mavis releases Mikey to Arlene and Terry, Hoyt digs up the grave where they find the remains of both Mavis and her baby. Mavis holds the remains of her child and by doing so frees her soul and she leaves Lafayette's body and disappears in a flash of light.
This should be the end of it, but for me, it's an unresolved issue. First, i wonder, who is Mavis?  Obviously she had lived in the house where Hoyt now lives, but what is her connection to Mikey?  Is it all the doll and the fact that Jessica just happened to give the doll to Mikey that made Mavis' spirit think he was hers? Why did she all of a sudden rise from her grave and inhabit Lafayette?  Who was the father of Mavis' child? I wonder if he might be a Bellefleur relation, but not sure. Also many had speculated that Mikey was the reincarnation of Renee and Renee would return, but that now appears to be false because I think this storyline is over.
I now wonder how Lafayette and Jesus will now tie into the Antonia plot line, if at all. At least we have some resolution with one story-line this season, but I am still wondering why Jesus and Lafayette went to Mexico?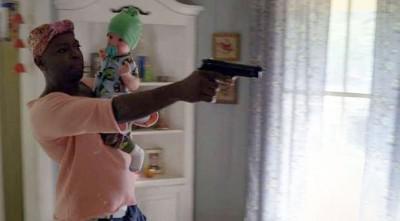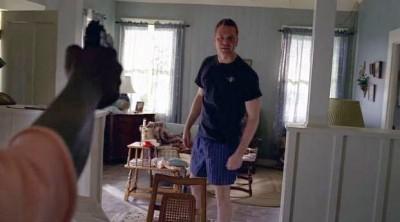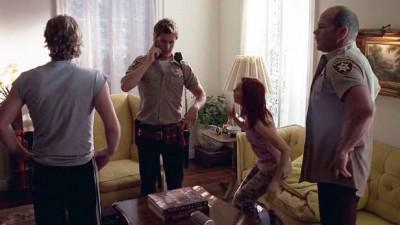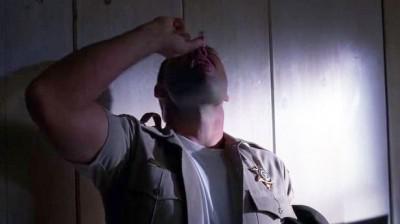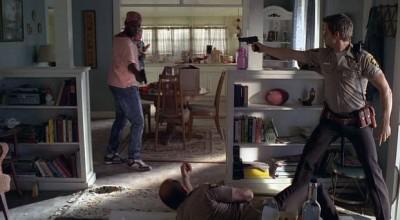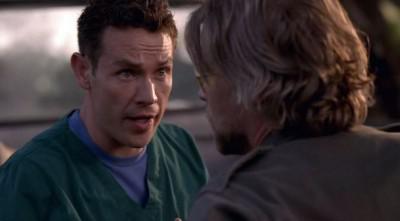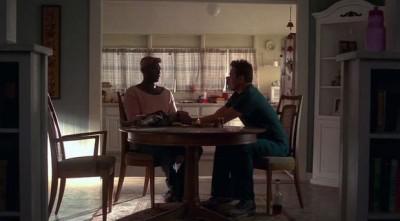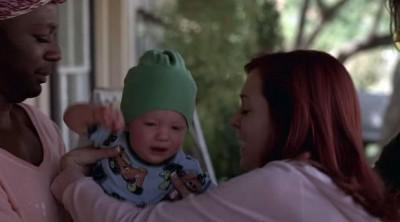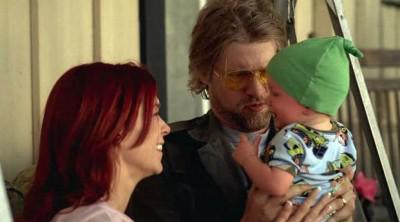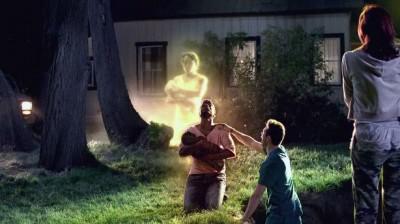 Jason/Hoyt/Jessica Triangle
We first see Hoyt in his home before being thrown out by Mavis as he wakes from presumably a drunken stupor.  When he finds a CD of Jessica's, he decides to pack up all her stuff in a box and marks the box, "FOR YOU, MONSTER." Hoyt is definitely hurting over the loss, and it's showing us a different side of him that I'm not sure I like too much, but people act strangely when they are hurt so deeply as he must have been. Poor Jessica cries her heart out to Nan Flanagan who has no interest or sympathy for her. After Hoyt gets back into his house he and Jason fix the front door and talk a bit. Hoyt asks Jason to return Jessica's things to her and hands him the monster box. Jason at first resists, but Hoyt begs him as his closest friend and he gives in. When Jason does return the things, he and Jessica get it on.  Did anybody else notice the chain saw in the back of the truck where Jess and Jason have sex? That seemed oddly reminiscent of Season 3 when Jessica rented one to get rid of the body of the trucker she had accidently drained.  I sure hope that isn't a bad sign for Jason.  Oh, and I loved it when Jason was sympathizing with Jessica and said that Hoyt had asked him to deliver her things.  She asked him if that was how he said it, and Jason says, "I might be parrot-phrasing a little."  I also liked that he used a marker to blot out the wored Hoyt had put on the box.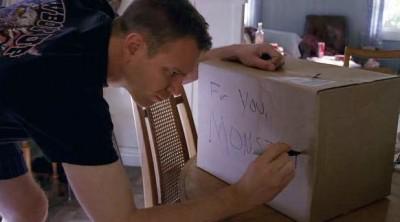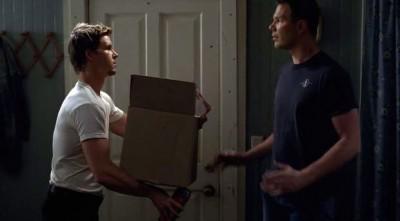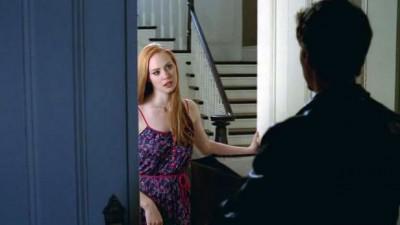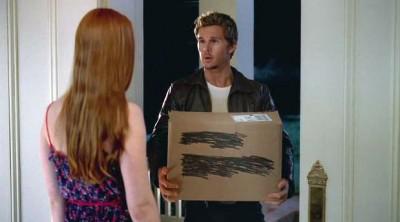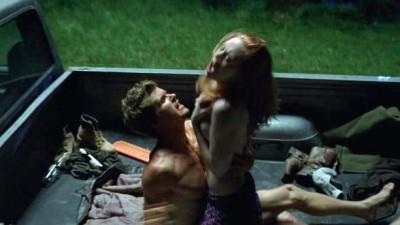 Shifters and Werewolves
Alcide is definitely a good guy.  He saves Sookie originally from the fight that got her shot in the last episode, but he didn't get a chance to take any glory before Bill ran up, grabbed Sookie from him and took her to her home. Alcide came to the house to find Bill trying to give her his blood to heal her. Once Sookie is healed, she immediately wants to look for Eric.  Alcide is furious that she would again go after a vampire when her life has just been threatened again, so he walks out in disgust.
He goes home to Debbie whom we know saw him carry Sookie home at the end of the last episode. She is not very happy about that. She seems insecure about a lot of things and that's why I think she is prone to addiction. The next day she seeks out Sookie and brings her flowers, but not before she takes some V for courage. I'm not sure if I trust Debbie because when she takes Sookie to the Goddess Emporium, she rats on Sookie as soon as things heat up. She seems to have an extremely weak character. I predict that she will hook up with Marcus.
Tommy goes to Merlotte's to say good bye to Sam and since Sam isn't there, he is writing him a note when Marcus comes in asking for Sam. Tommy has words with him, but promises to tell Sam that Marcus wants him to come see him that night. I think Tommy decided then and there that he might be able to make amends with Sam for some of the things he has done to him by shifting into Sam and going in his place to Marcus'.
Sam and Luna get together in this episode finally when they go camping with Luna's daughter, Emma.  Sam is so sweet, he even changes into a bunny so Emma can pet one.
Alcide is trying really hard to show his love for Debbie by going to Marcus and offering to work with the pack.  Marcus is happy for his cooperation and then asks if Alcide is willing to stand by him when a shifter comes to see him that night. Alcide reluctantly agrees. Tommy, as Sam arrives at Marcus' garage and Alcide lets him in. Tommy goads Marcus and his friends into a fight and Tommy, as Sam gets beaten severely and after the last blow, he turns back to Tommy and they all realize they have beaten the wrong person.  Alcide is disgusted again and carries Tommy away.  During the fight the action cuts to Luna and Sam having sex in Sam's tent.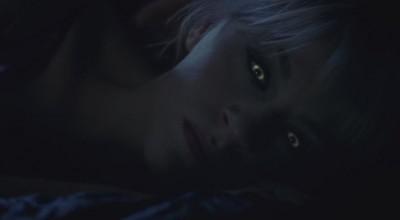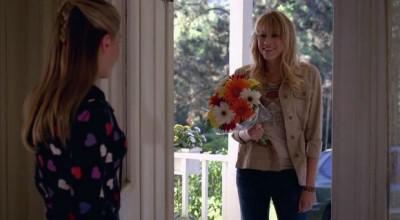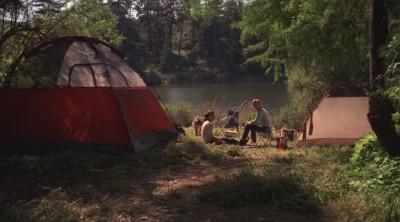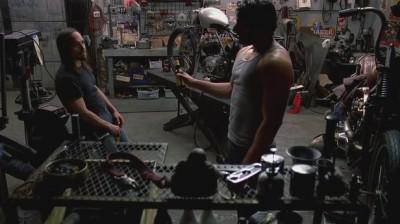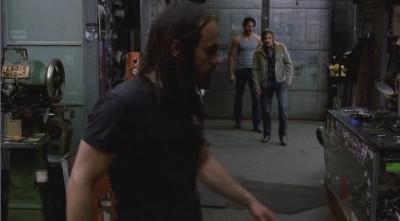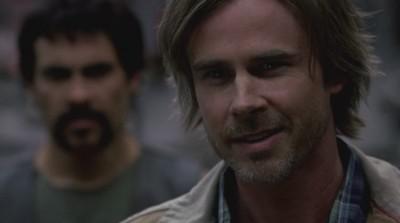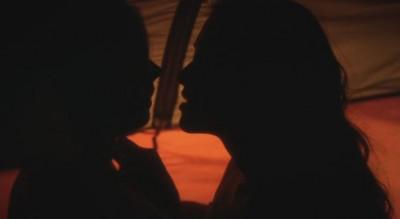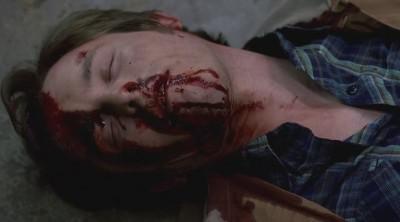 Sookie and her vamps
Sookie's dream was a lot of fun. I liked seeing it because now that she has had Bill's blood she now has feelings for both vampires.  The scene was more comic than erotic but it was fun to watch. I now wonder what will happen outside the dream. Sookie still loves Eric, but is now also still attracted to Bill and I wonder how she will cope with this. Oh, and one other thing, the music in this sequence was really the funniest part of it.  I suppose we were to think that we were in a soap opera.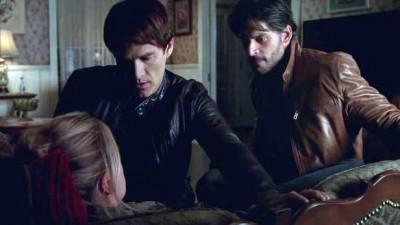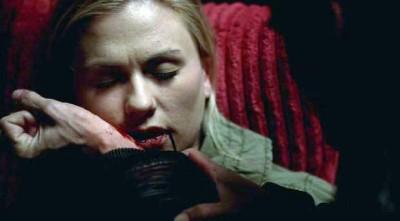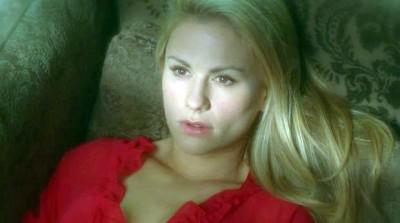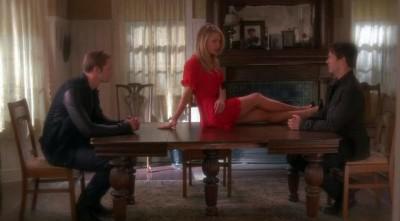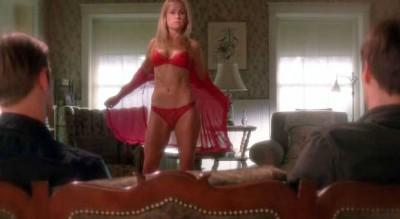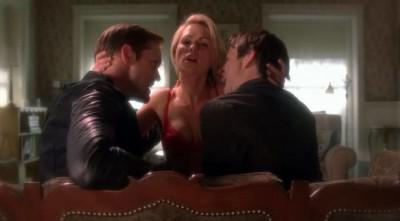 Festival of Tolerance
Marnie has plans to take down King Bill by using Eric who is now in her control. Sookie has tried to save him, by coming to the Goddess Emporium but was unsuccessful and only managed to get out with her life. Tara, Holly and most of the others are not happy with Antonia's behavior of the previous night. Tara even asks Marnie why she didn't take the olive branch that was extended by Bill. Tara seems to have been affected by what Bill said to her and helps Sookie to get away. Antonia  imprisons all of the witches, who aren't on her side any longer, and leaves with Eric to go to the hotel where the Festival of Tolerance is to be held.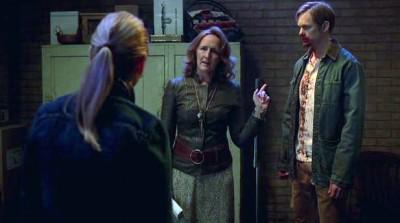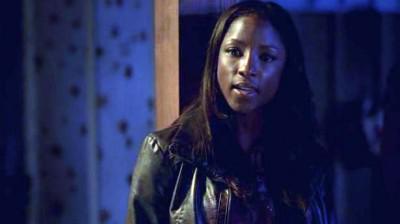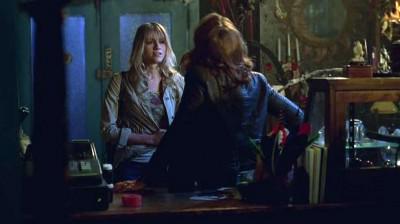 The vampires are clearly in trouble, but Nan is still sticking to her agenda to make nice with humans and get the political message out about vampires.  Bill seems to see things as they are and realizes that there is a big problem that needs solving, namely the witches. Early in the episode Nan comes to the Compton house and decides to "sleep over" or actually "go to ground" there since the Festival of Tolerance starts early in the evening the next day.  We see Bill, Nan and Jessica in silver chains in the basement as they are presumably going to rest.  Bill and Nan have a real argument and it was sort of like mom and dad fighting in front of the children since Jessica was there. Nan actually said that Bill made her yearn for Queen Sophie Anne again. Bill protested about her shortsightedness regarding the necromancers, but he had to give in and say he would cooperate at the Festival.
At the Festival we see Bill and Nan on stage and many in the audience. Eric manages to get all of Bill's Sheriff's cornered so that Antonia can place a spell on them. When done, they then are also under her control and help to kill off Bill's guards and cause chaos in the audience which enables Eric to pounce.  Just as he does, Sookie runs into the auditorium and yells to Bill,  in a loud voice, "RUN", and the episode ends.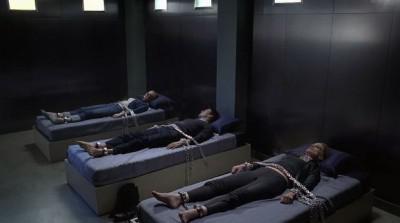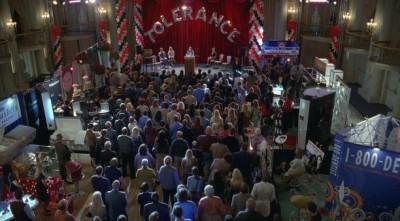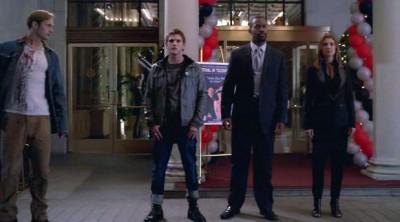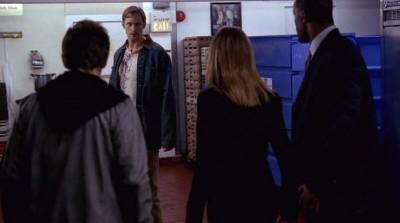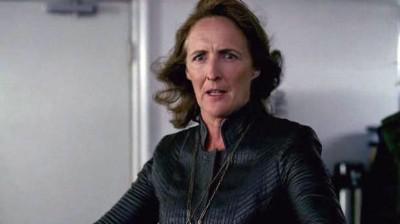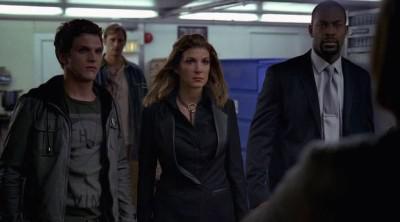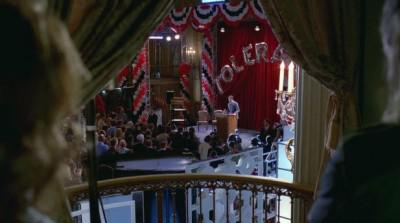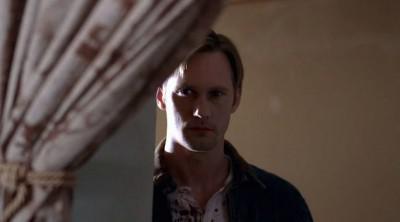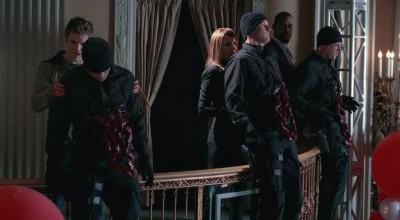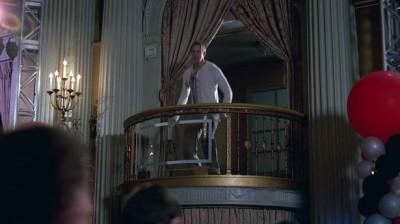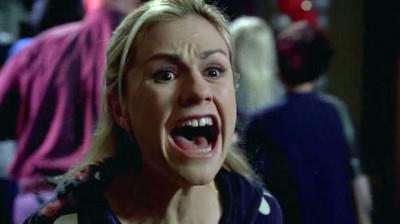 Overall the season is starting to gel and make some sense.  All of the many storylines are converging, but there are several things I think were not properly explained this week which are:
How did Bill get free from the silvering he was in at the end of the last episode to run and save Sookie?
At the end of the first scene of the episode, Sookie was unconscious and therefore not drinking Bill's blood. But when we next see her, she is well. I guess we are supposed to assume that she did drink Bill's blood but I didn't like the untidiness of it.
Bill told Alcide that the only thing they could do when Sookie wouldn't drink his blood was to pray. Why would a vampire say that?
The scene where we see Eric about to kill the King reminded me of the Lincoln assassination  in Ford's Theater.
Like Bill I too thought it was odd that the Festival of Tolerance didn't include many vampires. I don't understand Nan's reasoning and would have given her the same look that Bill did?
Right now, it looks like next week's episode will include a vampire meeting the True Death.  The question is who, Eric or Bill?