I've decided to change up Random Thoughts on each episode by not giving a step by step through the episode, but instead talk about story-lines.  We've all seen the episode, so no need for a blow by blow recap.  So, from now on, The Vault's Random Thoughts will be more of a review of the episode as a whole with a sprinkling of personal insights.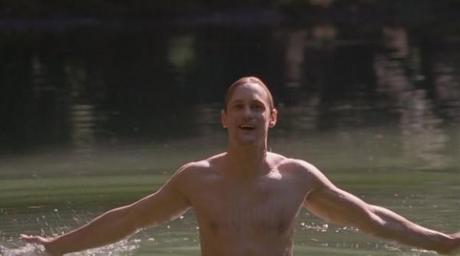 I love True Blood; it's my all time favorite show, but I am becoming concerned that it is getting too complex for it's own good. This is only my opinion and I certainly wouldn't dare to try and dictate to Alan Ball, what he should do, but I'll throw out my opinion for what it's worth:
There are too many characters and story lines. Even for me, someone who watches each episode many times, again and again, I find it difficult to keep up. True Blood is best when it focuses on the vampires and their relation to humans. Yes, it's OK to add a few werewolves and witches, but let's face it, everyone watches this show for the vampires and how they interact with the humans. It's genius is the concept of vampires coming out of the coffin and co-existing with humans; that's what is so groundbreaking and I worry that we're getting too "off topic!"
But, with that said, I thought this episode was good and here are some of my thoughts and opinions about it:
Hot Shot and Jason
Poor Jason, he has been kept tied to that bed for three episodes now; what torture. I was so glad to see that Becky took the high road and decided to be his savior by freeing him. Finally, we got to see someone in Hot Shot with some sense who doesn't just want to jump in the sack. Is anyone else concerned about the fact that poor Jason was being "raped?"  I found this to be sort of disturbing in the weirdest way.
By the way, the first women having sex with Jason was the woman who played "horny Patty" on Hung, so once again she plays a character who is in need of a good lay.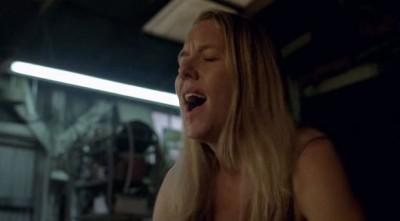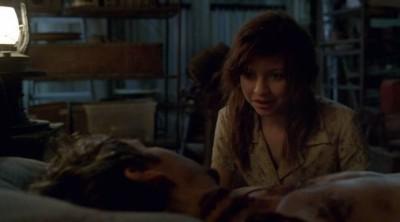 Jason quickly escapes after Becky cuts him loose, but is chased into the woods by Felton and Crystal who have shifted into their panther form. Jason is very noticeably weary and sick and should probably be in a hospital, but he manages to sharpen the end of a stick and stabs Felton killing him. When Crystal arrives and turns back into a human, she is all lovey dovey and all high on the fact that she will now be "Big Momma Kitty" and  Jason is to become their Ghost Daddy soon. She says she will be waiting for him until the full moon, but he wants none of it and stumbles away. Presumably Jason is to turn into a  werepanther at the next full moon, but we'll have to wait and see if it happens, or if he even survives.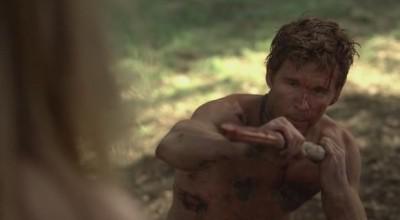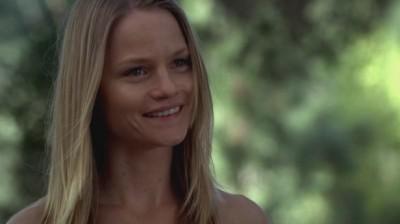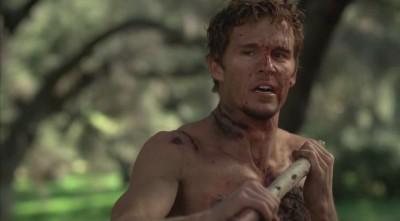 Crystal is really a nut job! Jason obviously no longer wishes to be a part of their clan or be  their "ghost daddy", and who could blame him.
By the way, I wonder why Sookie hasn't thought about the whereabouts of Jason like Andy did in the last episode? And, if Andy is so anxious to find Jason to get his help, why didn't he go see Sookie and ask about him? Jason seems to have been forgotten by all, until late in the night we see him pass out by the side of the road after coughing up his guts, and Jessica and Hoyt drive by and notice him. They jump out of the truck and Jessica immediately tears open her wrist and offers Jason her blood.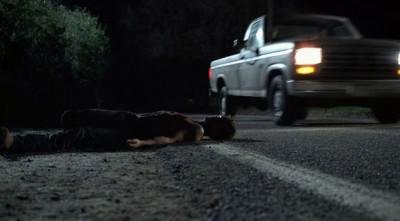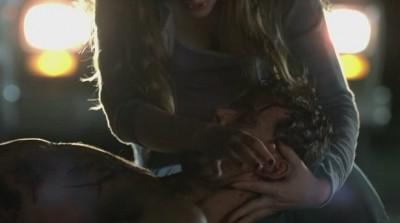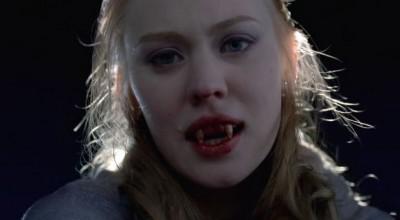 Wow, Hoyt is a generous man allowing Jessica to give Jason her blood, but with Jason being his best buddy, what else could he do?  I wonder if this will develop into some sort of relationship for Jason and Jessica since we know that vampire blood will make Jason be attracted to her. It would be interesting to see them together, but I an such a fan of Hoyt and Jessica, that it would hurt to see them parted. However, it won't hurt me at all if this will be the last we see of the Hot Shot crew, but somehow I don't think it's over yet.
Sookie and her men
Sookie seems to be preoccupied most of the episode with taking care of, or should I say babysitting, amnesia Eric. Eric has become drunk from draining Claudine of her fairy blood and has disappeared. Sookie calls Alcide for help to find him and he comes over, turns into a werewolf and finds Eric in the river which is supposedly filled with alligators and possibly crocodiles. It's daylight and Eric is out in the sun; presumably because of the fairy blood he drank. Sookie gets him home before the sun does too much damage to him, and she takes him into his hidey hole. He wants her to stay with him, but she gives the excuse that she has "human business" to attend to.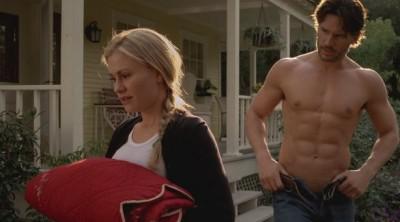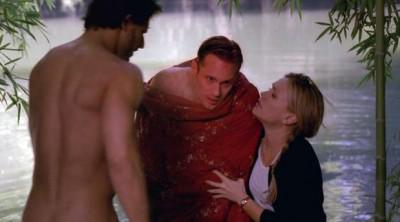 It's interesting how Sookie is now no longer afraid of Eric when he might actually be more dangerous now in his "innocence", than he was before. However, his new manner seems to be winning her over. She and Alcide have a moment before he leaves and we see their genuine affection for each other. I don't think its too safe to be attracted to Alcide either though with Debbie Pelt in the picture. I don't care what Debbie says about being clean and sober, when she sees the chemistry between Sookie and Alcide, I think she will lose it again, just like she did last year. Look out Sookie!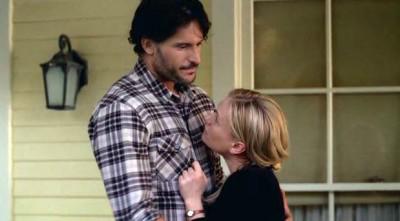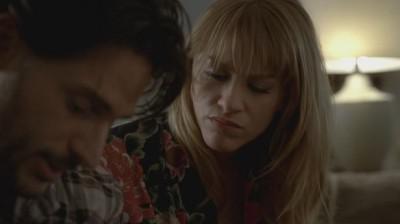 So, while Sookie seems to be attracted to Eric and Alcide now, what about Bill?. She appears to like the innocence of Eric and the kindness of Alcide, and I suppose she is still angry at Bill and refuses to add him to the equation.
We next see Sookie again with Eric in his hidey hole. He is all depressed now because he can no longer go into the sun and he wants Sookie to stay and says he promises to be happy if she will kiss him. Just as it seems like it's about to happen, Eric senses someone at the door. It's the now "other man", Bill. She meets Bill on the porch who tells her that he is looking for Eric and wants to search the house. Pam has told Sookie that Bill is out to kill Eric and that she should hide Eric to keep him safe. I know that Bill is trying to find him because he is seriously worried about the witches or necromancers, but Sookie believing Pam, lies for Eric and says he isn't in the house. And, although Bill can now easily enter the home since it now belongs to Eric, Sookie stops Bill as he begins to enter when she says, "When have I ever lied to you, ever." Just as Bill is about to go in, upon hearing this, he turns away. I don't think for a second that Bill believed Sookie, but he somehow he knew not to go in. He knows that Eric is there, but he decided it would be better not to cross the threshold. This could have been a wise political move, but I really think he decided to trust Sookie instead.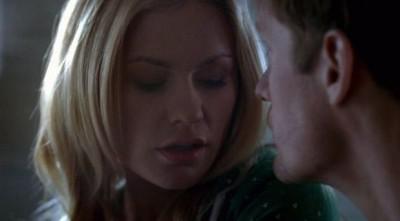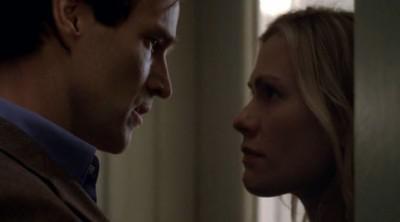 Sookie has three gorgeous men after her, 2 vampires and a werewolf, but I guess all that danger can make any girl be indecisive. However, I think I would like having three such gorgeous men after me no matter what; at least I'd die happy.
Sam and Luna
Sam is, I think now trying once again to be a good man and wants to have a relationship very badly, even with his shady brother Tommy getting in the way. Since he seems to have long given up on Sookie, and now even Tara who has a love in New Orleans, Luna is his prime objective. Sam is lonely and seriously thinks that Luna might be that person. However, even though we see Sam, in this episode, have a great scene with Luna and her daughter, I somehow don't think the harmony between them is going to last. I love Sam, but this story line is pretty flat so far, in my opinion. I sure hope it breaks out pretty soon with Luna's EX providing the drama.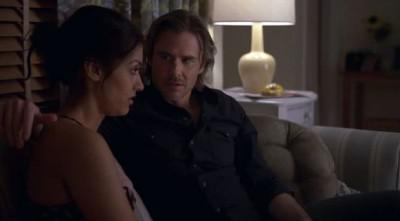 Tommy, Maxine and the Mickens
Poor Maxine Fortenberry really does just want another Hoyt, and I think Tommy realizes that. He is using her for whatever he can get from her, but what do you expect from a guy who has been brought up, or should I say dragged up by the Mickens?  I have never liked Tommy because I knew he couldn't be trusted, but I now know why he is the way he is, look at the example he has had to follow in his life? His own mother has sold him over as a slave to his dad who will now keep him prisoner and have him again fight in the ring. If you can't trust your own mother; who can you trust?  He sure can't trust Melinda.
Even though I never liked Tommy much, this episode's events made me feel compassion for him. We truly are a product of our environment and when you have such an environment as Tommy has had all his life, how else can you turn out? I hope that somehow Sam helps him again and they bond as brothers. However, I do worry that Tommy heard what Luna said, when the shapeshifters were talking that night, about how there are shifters who can turn into people, not just animals. Will Tommy become Sam?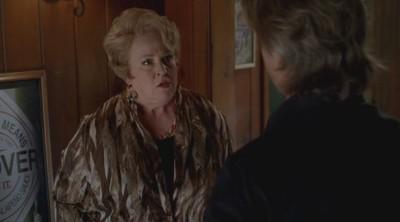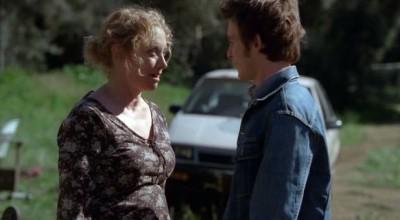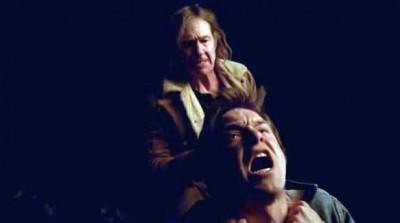 Terry, Arlene and the evil baby
There's not too much about this story-line in this episode, except for some evil graffiti. While Arlene and the kids are asleep on the couch Terry puts the baby down while he goes to check the clothes dryer. When he returns he finds written in red on the wall, "Baby Not Yours," and all of them shutter in fear. When the camera pans to the baby, he is holding the red marker with ink all over his face and hands making us think he has written the words and that he might be even more evil than we thought. The doll is still with him, and yes you all are correct, such a dirty thing should never have been given to him without having been disinfected or at least, thrown in the washer. I wonder how this baby issue will fit into the whole story at the end of the season? Will this baby be possessed by evil as perhaps Marnie is?  Or, is he possessed by Rene?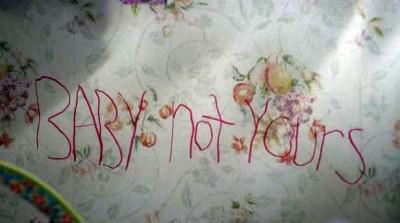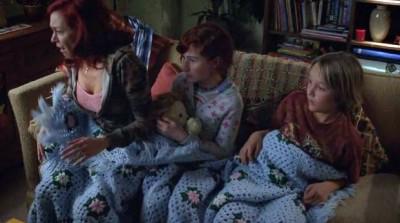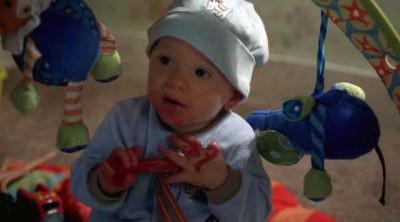 Bill and the Bellefleurs and the AVL
Wow, Bill having sex with a great, great, great, great granddaughter is more than I can take into my brain. I bet that's what Bill thought when he realized that they were related. While they are not "really" related anymore as he is 'dead', I don't know if it really would have been technically incest, but EWWWW, it still didn't sit well with me. I'm glad that the writers decided to end it as soon as they did because it still rang as "creepy." Poor Bill, all he wants in life seems to be a nice relationship, and he is one who will never get over not being human, I suppose.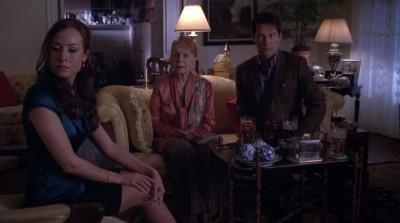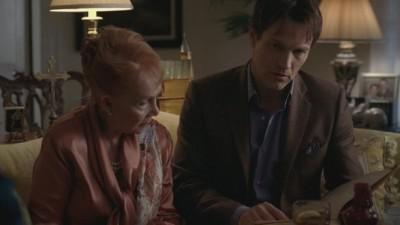 While I'm loving the King role for Bill, it's also heartbreaking to see him so alone; just like he was last season. He is generous to a fault in not demanding anything from Sookie; that's hard for anyone to do, who loves her so, in my opinion. He really was not a good candidate to become a vampire, but I realize that was Lorena's whole intention; to corrupt a good man. He's been fighting it ever since and I don't think he will ever adjust.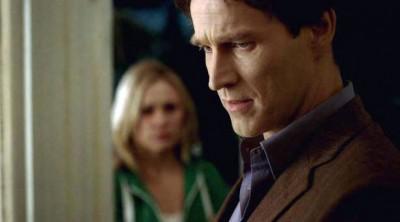 Now, Nan Flanagan is really the boss from hell, in my opinion and because of this, I'm not sure why Bill decided to take her up on her offer to become a double agent back in the 1980′s. I'd like to see more of Bill and Nan's history together. Having been working together for about 20 years now, presumably they have interacted a lot since then. Didn't he know she was a pure bitch before taking on this role? And, I find it odd that Nan doesn't seem to be concerned at all about the witches. I also don't understand why she doesn't at least want to know more. Maybe she really is just a politician and can't see the nose on her face. Bill on the other hand, is really concerned and he somehow knows more than she does which is odd. He recognizes that these necromancers are more than dangerous to vampires.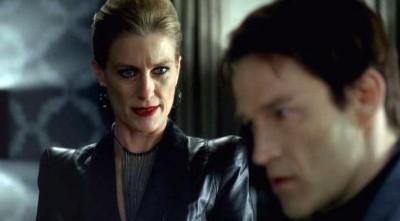 I was glad to see that it wasn't Bill's wish to sentence that vampire to death in the last episode, it just didn't ring true for me. Instead we now know that is was a dictate from the AVL. Is Bill a puppet King? I know he is really in the with AVL, but I don't see him liking their politics. Is this really Bill? I want to know more about the "why" of his involvement.
Witches and Spells
I haven't until now been too impressed with the witches this season, well except for Fiona Shaw who has done a powerful job as Marnie, but with this week's dream sequence, I got hooked.
Note to True Blood – WE LOVE FLASHBACKS!! I am one of those who is a big fan of flashing back in time to see the characters and learn about their past. The dream showed us who is possessing Marnie, a woman named Antonia. We are taken to a 17th century scene where Antonia is being burned at the stake and Marnie protests her death. We don't know the tie in to the vampires yet, because surprisingly, the dream scene takes place during the day and you'd think if her death was because of a vampire it would happen at night. I did notice a man in a black robe though. Could he be a vampire who had braved the sun in order to witness the event?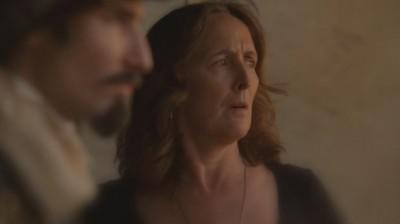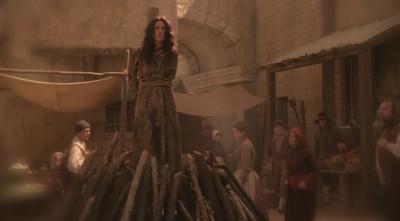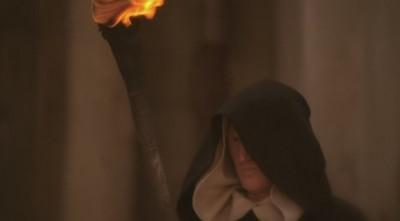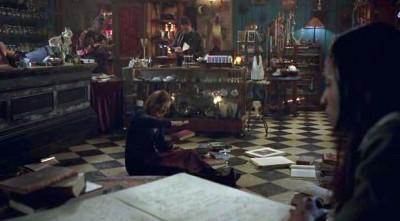 Tara, Lafayette and Jesus come to Marnie, once she wakes up, to try and get her to reverse the spell on Eric because Pam is going to kill them all unless they do so. Marnie tries, but can't figure how hot to reverse the spell. Luckily, a book magically falls off the shelf to the page where the spell is written that Marnie feels will work to reverse Eric's memory loss. The four of them go to the woods and meet Pam and they try to reverse the spell. Finally, Marnie starts to concentrate and eventually, as Pam says, "this is bullshit", Marnie is immediately taken over by Antonia and she says a few words that make Pam's skin begin to rot on her face and Marnie (as Antonia) says, "corrupt, unsanctified corpse that walks…behold your true self." Pam's skin begins to fall off and she runs away in fear as Marnie laughs and then passes out.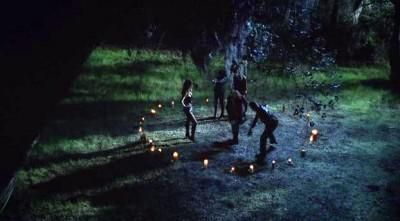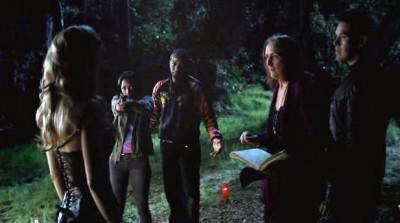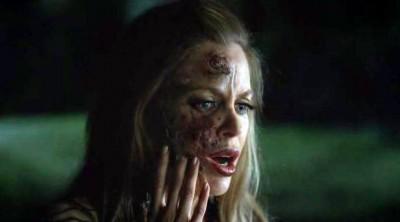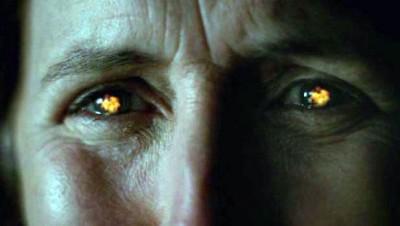 Overall, I liked this episode, but somehow I feel that something has been lost this year. I am loving the new Eric, like seeing Bill in his new role, but somehow the passing of a whole year between seasons has changed everyone and I feel that I don't know the Bon Temps crowd anymore. While I understand why the writers felt that time had to pass, while Sookie was away, for the story line to develop, I wish I had been around during that last year to see how each of them changed. But, True Blood is always worth watching and a delight, don't ever stop creating this magical world, Mr. Ball!
Tell us what you think about this episode. Did you like it? Which story-lines do you like or not like? Leave a comment and let us know your opinions.