Due to the inspiration of the Nine Nanas, who for 30 years have been making delicious lemon/lime pound cakes and giving them out to strangers in secret, anonymously, I thought why not do cupcakes and/or pupcakes?  (since they might be easier for me to make and bake) as a way to paw it forward… raise money for animal rescue/shelters… a creative way to promote your bakery or business. Lots of fundraising and giving happiness ideas.
pay it forward with pound cakes
http://choosywomen.wordpress.com/2012/06/22/pay-it-forward/
Feel free to perform random acts of baked goods.  If you are a bakery, who would like to donate baked goods, let us know. And if you are an animal rescue or shelter and want us to help you raise funds, let us know. And if you just want to utilize this idea, please let us know when you do !
Here are some cupcakes (for humans) recipes as well as pupcakes (for dogs) recipes for you to consider pawing forward.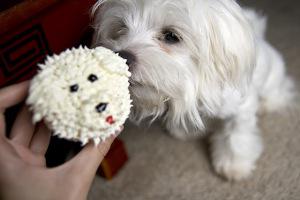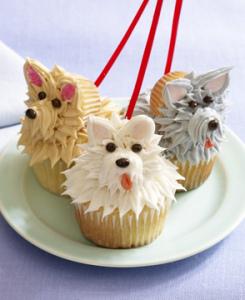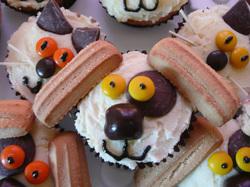 for pupcakes
Ingredients:
Muffins:
• 2 cups shredded carrots
• 3 eggs
• 1/2 cup applesauce, unsweetened
• 2 tsp. cinnamon
• 1/2 cup rolled oats
• 3 cups whole wheat flour
Frosting:
• 8 oz. low fat cream cheese, softened
• 1/4 cup applesauce, unsweetened
Instructions:
Muffins:
1. Preheat oven to 350° F
2. Lightly spray cups of muffin tin.
3. In a large bowl stir together the carrots, eggs and applesauce. Set aside.
4. In another medium bowl whisk together the cinnamon, oats and flour.
5. Slowly mix in the dry ingredients. Stir until well blended.
6. Spoon mixture into muffin tin. The dough will be thick, so you may wet your fingers to press the dough into place.
7. The dog cupcake will not rise very much, so do not worry about over filling the muffin tin.
8. Bake for 25 minutes.
9. Cool completely on a wire rack before frosting or serving.
Frosting:
1. Blend both ingredients with a hand mixer until well blended.
2. Spoon into a pastry bag for easy decorating.
Storing: These dog cupcakes will keep fresh in your refrigerator for 2 weeks. You can freeze them for up to 2 months. If you are going to freeze them, do not decorate with the frosting until they have thawed. For more information on how to store homemade dog treats please review our tips.
http://www.dogtreatkitchen.com/dog-cupcakes.html
For cupcakes decorated as dogs/cats
To make the base you will need:
1/2 cup unsalted butter
2/3 cup caster sugar
2 large eggs
1 tsp vanilla essence
1 cup SR flour
100mL milk
1. Pre-heat the oven to 180 degrees C. Line a 12 cupcake tin with paper cases.
2. Cream the butter and sugar. Add the eggs one at a time.
3. Beat in a little of the flour and the all of the vanilla essence. Then beat in the rest of the flour.
4. Add the milk and mix well.
5. Fill each cupcake case about 3/4 full. Bake for about 15 minutes, or until cooked in the centre.
6. Put on a rack to cool after 5 minutes.
To make the decorations, you will need:
250g cream cheese
1 cup icing sugar
1 tsp vanilla essence
large chocolate buttons
yellow, orange, brown and green chocolate M&Ms
biscotti
Fru-chocs
Black icing pen
spaghetti or noodle strands, cut into 4cm lengths
1. Beat the cream cheese, icing sugar and vanilla essence with electric beaters until smooth.
2. When cupcakes are completely cool, spread a generous layer of icing on each cupcake.
3. To make a dog cupcake, place a chocolate button in the eye position. Affix a yellow or orange M&M on top of the chocolate button for the pupil. Put a small dot of black icing in the centre of the M&M to make the pupil. Add a matching M&M and dot of black icing for the other eye. Put a Fru-choc in the nose position. Draw in the mouth with the black icing pen. Finally, affix two biscotti for the ears, using a dab of icing mixture to hold each ear in place,
4. To make a cat cupcake, place two orange or green M&Ms in the eye position. Pen in a vertical line of black icing on each M&M to create the cat's pupil. Cut two large chocolate buttons so as to make two triangles. Position the triangles in the ear position. Next, put a brown M&M in the centre of the cupcake for the nose. Pen in the mouth using the black icing pen. Finally, add some spaghetti or noodle lengths for whiskers.
http://randomactsofcupcake.weebly.com/1/post/2011/08/how-much-is-that-doggy-cupcake-in-the-window-woof-woof.html
Are you going to perform random acts of baked goods?  Do you have recipes you'd like to share with us?
Blog Hop time…  thanks to Life with Dogs,Two Little Cavaliers and Confessions of the Plume…  grab the blog hop code…