iftar old delhi
Ramadan is the holy month of fasting observed by Muslims worldwide and one of the five pillars of Islam.  We fast every day from dawn to dusk, almost 14 hours of fasting.
Apart from fasting, the purpose of this month is to make one understand how it feels to be hungry and therefore, feed the poor and help them. It teaches the self to restrain. It is the time to devote extra time for ibadat (worship) and reflect on ourselves by becoming a good person.
I usually visit my hometown during Ramzan because the festive time calls for family time. However, for 2 years we didn't went due to the pandemic and the celebration was a low affair.
Thanks to God, this year the situation is becoming normal and we can celebrate Ramadan with zest and zeal. So I had decided, this Ramzan let's create special memories and enjoy the month-long festival.
We are not visiting home this year, therefore I made a plan to visit Old Delhi for Iftar to feel the Ramadan vibes. This was my first ever visit to Old Delhi during Ramzan, so I was stoked enough.
Iftar at Jama Masjid
Before visiting the mosque, I had seen the videos and had an idea that there will be a huge crowd. We went on Thursday and it was packed.  Thankfully we got the place to put our mat and sat down.
I cannot express in words how I felt during Iftar time as I was breaking the fast with many unknown people around me, smiles on their faces, and having one common faith. It was surreal.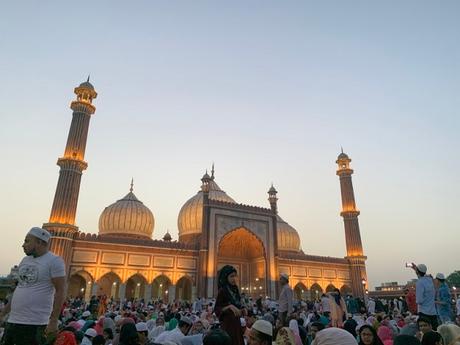 We all were happy and grateful to God as we could celebrate this auspicious month together again after 2 years of lockdown.
We bought the foods from outside the mosque where all kinds of iftar items were available. From fried snacks to fruit salad to Sharbat E Mohabbat, devotees were buying their favorite foods.
Everyone in the mosque was ready with their elaborate iftaris and waiting for the announcement to break the fast.
The signal of breaking the fast was done by the firecrackers sound followed by the Azaan. We had our dates, food, and drinks.
Then we left the mosque and went straight toward the bustling road of Old Delhi just across the Jama Masjid.
Iftar walk at Old Delhi
The streets of Old Delhi were festooned with lights and decorations.  The shop sellers and the customers were delighted to see that 'Ramzan is back in Old Delhi' and welcomed it with fervor and enthusiasm.
After all, everyone missed the vibrant and vivid lanes of the walled city.  The streets around the Jama Masjid are not just thronged with Muslims, but also people from every walk of life visit here as it is a paradise for food connoisseurs.
We tried Shahi Tukda with mango scoop ice cream which was delicious, and then we had Sharbat E Mohabbat – A Ramzan special drink and then went to Qureshi Kabab corner to indulge in sumptuous food.
The waiting period for the Kababs was 30 mins but it was worth the wait. This food outlet is very famous for its plates of seekh kabab served with chutneys and salads.
It was heartening to see the Ramzan vibes again and am thankful to God for adding these memories to my life.
Iftar Party
In our society, Iftar party was arranged and it was a grand success.  I hardly knew people in the society, so through this, we got connected.
This was the first time I had attended a huge Iftar party and therefore I was happy.
We broke our fast by the sound of a siren and had dates, juice, and snacks. Later followed by a platter of food which had kababs, qorma, biryani, sweet dish, and sheermal.
Ramadan 2022 is a blessing as we could celebrate this holy month like before making it even more special.  Don't forget to check my Iftar reels on Instagram.