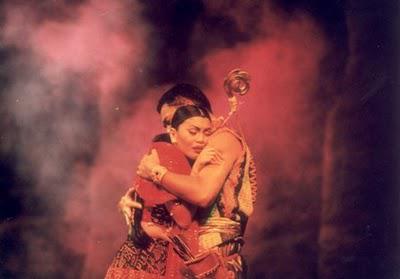 Yes! The video clips, wiped out by Youtube when my old account was unceremoniously closed, are now back online. I'm reposting them in batches, so do stay tuned for the rest of the excerpts.
The clips are made available online by special arrangement with Franco Laurel and Ayen Munji-Laurel of ML Entertainment, owners of the copyright to the musical. No DVD copy of the musical, whether bootleg or original, is available commercially, so--thank you, Franco and Ayen, for this wonderful gift to Pinoy musical theater fans.
From my original entry on these musical excerpts: For those who caught the production at the UP Theater, here's a chance to relive its magic. For those who missed it, now's the time to watch, from dazzling opening number to exhilarating finale, the most-talked-about theater event of that long-ago season.
This video captures the closing performance of the musical on the evening of March 6, 1999, with Ariel Rivera as Rama, Chiqui Pineda as Sita, John Arcilla as Rama's brother Lakshmana, Robert Sena as the villain Ravana, Jaya as Ravana's sister Soorphanaka, Mr. Laurel as Rama's youngest brother Bharata, and Edward Granadosin as Rama's teacher Vishmavitra.
A sampling of the raves:
More than just a visual spectacle. Never have we seen such a case of stage pomp and pageantry. -- Mary Ann Bautista and Ricky Gallardo, Philippine Daily Inquirer
Certainly one of the best local musicals we've ever seen. First-rate production values, fabulous sets and costumes, lots of spectacle. Lani Misalucha is superb as Sita, with a sparkling voice really meant for theater. The revelations for us are Franco Laurel as Bharata, Rama's younger brother (he shines in his solo number, 'Kaya Ko') and Nonie Buencamino who performs with devilish energy as the villainous Ravana. -- Mario Bautista, The Manila Times
A mesmerizing musical! --Monique Buensalido, The Philippine Star
Chiqui Pineda is effectively touching in 'Rama at Sita'... May Bayot's performance as the female villain only served to affirm her reputation as an outstanding performer. -- Nestor Torre, Philippine Daily Inquirer
1. Sadyang Pinagtagpo--Edward Granadosin, Chorus. In the kingdom of Ayodhaya, the guru Vishmavitra narrates Rama's decision to seek a righteous life by following his

dharma

(sacred duty), which will lead him to his great love, Sita.

2. Huwag Takasan--Ariel Rivera. Rama prays to the gods Vishnu (Bimbo Cerrudo) and Shiva (Girl Valencia) and agrees to seek his destiny in the city of Mithila, accompanied by his brother Lakshmana.

3. Kaya Ko--Franco Laurel. Rama's youngest brother Bharata sings of his frustration at not being allowed to join his brothers' journey outside the kingdom.

4. Halina Sa Mithila--Ariel Rivera, John Arcilla, Edward Granadosin, Michael Williams, Gelo Francisco, Zebedee Zuniga, Chorus. Rama's party arrives in Mithila in grand style, the prince astride an elephant. (Watch for that amazingly life-like pachyderm!)

5. O Kay Dami ng Babae--John Arcilla, Chorus. The roguish Lakshmana is enchanted by the many beautiful women in Mithila. In the market, he catches a glimpse of Sita, unknown to him the daughter of Mithila's king Janaka, and is instantly smitten.

6. Sana'y Siya Na Nga--Chiqui Pineda, John Arcilla, Ariel Rivera. But so is Rama, who upon seeing the princess inside a temple, professes his love to her. King Janaka then invites the brothers to take part in a contest of strength, the prize of which is Sita. Rama wins the competition, and Sita, more drawn to Lakshmana in the beginning, accepts her destiny as Rama's bride-to-be.

The original cast album of Rama at Sita had Lani Misalucha singing this gorgeous ballad with Ariel Rivera and John Arcilla. Here's an audio clip:

More coming up!