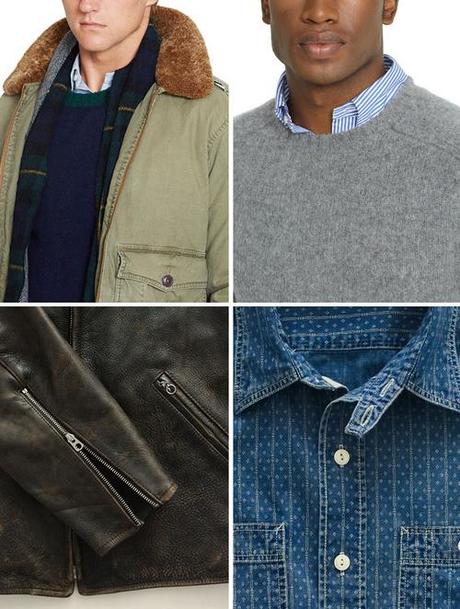 Ralph Lauren just started their Friends & Family pre-sale promotion. That means select items have been discounted by 30%, but you can get an extra 15% off if you shop before the sale goes public. You have to hit the site through a special link, however, as the sale hasn't yet been announced on the company's main webpages. Once you do, you can use the checkout code MSALE14 to receive the discount.
Some items I think are notable:
Outerwear: Ralph Lauren's Polo Label has some nice looking outerwear this season. This B-10 bomber could serve as an alternative to the more ubiquitous A-2s and MA-1s you see everywhere. I also have an old version of this quilted jacket, which is a perennial for the company. I bought mine five years ago and still wear it today with jeans and chukkas. For something more affordable, check out this hooded anorak and nylon field jacket.
RRL: Although they're expensive, I've been really happy with my RRL outerwear. This season, they have a sueded ranch jacket, black leather moto, and Western-inspired quilted coat. I suspect the first two look better in person than in photos. For something more affordable, check out RRL's shirts and knits. They have some indigo pieces in there, such as these two shirts, a henley, and a sweatshirt.
Shoes: In the footwear section, there are some Allen Edmonds-made longwings and quarter brogues. There are also these ankle boots that look very, very Ralph Lauren. 
Polo Label Shirts: Previously marked down items from last season are made cheaper through the current sale. For example, I saw two designs for madras shirts and some slim fitting Bengal stripes. Prices go as low as $33.
Sweaters: Affordable Shetlands in lots of colors. You can probably remove those elbow patches with a seam ripper without any issue. Stitching holes rarely show up on wool — especially on something like a knit.
Bags: Some canvas briefcases and carryalls. The canvas on these aren't as heavy or rugged as Filson's, but I like the designs. Just imagine the bags without those luggage tags (which are removable).
Clearance: Some stackable discounts in the clearance section. There's some Purple Label and RRL stuff in there, which you can see more easily if you sort the listings by highest price first.