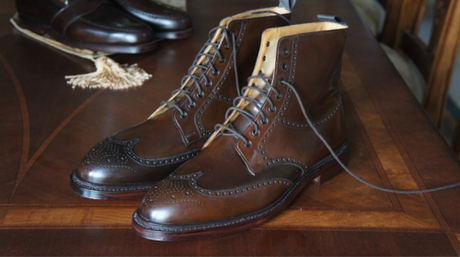 Ralph Lauren's mid-season "private" sale is underway, with discounts of up to 55% on items such as that oilcloth bike jacket and cotton twill coat I talked about two months ago. I picked up the latter of the two, but it didn't fit me, so back to the store it goes. I did, however, manage to get an early jump on this olive, cable-knit, mock-neck sweater, which I think goes well with jeans, corduroys, and flannel trousers. As I wrote yesterday at Put This On, I find textured knits to be much better when one wants to wear a sweater without a sport coat. Otherwise, the smoother, plainer v-neck sweaters that many office workers wear with chinos and dress shirts just looks too uninspired, in my opinion. 
The best part of the sale, however, is perhaps the footwear, which includes the shell cordovan Lindrick boots you see above. While usually difficult to find on sale, these have been temporarily marked down from $1,100 to $654 with the coupon code FALLSALE12. The upside to having a nice pair of shell cordovan boots is that they can do double-duty as your foul-weather footwear. They're as wearable with heavy wool trousers and tweeds on sunny days, as they are with jeans and parkas on rainy ones. Other notable deals include oiled chukkas and burnished penny loafers, both of which might be good for men with a very American styled wardrobe. 
More photos of the Lindrick below, as they're just too handsome to not marvel at. 
(Photos by Namor and Gerry Nelson)