American Art's latest exhibition, Ralph Fasanella: Lest We Forget, opens tomorrow, May 2 and runs through August 3, 2014. Leslie Umberger, curator of folk and self-taught art tells us a bit about the artist and his work. To see more of Fasanella's paintings take a look at our slide show.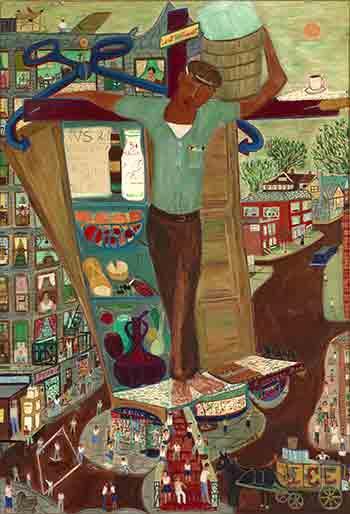 Ralph Fasanella's Iceman Crucified #4
Ralph Fasanella was born in the Bronx in 1914 and grew up in various working class neighborhoods of New York City. He was the son of Italian immigrants, who had come to the United States just a few years before his birth in search of a better life for their family. The booming industrial society was fueled by the cheap labor of immigrants. Assembly-line manufacturing allowed for mass production and unprecedented growth, but the costs were often high for laborers. As the twentieth-century advanced, unregulated and unsafe working conditions led increasingly to structured protest and worker unification.
Fasanella's mother, Ginevra, was a progressive thinker and early social activist. She raised her son to believe in the rights of the common folk and the view that Americans should always fight for a better society. Ralph had known hard work even as a child; he worked as a garment worker, truck driver, ice delivery man, union organizer and gas station owner before he started painting in 1945. He had discovered that images could be as powerful as books, songs, and photographs in terms of effectively conveying information and inspiring solidarity. Fasanella dedicated himself to painting large narrative scenes advocating for various social ideals until his death in 1997. He intended his paintings to be seen in union halls and meeting rooms, and function--not as refined or idealized works of art—but as tools of activism.
Ralph Fasanella: Lest We Forget has been organized in celebration of the hundredth anniversary of the artist's birth, the title drawn from the artist's impassioned plea to hold close the sacrifices of our forebears and build upon their noble efforts. Fasanella often used text in his images and the phrase "Lest We Forget" appears in various works spanning his career. In one such work, Fasanella metaphorically relates his father Guiseppe, known as "Joe the Iceman," to Christ, suggesting the sacrifice and suffering of the working class. In Iceman Crucified #4, a recent gift to the Smithsonian American Art Museum from the artist's estate and on view at the Smithsonian for the first time, Fasanella contrasts fading traditional ways with the coming of change; in this case, the days of the icebox and the horse-drawn delivery wagon are giving way to an era of electricity and the modern refrigerator.
In this painting, Fasanella successfully unites tradition and change, a balance he seeks continually over the five decades of his artistic career. The traditional religious designation, INRI, is replaced with his iconic phrase "Lest We Forget" —a clear message to remember our roots even as we grow.