Malpuas are one of the popular dessert in the North Indian states. There are quite a few different ways of making malpuas. These Rajasthani malpuas have mawa/ khoya in them and that makes them even more rich and delicious.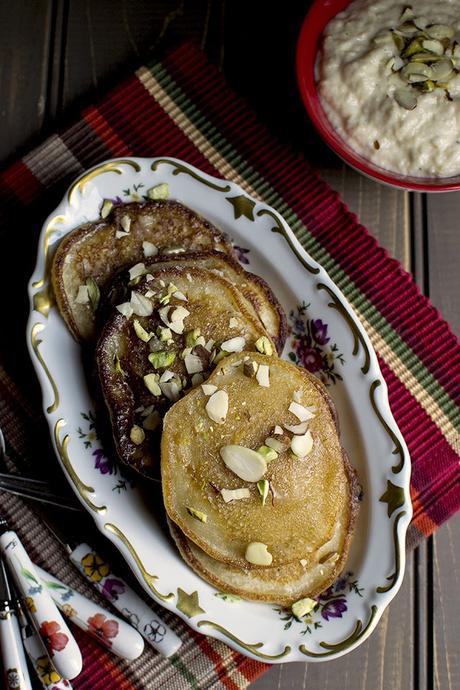 Malpuas are nothing but pancakes that are dipped in sugar syrup. They taste absolutely amazing when served with the instant rabri and they are sure to be an awesome treat for any sweet lover.
I had to make them tad bit healthy with the addition of wholewheat pastry flour. You can use 50:50 All purpose:Wholewheat flours. The pancakes are dipped in sugar syrup and then served as is or with rabri for a little more indulgence.
Malpua
Ingredients
:
1cup

Wholewheat pastry flour (or All purpose flour)

¼cup

Mawa (storebought or homemade)

⅛tsp

Baking powder

2tsp

Sugar

¾cup

Warm milk

¼tsp

Ground Cardamom

¼tsp

Crushed fennel seeds

¾cup

Sugar

¼cup

Water

Big Pinch

Saffron, crushed
Method
:
Make Malpua Batter: In a mixing bowl, combine flour, mawa, baking powder, ground cardamom and crushed fennel seeds. Stir in condensed milk and warm milk. Mix until no lumps remain and the batter is a consistency of pancake batter. Cover and set aside for 20~30 minutes.
In the meantime make the Sugar syrup: Bring sugar and water to a boil and simmer for 3~4 minutes. Add the crushed saffron, mix well; cover and keep warm.
Make Malpuas: Heat 2tbsp ghee in a nonstick skillet, add a ladleful of batter and cook on medium flame until golden, about 1~2 minutes. Flip and cook for another minute until golden.
Place the malpua into the sugar syrup, let soak for 1~2 minutes. Remove on to serving plate.
Repeat with the remaining batter.
Serve warm as is or with rabdi.