Blogging Marathon# 39 - Indian States: Day 24
State: Rajasthan
Dish: Rajasthani Lunch Thali
Today we are going to the '
Land of Kings or Land of Kingdoms
', Rajasthan, previously known as Rajputana. It is India's largest state by area and is located on the north western side of India. The main geographic features of Rajasthan are the
Thar desert
and the
Aravalli Range
. The northwestern region of Rajasthan is generally sandy and dry because of the Thar desert. The Aravalli range and the lands east and southeast of the range are generally more fertile and better watered.
When I think of Rajasthan, I think of the beautiful forts, palaces, colorful outfits and the colorful outfits. Like the many states I mentioned, my dad went to Rajasthan too for work years ago and brought us back lot of beautiful dress materials (for salwar kameez) and bed sheets. I still have a couple of dresses that I don't wear often, but kept them for the memories and colors -- the one you see in the background is from way back when :-)
Cuisine
: Rajasthani cuisine is very rich much like its culture. It is a splendid array of colorful, spicy and unique dishes. The Rajasthani platter is a gastronomic delight and if you have been to a Rajasthani restaurant you will know the amount of food they serve and the number of dishes/ courses they have -- that is one belt bursting feast indeed.
Rajasthani cooking is influenced by the availability of ingredients in this arid region and the lifestyle of its inhabitants. Food that lasts for several days and that can be eaten without heating is preferred. Scarcity of water and green vegetables have all had their effects on the cooking.
Specialties
: Churma, Gujia, Ghevar, Dal, Baati, Kachori etc.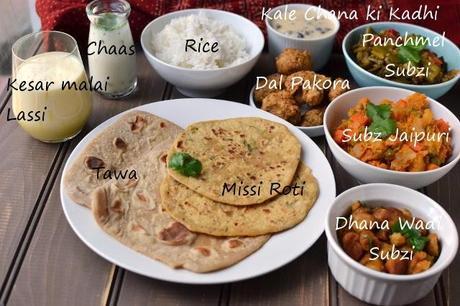 Today's Dish(es)
: I have tried quite a few Rajasthani dishes and posted them here. So for today, I made this Rajasthani thali one weekend and invited my sister and BIL for lunch. This was definitely a feast for us with all the different dishes. All thanks to Manjula  the details on how and what to make for Rajasthani thalis.
I tried to keep the thali simple with dishes that can be made in less time. But I got overwhelmed when I had to take the pictures. There were so many dishes that I kept forgetting what I had made and finally realized that I completely forgot about Goond ki laddoo until after taking pictures and eating everything :-( Well anyway, we enjoyed the lunch thoroughly and had to take a long afternoon nap.
I'm doing the recipes in 3 posts because I didn't want to overload one post with too many recipes. I'm posting the appetizer, bread, rice accompaniment and drinks recipes here. Hop over here (Rajasthani curries) and here (Goond ki Laddoo) for rest of the recipes.
This was our vegetarian Rajasthani Lunch thali menu:
Appetizer
-- Dal Pakoda
Breads
-- Missi Roti & Tawa pudi
Rice & accompaniments to go with rice
-- White rice with Kale Chana ki Kadhi
Curries
: Panchmel Subzi, Subz Jaipuri, Dhana wadi/ Mung wadi cilantro curry
Sweets or Desserts
: Goond ki Ladoo
Drinks
: Chaas and Kesar Malai Lassi
Rajasthani Dal Pakoda
: Recipe from
Priya's blog
.
Ingredients
:
Split Moong dal - ¼cup
Whole moong dal - ¼cup
Split Urad dal - ¼cup
Adzuki beans - ¼cup
Chana dal - ¼cup
Green chilies - 3~4, adjust as per taste
Ginger - 2" piece, chopped
Garlic - 3~4 cloves, minced
Fennel seeds - 1tbsp, lightly crushed
Ground Coriander - 2tbsp
Cilantro - ¼cup, chopped
Salt - to taste
Method
:
Rinse and soak dals together for at least 6 hours or overnight.
Grind the dals into a coarse paste along with ginger, garlic and green chilies. Stir in finely chopped cilantro, fennel seeds, ground coriander and salt. Mix well.
Heat oil for deep frying. Add spoonful of batter into the hot oil and fry the fritters on medium flame until golden brown all over and cooked through. Adjust the flame to make sure that the pakora/ fritters are cooked all the way through.
Drain on paper towel lined plate and serve hot.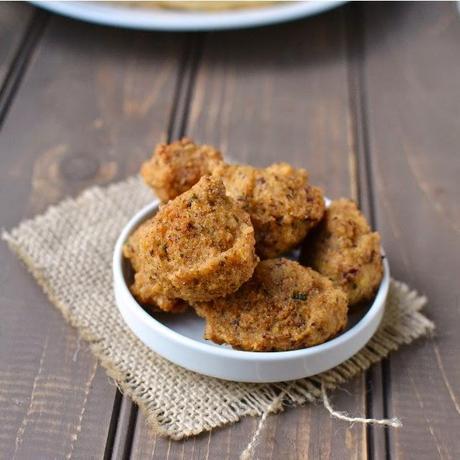 Tawa Pudi
: Recipe from
Manjula's Rajasthani Festive Platter
.
This roti uses the same dough that is used for pooris. Only difference is in the rolling out of the rotis, they are rolled out into a square shape instead of a round.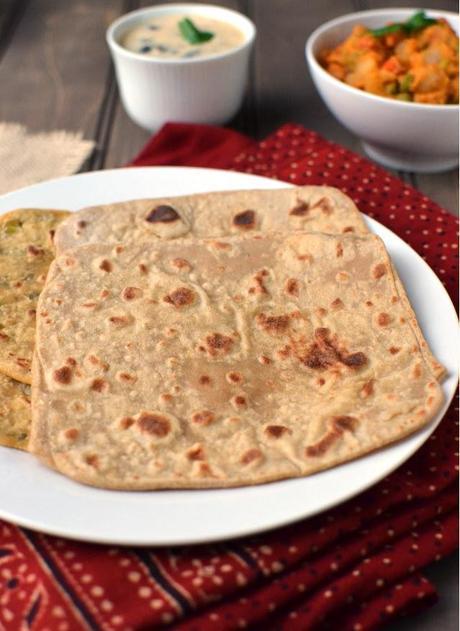 Ingredients
:
Wholewheat flour/ Atta - 1cup
Salt - as needed
Method
:
Combine atta and salt in a bowl. Add enough water and knead it into a stiff dough. Cover and set aside for 30 minutes.
When ready, heat a tawa/ griddle on medium-high flame.
Divide the dough into 5~6 equal size pieces. Take a piece and roll into a circle. Brush some ghee on the top. 
Fold the corners of the circle like an envelop to form a square.
Roll it out into a bigger square.
Place it on the hot tawa and cook on both side until brown spots start to form. Serve hot with Rajasthani curries.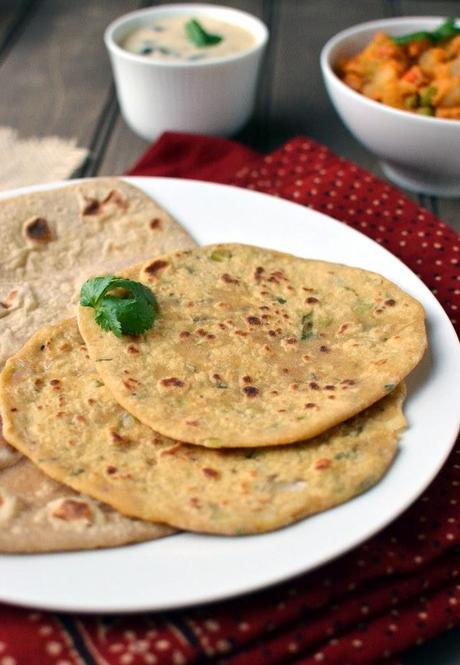 Kale Chana ki Kadhi
: Recipe from 
Manjula's Rajasthani Festive Platter
.
Ingredients
: Black chickpeas/ Kala Chana - ½cup  Yogurt - 1cup
Besan/ chickpea flour - 2tbsp
Mustard seeds - ½tsp
Cumin seeds - ½tsp
Turmeric powder - ¼tsp
Red chili powder - ½tsp
Green chilies - 2, slit
Curry leaves - 6~8
Salt - to taste
Method
:
Soak kala chana overnight. Pressure cook them until tender, about 3~5 whistles -- they should not get mushy, but should retain their shape.
In a mixing bowl, whisk besan in the yogurt into a smooth paste and set aside.
Heat 2tsp ghee in a saucepan, add mustard and cumin seeds; once the seeds start to splutter, add the green chilies and curry leaves.
Next add the cooked chana and saute for 2~3 minutes.
Add red chili powder, turmeric and mix well.
Slowly pour in the yogurt mixture and the mixture simmer until the raw smell of besan cooks off, about 4~5 minutes or until the kadhi starts to thicken.
Garnish with chopped cilantro and serve with steamed white rice.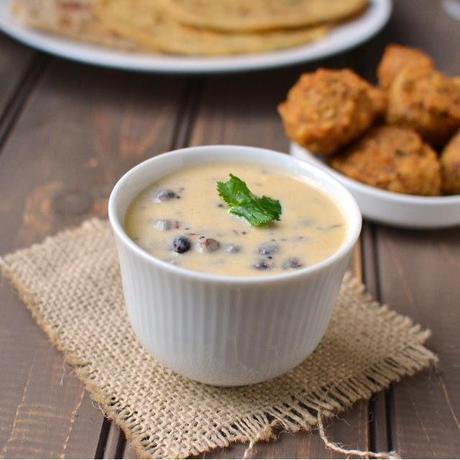 Chaas
: Recipe from 
Manjula's Rajasthani Festive Platter
.
Ingredients
:
Yogurt - 1cup
Water - 2cups
Curry leaves - 6~8
Cilantro - 2tbsp, finely chopped
Green chili - 1, finely chopped
Ginger - 1" piece, finely grated
Salt - to taste
Method
:
Whisk curd and water until nice and frothy. Add cilantro and set aside.
Heat ¼tsp oil in a small saucepan; add cumin seeds and after they splutter add the green chili, curry leaves and ginger, saute for few seconds.
Add this tempering to the yogurt and mix well. Serve immediately.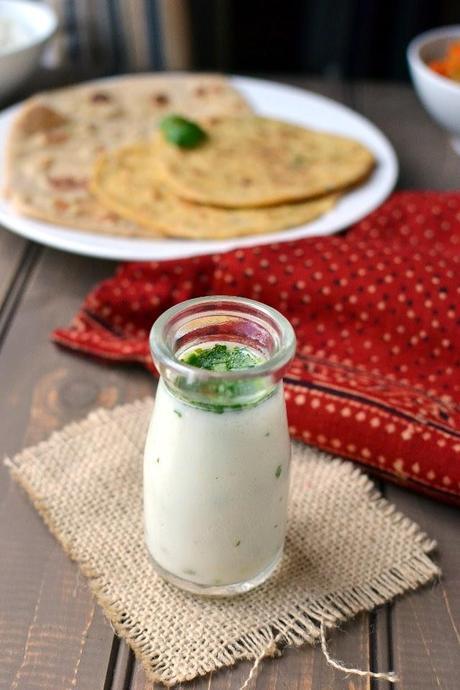 Kesar Malai Lassi
: Recipe from
Manjula's Rajasthani Thali:
Ingredients
:
Milk - 1cup
Heavy Cream - ½cup
Sugar - 2~3tbsp (adjust as per taste)
Salt - pinch
Saffron - a pinch soaked in 2tbsp of warm milk
Method
:
Blend all the ingredients along with ¼cup of chilled water until the sugar dissolves and the lassi is frothy.
Pour into glasses and enjoy chilled.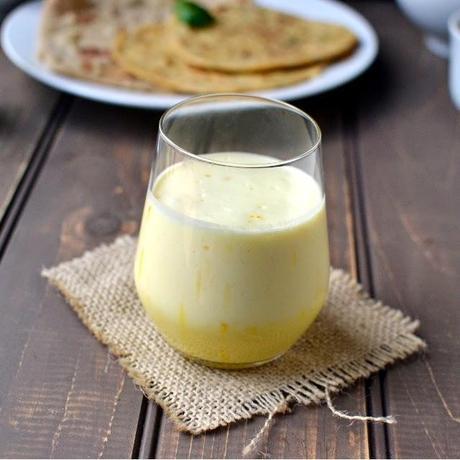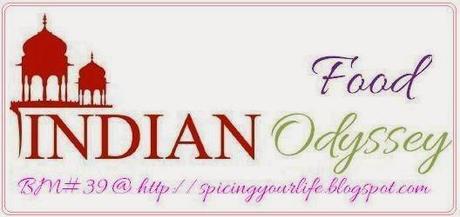 Lets check out what my fellow marathoners have cooked today for 
BM# 39
.

An InLinkz Link-up