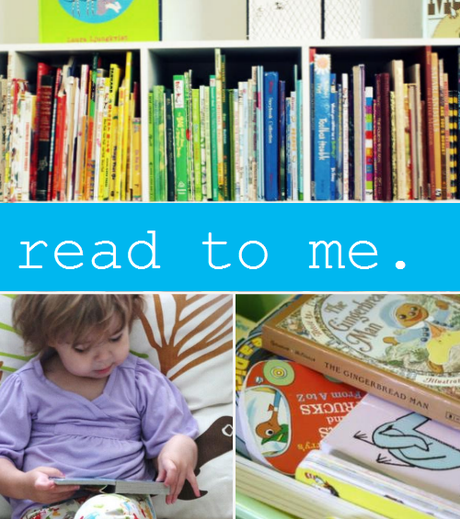 I recently decided to go back to school to earn an add-on teaching license in the area of literacy. This has prompted a whole new selection of reading material for my bookcase (as you can see below), and already has my mind turning in all sorts of new directions.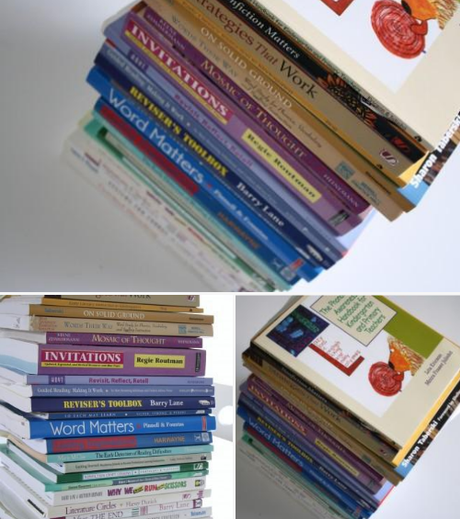 After delving into my first book, which is actually specifically geared towards parents (

Read to Me: Raising kids who love to Read

by Bernice E. Cullinan), I felt as though much of the information being relayed was pretty much common knowledge... But then after reflecting, and discussing the book with my husband (who is not a teacher), I realized that what I should really take from that book is that much of what I read may not be common knowledge to all other parents.


oh. hmmm...


light bulb!
So, I want to share a few simple things (that you may or may not already know) that you can do as a parent to help your kids become strong, happy readers & students.
1: Designate a special time to read to your kids everyday. (I read a few chapters from our current chapter book after lunch, and a short story at bed.) Studies have shown that kids who are read to at home do better in school than kids who are not read to. So, if you want to give your kids the best opportunity for success, all you have to do is READ!
2: Ask questions. Before starting a new story, look at the cover. Ask your kids what they think the story might be about. This seems small, but is so important because it demonstrates to kids that stories are about something--they have a meaning. This lays the groundwork for being able to read for context.
3: Point to the words as you read them. This demonstrates to kids that the story comes from the text, not the pictures.
4: Let your child pick stories that they like. If they enjoy what they are reading, they'll want to read more & more.
5: Read together. You read, then I read. This will build confidence for early readers.
6: Always keep books within reach. Whether you're on the road or in your living room. (On a similar note: stocking up your home library does not need to be expensive. Check yardsales, craigslist, amazon.com & library sales. Once I found new hardback children's books on sale for $1/each at our grocery store.)
7: Let your kids see YOU read. My sister-in-law, who has been teaching first grade for years, recently realized during a road trip that her kids had never seen her reading to herself before! Let them see you read & they'll realize that it's something you enjoy, too.
8: Read constantly, everywhere. Food labels at the grocery store, signs on the road, directions on a new toy. Let your kids see that reading is used everywhere.


Do you have any good ideas or tips to add?