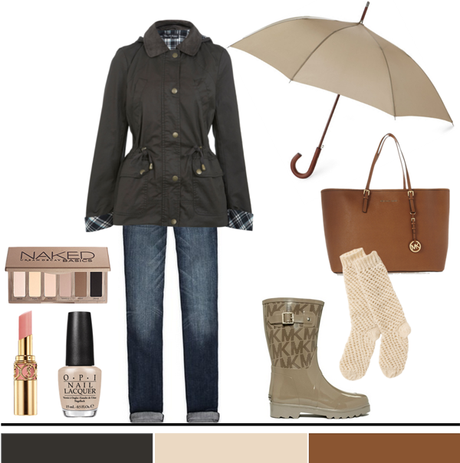 Silly me, posting about rain gear when we got another 5 inches of snow in Wisconsin last night (insert loud sigh). On the upside, we're finally settled into our new home, my beloved new couch was delivered, and life is slowly returning to normal. More on that later.

Miss Selfridge Hooded Jacket with Plaid Lining
($100.00),
Abercrombie & Fitch Straight Jeans
($54.60),
Michael Kors Jet Set Tote
($280.00), Michael Kors Rainboots ($89.00), People Tree Trinity Socks ($16.00), Totes Automatic Umbrella ($20.00), Urban Decay Naked Basics Palette ($27.00), OPI Polish in Coney Island ($8.00), Yves Saint Laurent Rouge Volupte in Nude Beige  ($34.00).