52 Places to Go: Week 41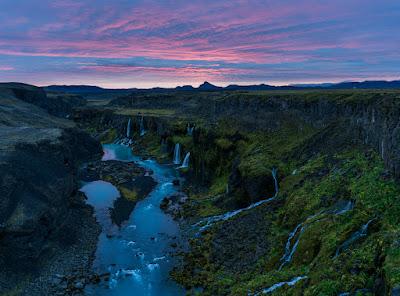 Sigöldugljufur waterfall gorge, Iceland


With many thanks to Owen Floody for another exceptional contribution to The Intrepid Tourist.
Just back from our re-entry into international travel.Perhaps this itself deserves some comment.Our travel preparations did include some tasks and requirements (most notably Covid tests shortly before departure and return) reflecting the new pandemic or (optimistically) post-pandemic world.But the trip itself was as smooth and efficient as could be, culminating in a return to Newark that was at least 30 min ahead of schedule.In part, these achievements must reflect the relatively small number of international travelers these days.But they also suggest effective organization and work by United Airlines and Iceland's travel officials.
Not coincidentally, our trip took us to one of the safest places in the Covid world, Iceland. More specifically, the trip took the form of a 6-day Autumn Highlands photo-tour of Iceland, led by Haukur Snorrason, of Iceland Photo Tours.This was my third photo-tour with Haukur and won't be my last.He is good company and a great guide, able to present you with one amazing sight after another, even in the most challenging weather.He also is a skilled professional photographer, able to convey tips for the improvement of your efforts without ever being overbearing, or even overtly instructional.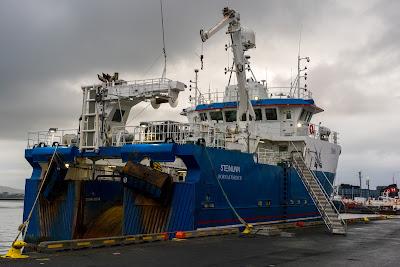 Marina area of Reykjavik
We stayed briefly in the marina area of Reykjavik (Icelandair Marina Hotel) and enjoyed this location, which we explored early on our one full day in town.Soon thereafter, we connected with Haukur and the four other members of our group to begin our photo-tour.This jumped around a bit, reflecting generally very rainy weather and Haukur's efforts to avoid, or at least minimize, our exposure to the raindrops.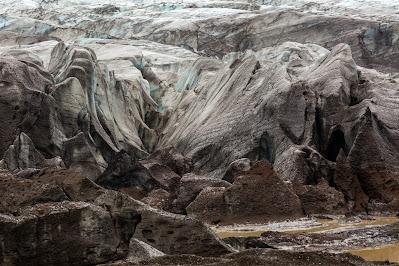 Fjallsár and Jökulsárlón glacier lagoons
The tour included much of Iceland's southern coast and some familiar sights, including the Fjallsár and Jökulsárlón glacier lagoons and Reynisfjara Beach at sunrise.But the most impressive and rewarding parts of the tour were the stretches through the highlands, an inland area that was largely new to me.It is impossible to do this area justice in a few words and pictures, but I will try to convey a taste by describing a few of the highlights.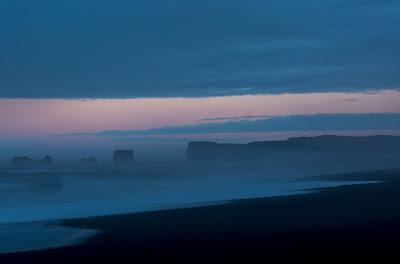 Reynisfjara Beach at sunrise
One focus of our attention in the highlands was the Veidivötn (Fishing Lakes) area.This is a small area packed with beautiful crater lakes (about 50 of them in an area of approximately 36 square miles) that attract fishermen going after the resident brown trout and Artic char.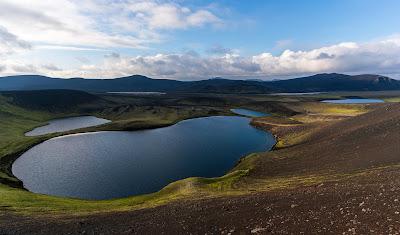 Veidivötn (Fishing Lakes) area
Also memorable were the many streams, rivers, canyons, and waterfalls that litter this and other parts of Iceland
such as
sunrise over the beautiful Sigöldugljufur waterfall gorge and the Leirá River, cutting through a lava field as it bears runoff from the Mýrdalsjökull Icecap.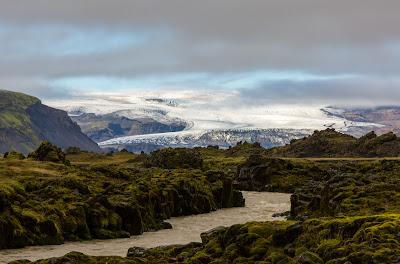 Leirá River
Nevertheless, despite this beauty, I found the most eye-popping sights to be those in the black sand "desert" surrounding the Maelifall Volcano.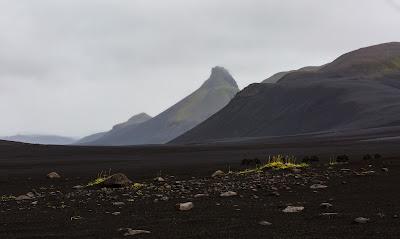 Black sand "desert" surrounding the Maelifall Volcano
This is a landscape that just can't exist, and yet there it is, courtesy of Iceland's unusually high levels of volcanic and glacial activity.A bonus for us, given the rain that followed us throughout our trip, was that these conditions may have made the desert even more dramatic and attractive than usual, with blacker-than-usual sand, greener-than-usual vegetation, and an even greater-than-usual contrast between the two.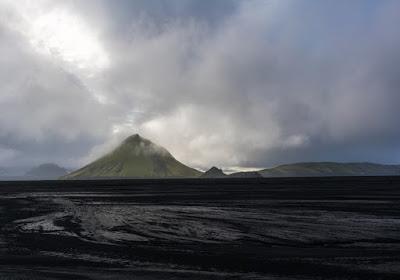 Maelifall Volcano
Obviously, I enjoyed and recommend this trip, along with all of Iceland Photo Tours' other offerings.Wonderland tends to elicit such reactions.But I do need to throw some caveats in here.I hope that some readers will consider travel to Iceland as a result of having read this column and viewed these images.And some of the sites we visited would be easy to find and access in one's own rental car.However, this would not be the case for many of the sites we most enjoyed.For example, it struck me that much of the black sand desert that we toured required frequent crossings of significant streams that could not be negotiated safely by a standard SUV or other car.I am sure that there are ways of getting into this area that would not require a photo-tour, but I think that some local knowledge and expertise would be highly advisable.Rest assured that the scenery to be visited is well worth the trouble!Happy travels.
To read Owen's post about his trip to Iceland in May 2013, click HERE.