Title: Raintree: Haunted
Genre: Drama, Josei, Romance
Publisher: SB Creative Corp/Harlequin K.K
Translator: Digital Manga Guild
Artist: Kazuko Fujita
Original Release Date: December 5th 2013
Ace detective Gideon Raintree is known to have very few flaws. Not only is he a handsome detective with a perfect arrest rate, but he's also very respected and admired by many – let it be by his coworkers or people who see him for the first time. However, behind his perfect-persona, he hides a deep secret related to his bloodline: he can talk to spirits.
Raintree: Haunted, the first volume of the four-volume series has a very peculiar story and I wouldn't even have believed it was a romantic story if it wasn't for the genre written in italic on Emanga…That is until the romantic interest begins to have feelings for the main character in the later pages. As opposed to what the cover shows, the manga focuses more on the case Raintree is working on along with his partner rather than the romance story we would expect at first.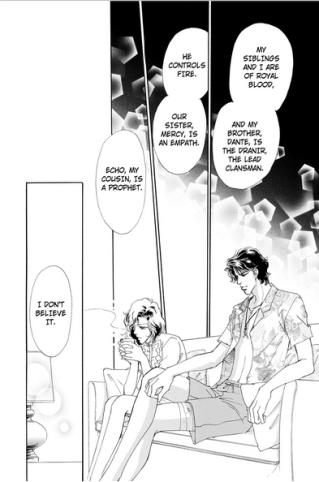 In a way, I am thankful for how insignificant the romance was compared to the other elements of the plot since it was an extremely awkward thing to read through. I'm not sure about you readers, but I would avoid interacting with an acquaintance who knocks you out before leaving you as if nothing happened and in the most bizarre way possible. Which I'll refrain from further discussing.
…Back to the subject. As you might have noticed from the paragraph above, I didn't like the romance in Raintree: Haunted. It had a weird pace and felt too rushed for my tastes. I do understand how these things can happen in any kinds of circumstances and that yes, love can work out in the most unusual ways (also I should take in account Gideon Raintree's story is only in the first two volumes of the Raintree series), but I believe that the moment when they more or less tell their feelings was an inappropriate one if you take note of the situation they face. (Like, I don't know…a killer after them?)
Apart from the love story, the murder case the characters try to solve throughout the manga was a pretty good one. At first, what seems to be an easy murder case turns out to be deeper and darker than we could have anticipated once we come to realize the killer was actually after the main character – a surprisingly great twist that I applauded (not literally) since it made the manga worth reading to me – and all those murders were either ways to lure the detective Raintree or accidents.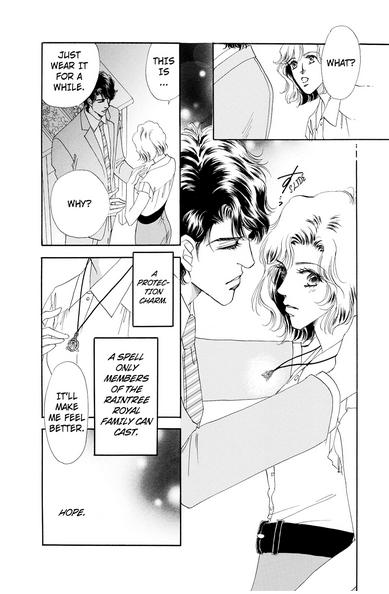 The most important characters of the manga –Raintree, Hope Malory the rookie detective, and the murderer — each had their interesting traits and were truly all likable. Starting with Raintree, beneath his mask hides an uncertain man who is easily attached to others and worries about the consequences related to his powers. Regarding his powers and that "one day" he and one other character fears about, I wish they could have accorded a little more attention to it and had explained it because I shamefully didn't understand what was so important about that "day" and what repercussions it had for the main character.
As for Hope Malory, rookie detective and Raintree romantic interest, she's a spunky and imperturbable girl with a lot of courage – a pleasant and fresh change that I appreciated. I also enjoyed the fact that she wasn't impressed with Raintree's little flirts and jokes regardless of how handsome he is in her eyes and that she was had a hard time believing Raintree could speak to sprits.
Last but not least, the murderer (whose identity we have yet to find out). This might be my love-for-gory side talking, but I really adored the idea of having a serial killer murdering people just in order to taunt Detective Raintree. However, I can't help but find the murderer's lack of motive disturbing. We know that the murderer is aware of Raintree's powers and wants to stop him at all costs to perhaps gain his powers, but why exactly? Perhaps the answer will be told in the second volume, but for now I'm a bit frustrated that the romance story was considered more important than the true motive of the murderer after Raintree.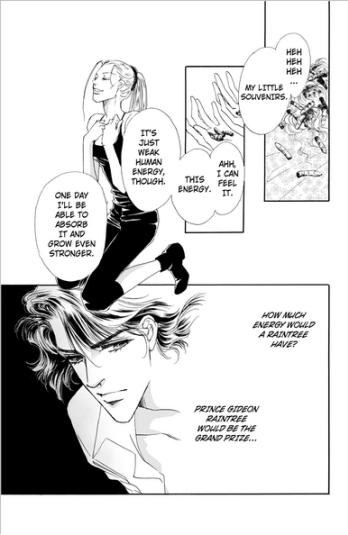 Raintree: Haunted was a decent read. There were times when it was tough to get through a few pages, but overall I found it pretty fun thanks to the characters. It's just too bad I didn't take the story as seriously as I should have, with the murders and all the ghost-whispering business.