Kale & quinoa salad is hearty, veggie-packed, and bursting with nourishing ingredients! Drizzled with a white wine vinaigrette, it's full of fresh flavor and texture. Gluten-free, vegetarian, and vegan-friendly!
From our staple kale salad to kale caesar salad, and this delicious kale & quinoa salad - we are BIG fans of kale here at Sweet Peas & Saffron!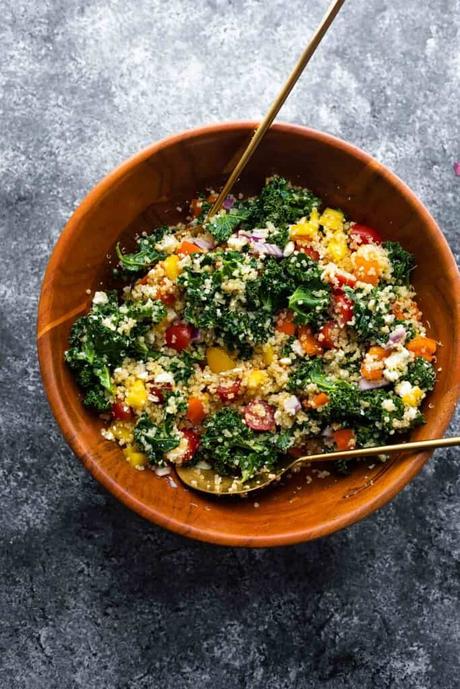 This kale & quinoa salad is going to be your new go-to recipe when you need something that is refreshing, customizable and absolutely refreshing.
Topped with white wine vinaigrette and feta cheese, this salad is very flexible and can be customized to your liking (see suggestions below)! Best of all, it's quick to put together, and ingredients can be prepped ahead for meal prep.
Reasons You'll Love This Recipe
it's so refreshing and flavorful - crunchy veggies, and tender kale drizzled with vinaigrette? Yum!!
it contains a good dose of protein thanks to the quinoa, making it a hearty and filling salad
it's gluten-free, vegetarian, and vegan-friendly (omit feta cheese)
Recipe Video
Watch the video below to see how to assemble this kale & quinoa salad! You can find more of my recipe videos on my YouTube channel.
Continue reading:Rainbow Kale & Quinoa Salad