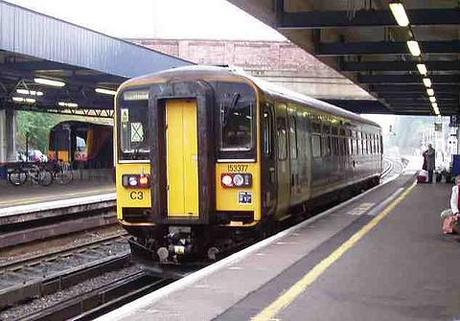 A train. Photocredit: Bright Meadow http://www.flickr.com/photos/brightmeadow/56844105/sizes/m/in/photostream/
Rail fares are going up faster than the Hogwarts Express, with inflation-busting hikes set to hit network passengers next year. Prices are set to go up 8 per cent (in England, but not in Scotland and Wales) – with some rail companies setting even higher rates. The Guardian reported that, for example, "an annual season ticket from Bournemouth to London, currently costing £5,424, could rise to £6,129." In England, Merseyrail will be the only network to keep its fare rises in line with Retail Price Inflation.
The reason is that last October, the Government said it would raise season tickets and off-peak returns (known as "controlled fares") by three percentage points above whatever Retail Price Inflation was in July. Train companies are allowed to lift up prices by another stonking five percent.
According to the BBC, the railways are currently funded by the government to the tune of £4 billion, with fares from passengers adding another £6.6 billion.
David Sidebottom, of watchdog Passenger Focus, said: "The way that train companies are allowed to set fares on individual routes is deeply unfair. Some passengers who may have seen no investment or improvements can get hit year after year."
Shadow transport secretary Maria Eagle said the rises were "eye-watering". She added: "The cost of getting to work is, for many people, the biggest single item in the monthly budget – bigger than mortgage payments and bigger than rent." Transport secretary Philip Hammond, however, defended the rises, saying they would fund Crossrail and Thameslink. "I know this decision has not been popular, but I hope passengers will appreciate the improvements it allows us to make." The Northern Echo claimed that it will be railway staff who bear the brunt of passengers' wrath.
In related news, Brad Pitt has spent a fortune on a private train to Glasgow. Guess the fare rises won't hit him so  much.
Put aside self-interest for social necessity. Sean O'Grady on The Independent said "I feel a bit stupid asking for my fares to be increased." But it's right to do so, putting self-interest aside. The money's needed for the railways – Crossrail for instance. We have to find the money for that somewhere. Safety's important too, which also "means cash." Plus, people who use trains "tend to be better off" – "wealthy stockbrokers" can easily afford it. Yes, people living out of London will face a "painful squeeze." But they should be allowed to work from home and move out of the South East – a "socially desirable aim". People will move, and so will jobs, and the economy will rebalance. "Realistic fares will speed that moment on."
It's war on rail travel! This "will drive people off trains and back on to the roads," said Colin Howden on The Herald Scotland. High ticket prices are deterrents to rail travel. "Passenger Focus, the independent passenger watchdog, consistently finds in its National Passenger Survey that value for money remains the key concern of rail passengers." This decision is "a genuine war on rail travellers." The cost of motoring falls – with the Government's own figures showing that "the real cost of motoring" declined by 14 percent, whilst rail travel continues to rise. Hitting rail users rather than tackling car usage is "indefensible." It's "a major U-turn" for the Liberal Democrats, too – they promised to cut regulated fares.
More on transport, business and economy

Flying cars
Merkel and Sarkozy on the Eurozone
HuffPo too stingy?
Oil leak in North Sea
Billionaire demands higher taxes