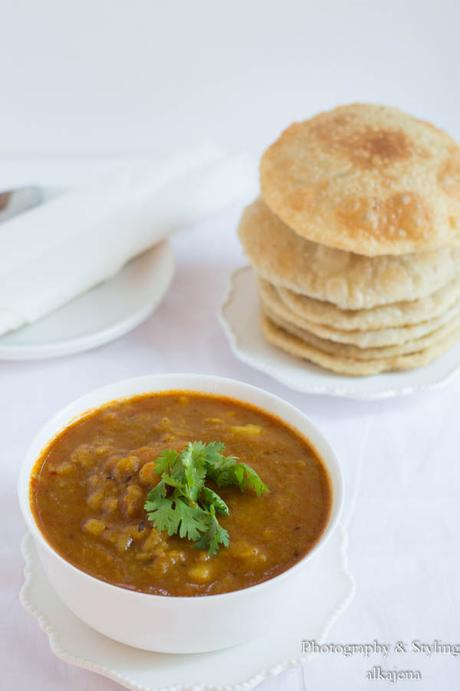 Radhaballavi or Stuffed Chana Daal Poori is undoubtedly is the favorite breakfast of a typical Bengali Household. This mouth watering delicacy   found its way to the heart of many people just like me who despite not being a Bengali love this lip smacking Radhaballavi served with spicy aloo dum in a bowl of sal leaves . whenever I travel to Kolkatta, I make it a point to have this once, but I have never made it at home, despite it being high on my priority list.You will find this combo mainly made during Pujas and other  functions in many Bengali households where it is served either with cholar daal or aloo curry.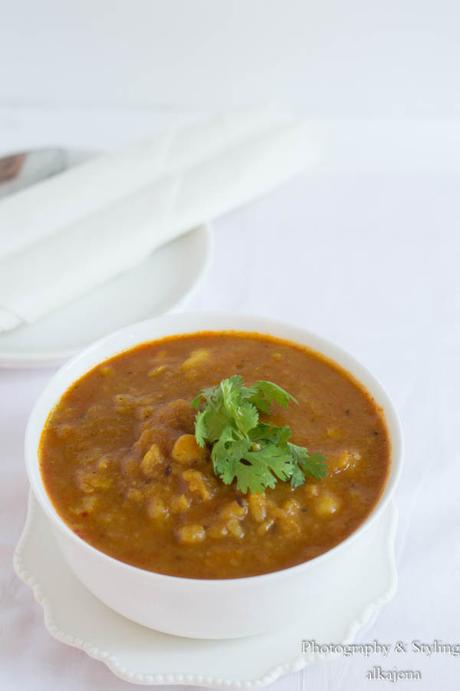 This recipe has got it's name when  the Zamindars family offered these stuffed pooris to Lord Krishna in their temples. Though Radhaballavi and Hing er Kachuri are referred interchangeably, there is a huge difference between them. The Hing er Kachuri is smaller in size and flavoured with hing and urad daal as stuffing. However, radhaballavi is made with chana daal paste, ginger, green chilli, fennel and bhaja masala.. In other words both are same with stuffing of different daals.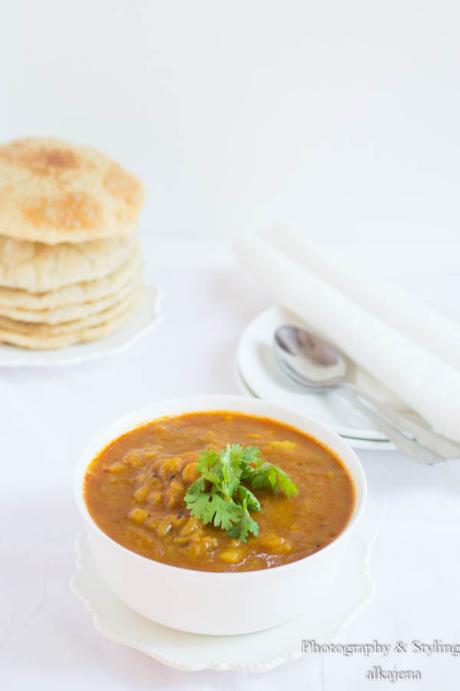 I got a wonderful opportunity last Sunday, when I was treated with this delicacy at a friend's place . Her mother taught me this recipe which I am going to share with you all. For a welcoming change from the regular Pooris, do try this Bengali delicacy at your home and treat your family to this traditional regional breakfast recipes from the state of west Bengal.
Cuisine: Bengali
Recipe Source: Jhimki Kar 
Prep Time: 30 minutes
Cooking Time:30 minutes
Serves: 4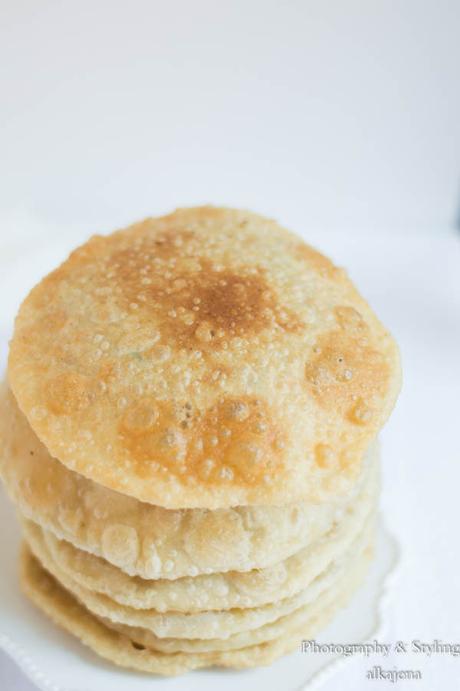 Ingredients:
For TheRadhaBallavi
2 cups All purpose flour

Salt to taste

2 tbsp Ghee

Water as require to make a smooth dough.
For Stuffing
1 cup Chana daal   

2 tablespoon Oil or ghee/clarified butter

1 inch piece Ginger

Green chili – 3 to 4

1 teaspoon Asafetida or hing

1 tsp Bhaja Masala( 1 tsp cumin seeds, 1 tsp fennel seeds, 2 dry red chillies dry roasted and ground to a coarse masala)

Salt to taste

Sugar to taste
Method
Wash and soak the Chana daal overnight. Wash again and grind the lentils with green chillies , ginger and salt. Keep aside.
Take the flour in a large bowl. Add ghee and salt. Rub the flour till it looks like breadcrumbs. Add lukewarm water gradually and  Knead until you get a  pliable dough that means when you see that the dough does not stick to your hands. cover and keep aside for 30 minutes.

Now heat 2 table spoon ghee  in a nonstick pan. Add hing or asafetida then add the lentils ginger and green chillies paste. Stir well. Add sugar and the Bhaja masala. Mix well.Keep stirring until the mixture dried up completely. Scrape the sides and let the mixture cool.

Make small balls from the dough. Flatten with your palm. Put one teaspoon stuffing in the middle. Bring the edges together. Close the ball completely. Roll the balls with rolling pin with the help of little oil and see that there is no crack in the surface. Repeat the process for rest of the pooris.

Heat sufficient oil in a Kadhai or heavy bottomed pan. When heated slide the radhaballavi carefully in the oil. Press gently with a spatula to see it all puffed up and fry till both the sides are golden in color.Transfer to a kitchen towel to do away with excess oil in the pooris. Your Radhaballavi is ready to be served.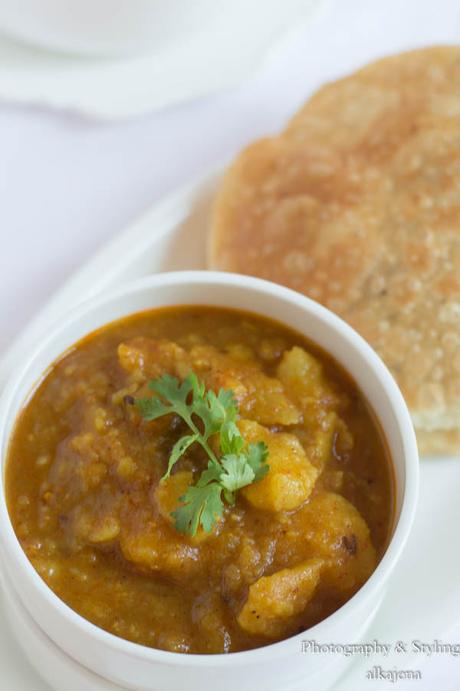 Ingredients for Niramish Aloo dum
6 nos of large potatoes

1 tsp cumin seeds

2 dry red chillies

1 tsp dry ginger powder

½ tsp turmeric powder

1 tsp red chilli powder

½ tsp garam masala

1 tsp Hing or asafetida

Coriander leaves for garnishing
Let;s Learn how to make this recipe:
Wash, Boil, Peel and coarsely mash the potatoes so that large chunks remain intact.

Make a paste of the dry ginger powder, turmeric powder , red chillii powder, garam masala powder with the help of a little water.

Heat oil in a pan. Add dry red chilli and cumin seeds . Once it starts to splutter add the hing and turn off the gas.

Add the masala paste and stir well and now turn on the gas and add the mashed potato along with salt to it. Saute for 1 minute and then add 

water as require for the gravy. Let it boil. Cover and cook on simmer for 5-6 minutes or till the desired consistency of the gravy is reached.

Sprinkle coriander leaves on top .

Serve this no onion garlic dum aloo or aloor dom with fluffy yummy Radhaballavi.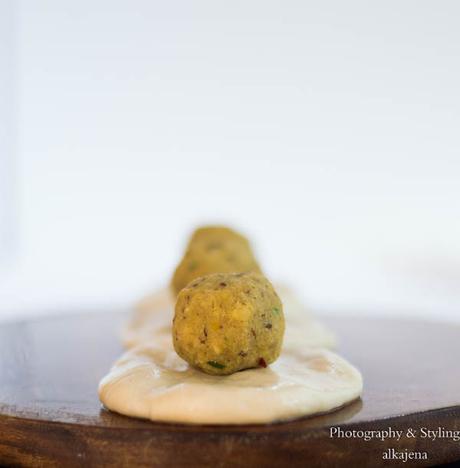 Note: The original recipe has not used the fennel seeds and Bhaja Masala , but I have added as per my own taste.