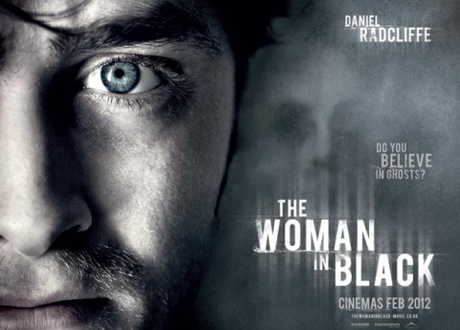 Daniel Radcliffe continues his bid to remind audiences that he is not actually Harry Potter with a starring role in ghostly chiller The Woman in Black. The film, the first from classic horror filmmakers Hammer Film Productions in more than 30 years, is an adaptation of Susan Hill's 1983 novel, which pits a young solicitor against the titular woman in black, a spirit apparently hellbent on killing off the local children, on the deeply morose Yorkshire moors.
Hill's novel has also been adapted for the stage, and remains the longest-running West End play after Agatha Christie's The Mousetrap. Can the movie version, scripted by Jane 'Kick-Ass' Goldman, live up to the source material? Or will cinema-goers be secretly hankering for a Voldemort cameo?
Reworked material. Richard Corliss at Time praised writer Goldman's decision to change the plot, killing off hero Arthur Kipps' wife at the beginning of the film instead of at the end, as the novel does: "That puts Arthur in a state of perpetual mourning and establishes his kinship with Jennet [whose ghost is the supposed woman in black] and the villagers whose children she has killed. Making Arthur a young widower also plays to Radcliffe's strengths," said Corliss.
Is it scary? In The Woman in Black, several reviewers noted, director James Watkins avoids the current trend for full-on gore in horror films. The result "is a tasteful, old-school frightener, emphasizing suspense and foreboding over blood and guts", declared USA Today's Claudia Pulg. Manohla Dargis in The New York Times agreed: "The Woman in Black isn't especially scary, but it keeps you on edge, and without the usual vivisectionist imagery," wrote Dargis. According to  TIME's Corliss, the woman in black herself supplies the main scares, as she is "always a presence, like a rumor threatening to become flesh and/or bone". But Melissa Anderson in The Village Voice agreed that the film wasn't particularly frightening — "about as scary as the haunted house your big cousins made in the basement," she complained — but she wasn't as charmed by the lack of chills and suggested the film lacked momentum: "The plot is subordinate to lengthy scenes of hollow-eyed Arthur wandering in silence through Drablow's manor."
But what about Harry – we mean, Daniel? Radcliffe puts in a decent performance as Kipps, but he is haunted by more than a vengeful spirit, said The New York Times' Dargis: "The ghost of Potter past hovers in his every gesture." But that role seems to have prepared him well: "As Harry Potter, he spent literally half his life displaying both respect for supernatural evil and the grim will to confront it. That tension — that expecting the worst but never knowing when it might reveal itself — plays naturally across Radcliffe's features and helps him carry what is essentially a one-man show," claimed Corliss in TIME. The Village Voice's Anderson found that Radcliffe gave a "at least gives a moving portrayal of grief" and that his role the film "also helps keep at least one career from meeting an early demise".
Nope – he's still Potter and still not very good. But Roger Ebert, veteran Chicago Sun Times critic, was unimpressed with Radcliffe's effort to rid himself of the ghost of Harry, though he found the film "effective": "[A]t 22, he still looks like a schoolboy — or a little young, anyway, to be the father of a 4-year-old. Nor does he have much gravitas." The haunted house, Ebert suggested, "a masterpiece of production design, crumbling, forlorn, filled with the faded and jumbled Victorian possessions of doomed lifetimes", is the real star. Gael Fashingbauer Cooper at MSNBC, who found the film "stupid", was also not a fan of Radcliffe's post-Harry turn: "He doesn't act so much as react."
More in films

Extremely Loud and Incredibly Close panned by critics as 'exploitative'
Brutal but brilliant Coriolanus
Joyful Noise brings back Dolly