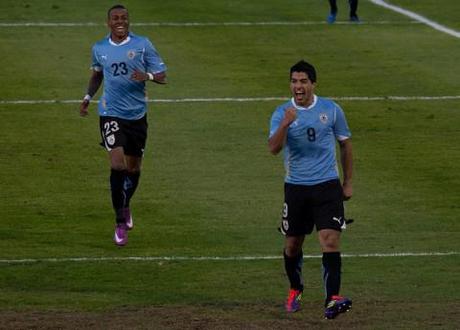 Luis Suarez in action for Uruguay. Photo credit: jikatu
Liverpool's Luis Suarez has been handed an eight-match ban and a £40,000 fine by the Football Association (FA) after being found guilty of racially abusing Manchester United's Patrice Evra. Given Uruguayan Suarez is arguably Liverpool's best player, it is a crushing blow to the Anfield side's hopes of winning a trophy or finishing in the top four of the Barclays Premier League. Commentators have generally concurred that, while certainly harsh, the ban and fine represents appropriate action from the FA.
Suarez clashed with French defender Patrice Evra during the 1-1 draw at Anfield on 15 October. The six-day hearing, which closed on Tuesday, was told (by Evra) that Suarez used "insulting words", which included a reference to Evra's color. Spanish-speaking Suarez allegedly called Evra a "negrito", which is roughly translatable in English to "negro." Saurez has denied the allegations, and has 14 days to appeal against the decision. The player has the full backing of his club. In a remarkably bullish statement, the club came out fighting: "We find it extraordinary that Luis can be found guilty on the word of Patrice Evra alone. No one else on the field of play – including Evra's own Manchester United team-mates and all the match officials – heard the alleged conversation between the two players in a crowded Kop goalmouth. It appears to us that the FA were determined to bring charges against Luis Suarez, even before interviewing him at the beginning of November."
Liverpool's manager Kenny Dalglish said on Twitter that he was "very disappointed" and added: "This is the time when Luis Suarez needs our full support. Let's not let him walk alone."
Racism campaigners have welcome the FA's tough line. Piara Powar, executive director of Football Against Racism in Europe (Fare), told BBC Radio 5 live: "This is the first time we have seen an insight into what is said between players on the pitch, and what may have been commonplace between players in the past. This is a big moment and I would say that the FA have dealt with this in the right way." Chairman of anti-racism group Kick It Out Herman Ouseley told the BBC: "The FA has shown leadership and intent through what has clearly been a difficult and complex complaint to deal with, and invested time and expertise to ensure this outcome. It has demonstrated that it will not stand for discrimination, something organisations such as Fifa and Uefa should take heed of."
A vital stand. James Lawton of The Independent said "the gut instinct here is that a difficult but vital stand has been made" in one of the "trickiest decisions in FA history." "The implications are heavy for anyone who, had the outcome been different last night, might have been tempted to join in any regression to the days when racism was such a harsh reality in the English football", insisted Lawton.
While playing for Ajax, Saurez once bit an opponent and earned the fearsome nickname "The Cannibal of Amsterdam."
Saurez's cultural differences defense is weak. Henry Winter of The Daily Telegraph said "Suárez claimed that what he said to Evra was not racist, merely a descriptive epithet, but for somebody who has lived in northern Europe for four years, including three years in Holland with Ajax, the Liverpool striker should have understood the sensitivity towards the word 'negro.'" Winter said the "sad saga" will only act to further strain relations between United and Liverpool, never the friendliest of rivals.
"As has been well documented throughout this unfortunate affair, in South America the word 'negro' or 'negrito' is offensive only if used in conjunction with an aggressive preceding adjective", reminded The Daily Mail's Ian Ladyman.
Uruguay is bemused. Writing at the BBC, South American football expert Tim Vickery said the ban has left Uruguay "bemused." He reported that when the verdict was announced and published on the website of El Pais, the country's leading newspaper, the comments section was full of remarks attacking the "hypocrisy" and "pseudo-moralism" of the English. He informed that legendary and current Uraguayan stars are referred to by nicknames that would appall elsewhere: "Probably the most revered figure in the history of Uruguayan football is Obdulio Varela, captain of the side that won the World Cup in 1950. His nickname was 'El Negro Jefe' – the black boss. Among Suarez's team-mates these days is Maxi Pereira, who is known as 'El Mono' – the monkey." Vickery insisted "these words are not easy – perhaps almost impossible – to translate into a contemporary English context. How do you judge the weight of a word uttered in a foreign language from a different mindset?" That said, Vickery said that "what Suarez is alleged to have done is wrong. To draw attention to the color of someone's skin in a manner that could be construed as pejorative is not acceptable in our reality. There is a clear case for punishment as part of a process of education. But the eight-game ban would seem to go much further."
More on football

Barclays Premier League at half time: What we know so far including Robin van Persie's hot and Steve Kean's not
Gary Speed's death: Sport and suicide
Gary Speed: Why, wonders world of football?
More football »