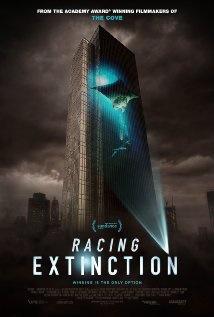 Director: Louie Psihoyos
Writer: Mark Monroe (Screenplay)
Plot: A documentary that follows undercover activists trying to stave off a man-made mass extinction.
There may be spoilers the rest of the review
Verdict: Important Documentary
Story: Racing Extinction is a documentary that shows the horrors of the world killing animals for profit, while this is hard to watch the film does show that this is the way these people feed their families which is why they do it. We follow the documentary crew and activist which show these people what they can achieve through other means which is good to see. We do have to see how these activist got into the illegal trading of animals and how the people running them just don't care which is very difficult to watch. We always end up coming back to the idea of seeing what we can do to change things but it isn't just a campaign film as we learn how little changes can help ourselves along with the wildlife on the Earth. I do think this was good documentary to watch with a strong message instead of just slamming certain cultures beliefs.
Documentary: Racing Extinction is a strong documentary that isn't all about the slamming people but teaching them about a better way to live along with the wildlife of the world.
Suggestion: Racing Extinction is a film I think people should watch mainly because of the important message being told. (Watch)
Best Part: Seeing how easy change could be.
Worst Part: Manta Ray scenes.
Believability: Based on a real events going on through the world.
Chances of Tears: Maybe through the tough scenes.
Chances of Sequel: No
Post Credits Scene: No
Similar Too: The Cove
Oscar Chances: No
Runtime: 1 Hour 30 Minutes
Tagline: Winning is the only option
Overall: Important documentary that could change our futures
Rating