Register for the Kabaka's Birthday Run, Kampala, Sunday April 8th 2018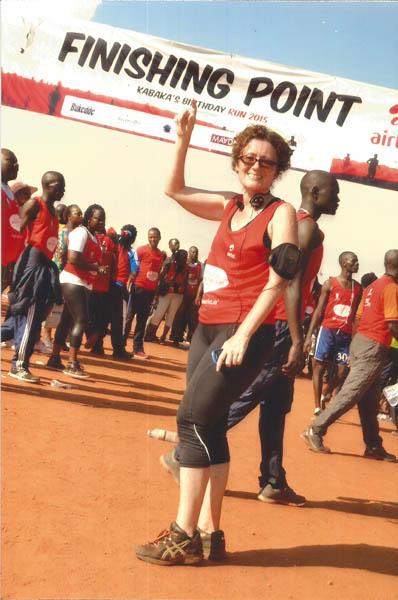 Look who made it to the finishing point! Kabaka's Birthday Run 2015
It seems every week there is a 'marathon', but the Kabaka's Birthday Run is a run with a difference. Not only does the run celebrate the birthday of Kabaka Ronald Muwenda Mutebi II, it takes runners (and walkers!) down historical routes of the city. We start at the Lubiri Palace, run the Royal Mile down Kabaka Anjagala and on towards Bulange. The circuit winds up back at the Lubiri.
The fifth edition of the Kabaka's Birthday Run is scheduled to take place on Sunday, April 8th and will be flagged off by Kabaka Mutebi II.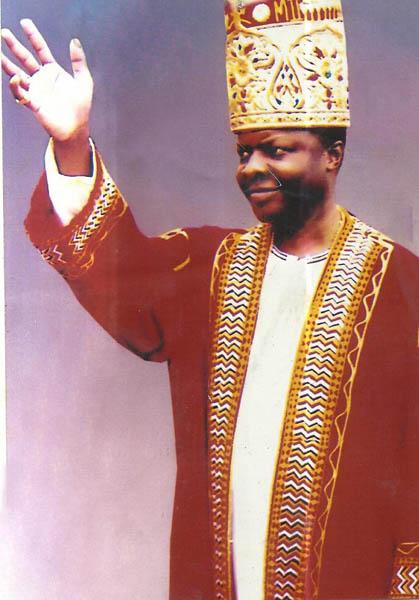 Kabaka Ronald Muwenda Mutebi II. Official photo Buganda Kingdom
How many kilometres is the Kabaka's Birthday Run?
You can register for 5 km, 10 km and 25 km. Kids can run 5 km (only).
How much does it cost to enter the Kabaka's Birthday Run?
10k UGX.
Where can I register?
Bulange, Mengo. CBS offices, Mengo. Muganzilwaa, Katwe.
Airtel shops: Shoprite Ben Kiwanuka. The Plaza (opposite KCB Kampala Road). New taxi park. Senana Supermarket opposite Watoto Church along Buganda Road.
You can also register on Airtel mobile money by calling *185# Choose option 5 (payments) and then option 5 (Kabaka Run) and proceed with payment.
What time does the Kabaka's Birthday Run start?
25 km runners leave at 7 am, 10 km runners at 7.10 am and 5 km runners at 7.20 am.
Which cause is supported by the Kabaka's Birthday Run?
Every year, the Kabaka fundraises for a good cause. This year contributions will go to fight Sickle Cell, a condition I've come to learn a little more about recently following the death of Joel B. Ntwatwa AKA @Nevender, a brilliant writer and poet and a leading member of Uganda's blogging community. We learned he had endured an unbelievable amount of pain throughout his lifetime. My friend, a medical doctor, tells me sickle cell disease is one of the most painful conditions to live with.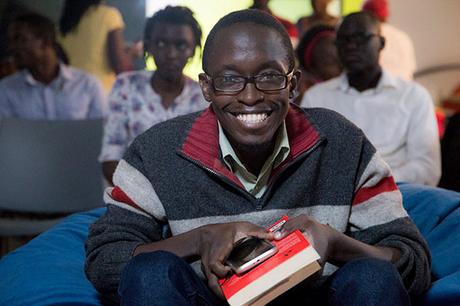 Joel Benjamin Nevender. Photo Writivism Literary Initiative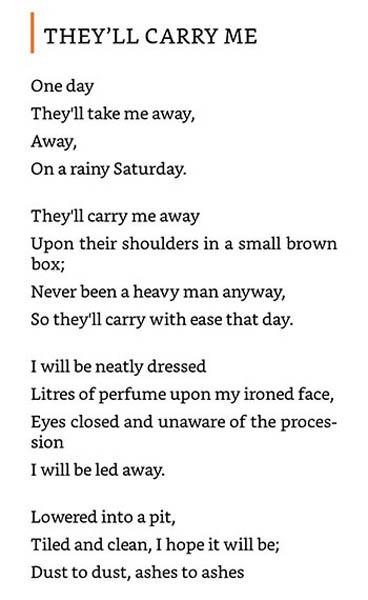 They'll carry me. Poem by Nevender Joel B. Ntwatwa, who passed away early 2018. Joel lived with sickle cell #RIPNevender
Proceeds from the 2017 Kabaka's Birthday Run were used to purchase more than 60,000 sickle cell testing kits. These have been handed over to the Uganda National Health Laboratory Services to enable free testing for over 120,000 people.
"In line with the three-year theme announced last year, proceeds from this run will also be directed towards fighting the sickle cell disease in Uganda – to educate Ugandans about sickle cells, enable proper treatment of patients and fund research."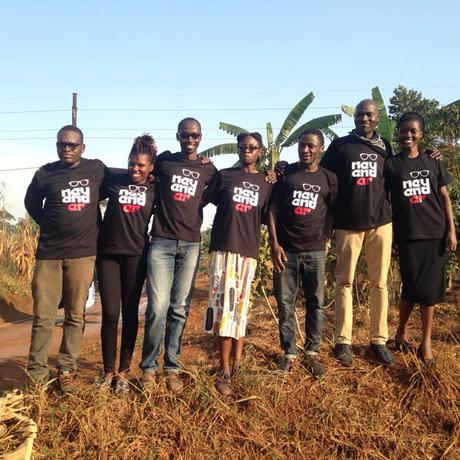 #RIPNevender. Members of the Ugandan blogging community at Joel's burial, wearing T-shirts featuring his distinctive logo
Uber Uganda will be the official transport to the Kabaka's Run and have contributed 5 million Uganda shillings towards this year's cause, the fight against sickle cell anaemia.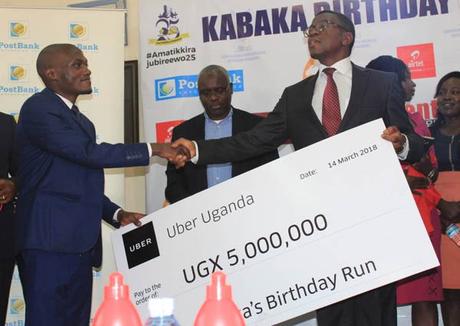 Aaron Tindie, country manager for Uber Uganda, hands a check to the Katikkiro of Buganda, Peter Mayiga
The Katikkiro (or Prime Minister) of Buganda Kingdom, Peter Mayiga, is a runner too.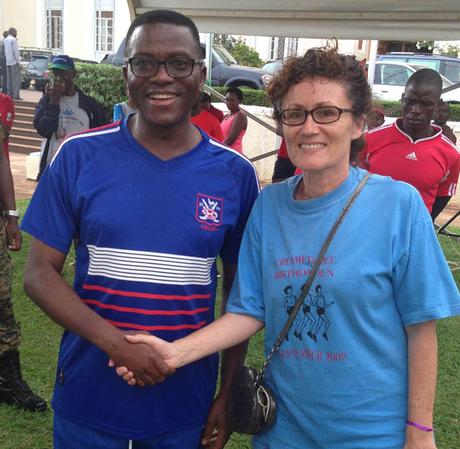 For many years, Kampala Hash House Harriers have been celebrating the Kabaka's birthday with a run from Bulange. Last year I had the honor of meeting the Katikkiro Peter Mayiga as he flagged off our run
Tips for enjoying the Kabaka's Birthday Run
Get there early as there will be big crowds coming from all directions. Sections of the Lubiri are open for you to park your car, but learn from my experience and leave the car at home. (You may have to wait an hour to get a parking spot. After the run, you may find your car blocked; then you'll have to wait in line again to exit onto the main road again).
Leave the car at home. Take an Uber, ideally with friends. Make sure your phone is charged so you can call an Uber when you want to come home too.
First-time riders can apply the promotional code KABAKAWANGE for a fare discount of up to 10k UGX.
How to add the promotional code:
Open the Uber app
Go to the Menu (three horizontal bars in top left corner)
Select payment
Add promo/gift code KABAKAWANGE
Have you registered for the Kabaka's Birthday Run?
You don't have to run, you can even walk the route while you take in a bit of history – and support a good cause in the process.
Regular blog readers will know that "bampita Nagawa, ndi Muganda." (My Ugandan name is Nagawa and I'm from the same tribe as the Kabaka). Here's a story about me and my totem, the Red-tailed Monkey.
Now get those running shoes on!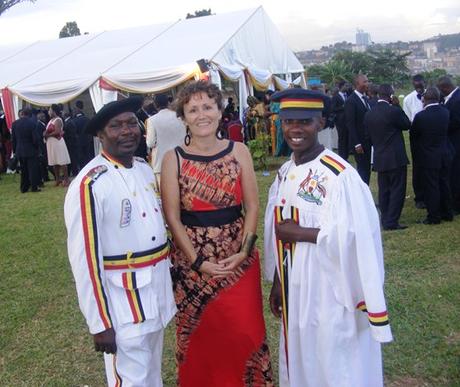 A previous visit to the Lubiri. Royal weddings bring out some colourful characters!
« 25 little-known Ugandan tourist destinations to visit in 2018