The sun is out today and I just didn't know which way to turn on returning from the school run.  Paralysed by choices.
Jobs to do included:
Smashing up concrete in hardstanding area to finish paving
digging out remaining wisteria at front of house and widening the bed to put my Aloha rose in
finishing building brick wall for waterbutt stand and raised path slabs
stripping and painting the front door
tidying and insulating the greenhouse
working at the allotment
attacking another garden border and getting it ready for spring
make a start on replacing the fence at the side of the house
Decided to go for planty jobs as I'd really like to get all my Christmas present roses in the ground before the end of the month.  So, went out to the shed with the full intention of collecting up tools for the wisteria removal task.
But you know how it is.
Thought I'd just pot on my hydrangea cutting first... which took me to the greenhouse.  Then passed the other two roses awaiting homes and pondered where to put those....then decided to weed a patch of border to let my cowslips breathe... then decided to move them to make a place for my Savoy Hotel rose and put it in...then planted Queen of Sweden rose in the main border.... then decided that today was actually the day to redesign the lawn.
Ignore the bit that looks like it's missing - when I took this, I hadn't yet got round to moving the turf from my edging activities, and it's just a heap waiting to be shifted.  Neither had I finished the edging entirely!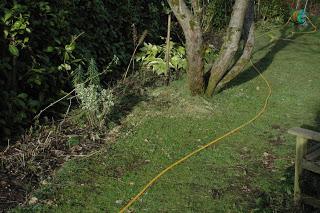 Ever since I made the border, there's always been an annoying narrow bit of grass behind the apple tree which is impossible to mow (whose stupid design was that then?) and the curved lawn 'path' which leads to the main lawn area is wider the the mower and generally annoying - especially the humped bit where it abuts an old cherry tree stump. Have you ever tried to use a manual vintage qualcast at a 45 degree angle? It involves lots of swearing and lumps of missing turf, put it that way.  The ultimate plan is to make a slab and scree path to replace the grassy one, so that I don't have to mow it at all, but not quite sure when that project will get done, so the grass can remain for now.
So..... out with the hosepipe to demarcate a new curvy border edge and more planting space. Cue evil cackle. Hahahahaha.  It isn't really eating into the large lawn area so won't shrink the playing space too much.  Hosepipes are brilliant for drawing with when you're trying to visualise a curvy lawn shape as you can just keep moving them around until you're happy with the general line of things.
I'm now going to zoom back outside into the sunshine to crack on with my half moon edger to get that grass gone!  Bigger borders for a happier gardener....  Not bad considering the whole damn thing was wall to wall lawn when we moved here.  Needless to say, I'm not a turf queen - I'd have the lot out and turned over to cultivation left to my own devices!
But this is my idea of gardening - live with your patch, and gradually chip away at it to get it to where the fancy takes you.  Mine evolves into more planting space with each passing year.  Suits me fine.